🍄 pinsights + (de)pop culture
commerce, content & community
You are cordially invited to this week's brew of High Tea, your dispatch of 🔥 internet culture served piping hot. This week: Pinterest embarks on its big zoomer revival, @tiktokroom gears up to throw some serious shade and we fall in love with cottagecore again.
Drink up 🐸 ☕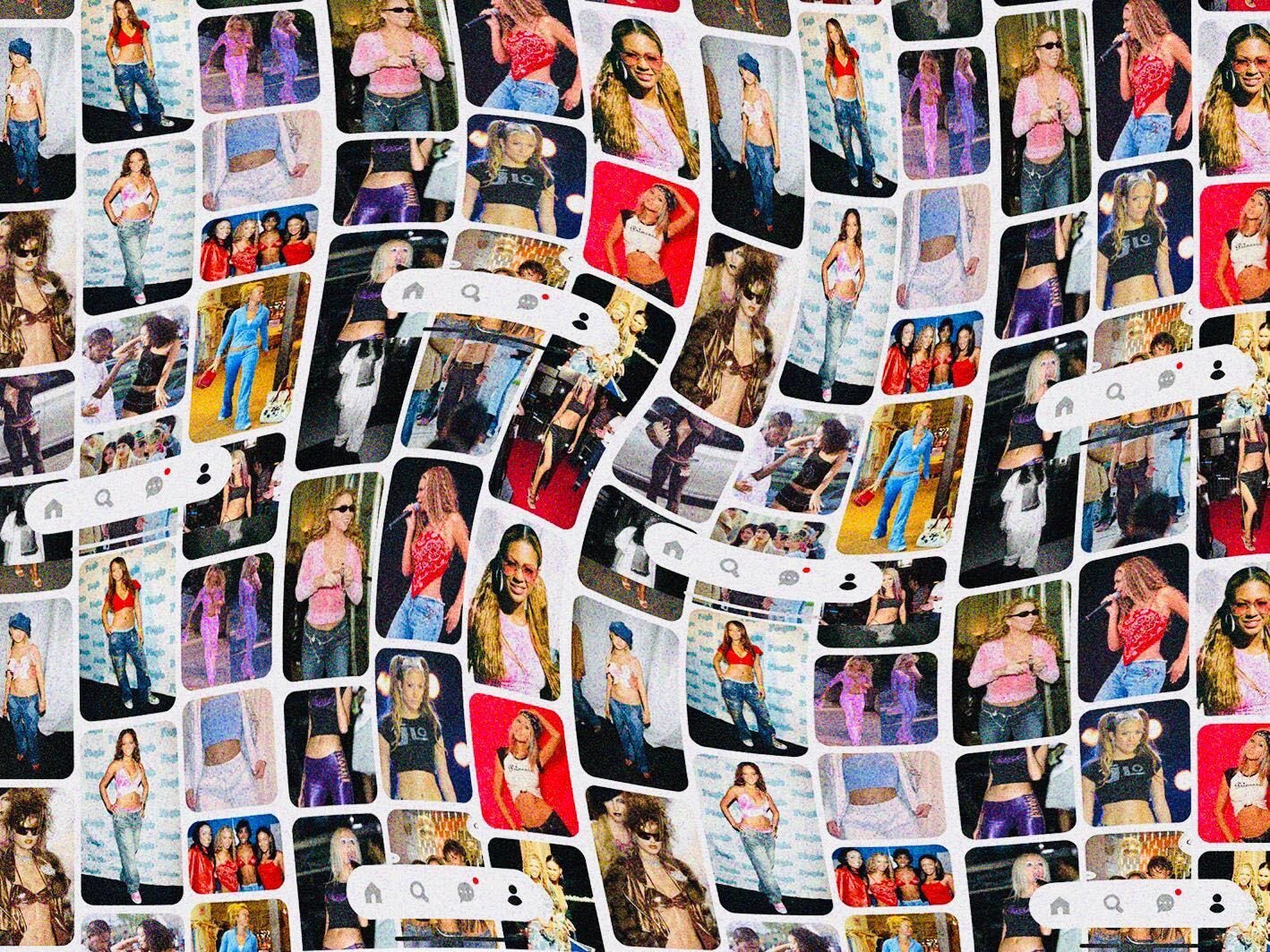 what we've been sipping on
Jeans? *takes a drag on a cigarette*
...we haven't heard that word in months.
While the world waits patiently for COVID to politely jog-on, our die-hard denims just can't seem to catch a break. In a pandemic, gone are the humble mom jeans, the decadent LBD and the top button swag; this season it's all about comfort and cottagecore, amirite tea-drinkers? And it's not just our wardrobes that are taking the hit. In May, sales at US clothing and accessory stores were down by 63.4% compared to 2019, bc hey, there are other things we want to spend our dollar on, right? Well, not quite. We took to the internet in our droves to buy active wear (global brand ASOS says it's sales roughly doubled from March - June compared to the previous year), and as we brace ourselves for yet another lockdown, Pinterest reported an increased interest in home and self-improvements, enter: cottagecore.
ICYMI, cottagecore is an internet trend and a movement that is largely centred around living a simple, pure and self-sufficient lifestyle. Think billowing skirts, oversized cardigans, running through fields of wheat (oops - Theresa), growing your own veg, and extracting oil from flowers in your back garden. It is a vision of complete and utter bliss. The best part? It's huge with zoomers. With 3.9B views on the TikTok # alone; pottery, planting, baking and rural living has taken on a new meaning in lockdown, providing that sweet taste of the Sylvanian Families' lifestyle we never knew we needed. For those looking for fashion inspo for that perfect high tea occasion (our official cottagecore merch drops soon 🚫🧢) look no further than our beloved Pinterest, as today we're crowning it the unofficial cottagecore fashion hub. Let's dig in (pun intended).
You will have heard many lamenting Pinterest since 2015, (yk, back when the platform was exclusively used by wedding planners and the pumpkin spice latte fanatics) when it decided to go absolutely ham on ads, arguably ruining its reputation in the social media zeitgeist. For Pinners, the platform no longer felt the place for expression and ideas, rather an e-commerce site for retailers to capture sales. Listen, we don't disagree, however, get excited as it's on the rebound. You only have to look at the U.S. iOS downloads (cc: AppTweak) to see they have almost doubled since January:
Pinterest's US iOS daily downloads from October 2019 - September 2020
And that's not all. In its July 2020 update, Pinterest reported that it had topped 400M MAUs (growth largely driven by millennial and zoomer women), with the number of Pinners aged < 25 growing twice as fast as Pinners 25 and over, and an 80x increase in searches for 'cottagecore fashion.' With the relevance of the Instagram aesthetic dwindling and Facebook releasing old versions of itself (we can't even), we think Pinterest is the underdog in the race to become *the* online third space for non-judgemental identity expression.
"I've always found that Pinterest is not something that makes me feel like I need to compare myself with other people," - Mukeh, a zoomer in London
turning content into community
Pinterest isn't the only place where Zs are bringing these aesthetics (that ✨ just ✨ make ✨ sense) to life. Where else does the ~not a phone in sight just vibing~ energy call home? Let's be real, would it live anywhere else but TikTok?
Leaning into the increasingly complex and transient ecosystem of co-existing subcultures under one virtual roof, the interest in aesthetics + self presentation + how Zs are continuing to curate their online selves, means that Pinterest enjoys a second life elsewhere on the internet – with its community spilling over into other visual platforms, such as TikTok.
This cross-platform relationship has embedded the familiarity of Pinterest's UI into the TikTok lexicon, with TikTok's #pinterest tag just shy of 1B views and its counterpart #pinterestaesthetics at 29.5M views. There was even a 'pinterest challenge' (15.7M views), which grew in popularity over the summer, where creators come to "life" on their own boards through nifty editing and soundtracked to Conan Gray's 'Heather'. Aka, a winner with the Zs. From MUAs to group accounts to graphic designers, the trend capitalized on the challenge genre of TikTok, which allows for, and encourages, mass participation that often gains traction.
It comes with the territory that the overarching Pinterest tag on TikTok is owned by zoomer girly pops, parading their fit checks which are, fyi, almost exclusively soundtracked to that Clueless "omg i'm totally buggin" audio or Clairo's Pretty Girl. Pls note, the British Pinterest gals live and die by the grubby white Air Force 1s – it's a way of life, come correct. Regardless of subculture, there's a comforting sense of relatability in the new gen Pinterest TikToker and their quest for both fierce individuality and a place to find their people. Where style meets authenticity, you know you're onto a winner.
Beyond the y2k baddies and reformed VSCO girls looking for their next outfit inspo, the blending of these two platforms is fertile ground that works both ways when it comes to reaping the benefits. TikTok tutorials on how to grow your Pinterest audience vs. fit checks set to trending TikTok sounds represent untapped potential for brands and their microinfleuncer strategies (if you're in commerce and u ain't got one of these...wyd?). This visibility matters because it represents the organic content-into-community lifecycle and, in turn, creates a monetization channel for its top creators and distributors. If you're looking for a place to start, comments on PinterestTok reveal multitudes of their very own: "my pinterest looks like europhoria i luv it", "i'm on skater boy pinterest mixed with minecraft how-to builds", "i'm on timothee chalamet pinterest". Yep, drink up. 🐸 ☕
kettles on: ones to watch
📸 selling screenshots: The devil works hard but the TikTokRoom™ works harder. And you thought we were fast...Instagram account @tiktokroom is the only free sub you need to keep up with all the TikTok drama. With 1.6M followers and counting, the account has firmly solidified its TMZ status amongst the TikTok elite; being talked about is better than *not* being talked about - amirite? To celebrate their following, the account announced their newest creation: the TikTok awards show, which will no doubt have some stars running for the (Hollywood) hills. In shade we trust; we 👏 can't 👏 wait.
🙏 got your zoom link handy? After 6 months of using Zoom for school, work and those grand-pop catch ups, we're finally reinventing the wheel. Netflix engineer, Cameron Hunter, designed a video lens via Snap Lens Studio that 'uses hand gestures to show comic-book style messages instead.' Imagine those moments in full team meetings when you'd just like to ask a quick q. Now you can creatively holla the attention of the speaker with just a flick of da wrist. Want to try it out for Monday? Add to your Snap Camera via this link.
👀 $20.20, it's up to us. Hunter Walk, Partner at Homebrew is participating in a Fireside Chat to benefit the Biden for President campaign. If you saw his ExtraCrunch then y'all know you're in for a treat. Tickets start at $20.20 (❗️) and every little donation helps. Sign up here!
---
Okay, you made it. Now you can go back to designing your iOS 14 home screen.
ttyl,