👾 stream all about it!
how to make friends and isolate people
You are cordially invited to this week's brew of High Tea, your dispatch of 🔥internet culture served piping hot. This week: The New Yorker wins WFH, Dazed helps us be #AloneTogether, and $cashtag replaces the hashtag.
Drink up 🐸☕️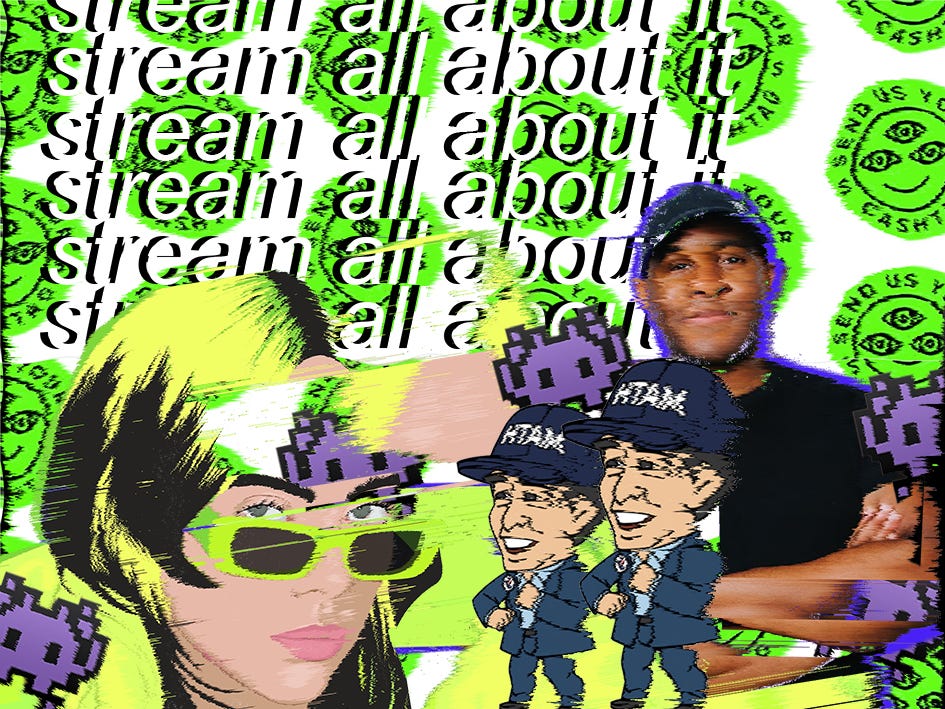 Billie artwork: Meghan Joyce
what we've been sipping on:
As Noah Harari said this week: "Emergencies...fast-forward historical processes", so much so, we've seen schools move to Zoom, UPS drone deliveries on the very near horizon, and now institutionalized media houses moving away from their age-old print processes entirely.
It's no secret that our newspapers and magazines are increasingly becoming 'for online consumption only', this, dear pals, is nothing new. But what is new, is the sheer force of 2020 (where's the reset button?) sending shockwaves throughout the world and industries as we used to know them, and media production is no different. With the pressure to move with the times, as the risk of doing nothing becomes much bigger, those that already made the leap years ago find themselves in a much less uncomfortable position today. Spare a thought for stragglers late to the digital party. Playboy, we promise we won't name names here 🐸☕️.
This week we can say that we're extremely excited to see just how well media bigwigs are coping. Now several weeks into the quarantine and we've got our first response, from the New Yorker, no less:
And this team wasn't the only one rushing to the aid of the general public. Dazed & Confused will be making their upcoming spring/summer issue free for everyone in their first 'World Interrupted' digital issue on April 9, a whole week before the print version hits newsstands #blessed.
"Making this issue of Dazed free and available for everybody to access, wherever they are in the world, is a gift to all of our readers who are facing a whole new kind of present in the wake of this crisis," said Isabella Burley, editor-in-chief of Dazed.
Of course, there's no more fitting cover star than the Gen Z matriarch herself: Billie Eilish (shot by OG culture fiend, Harmony Korine 🤩) . While tucked away in her home studio (#StayHome) working on the follow up to debut album 'When We All Fall Asleep, Where Do We Go?', Eilish is no doubt a fitting symbol for new horizons during these uncertain times. Or, as Dazed put it: "a reminder that whilst we might be alone, we are in this together". Follow Dazed's URL campaign #AloneTogether, involving both audience and leading names across music, art, fashion, food, design, science, and politics for more to come. 👀
kettle's on: ones to watch
🎧 Streaming from isolation. Can a plumber come fix my boiler during this lockdown? Karen, hun, you've got the wrong boiler room. Don't miss the latest live instalment from the ubiquitous Boiler Room: Streaming From Isolation. At the time of writing, DJ EZ is nearing the end of his mammoth 24-hour non-stop set "in solidarity with those on the frontline protecting us" (NHS, we love you! ❣️), where more than 10 million people have engaged with the stream so far. Running alongside the stream is a call for donations for The Global FoodBanking Network, asking viewers to donate "what you'd spend on a night out". Err, we'll just check our Revoluts for the last time we left our houses...and our sweatpants 🤑. Cheers to that.
📺New Doctor Who dis? Remember the Eleventh Doctor? Let us jog your memory: it's only bloody Matt Smith ain't it? We're definitely not keeping track of the days anymore, but Monday does sure look a whole lot more appealing now that we know Matt Smith will be live-tweeting alongside Richard Curtis, Tony Curran, Karen Gillan and Bill Nighy for their 'Vincent And The Doctor' episode. And he's *never* tweeted before. Like, ever. In quarantine there's a first time for everything, right? 7pm BST, fellas.
🎬Go live to save lives. See, it's true mom: playing Fortnite is game-changing! 🙃 Yesterday, Twitch's Stream Aid raised $2,766,857.12 and counting for the COVID-19 Solidarity Response Fund for the World Health Organization. ICYMI: the stream saw some of the top players from the world of music, sports and gaming come together to stream for a 12 hour long stint. With the likes of Steve Aoki, AlunaGeorge and *arguably* the most recognizable Fortnite player in the world, Nick Eh 30 involved alongside countless others throughout the 12 hour stream, it was well set to pop off.
💸Ca$h app for the cash strapped. Forget your digits and sliding into the DMs, it's all about your $cashtag these days. Our favorite creators have hopped on this recent bandwagon of Twitter gift-giving and we're very much here for it. Keep your eyes peeled for the likes of YouTube royalty David Dobrik, streaming baddie Corinna Kopf and, well, the app itself (@CashApp) which has been dropping some spare change 💰for the past 10 days. You can even receive a little helping hand in Bitcoin for the fiat naysayers. Of course, Jeffree Star had to double down and partner with the inventor of Twitter philanthropy, Bill Pulte, to drop some serious cash this week. Hi, how are ya?
📚Yang Gang all rise! If you're still mourning the loss of Andrew Yang running for the democratic nomination race, then fear no more: the #YangGang are back and they mean business. In place of your White Claws and fireside chats for "book club" 😏, the ever loyal supporters of the #HumanityFirst politik have launched their own book club, striving to have "productive conversations around the ideas that shaped Andrew Yang's campaign". So...when are we talking about Universal Basic Income? 🐸☕️
---
Okay, you made it. Now for some final words on the importance of staying home from Arnold (+ Whiskey and Lulu):
WASH YOUR HANDS! 🙏
ttyl,