🎶 TikTok on the clock
but the party won't stop, no
You are cordially invited to this week's brew of High Tea, your dispatch of 🔥 internet culture served piping hot. This week: say it ain't so for the savage TikTok fall out, byte goes from dog's dinner to every dog has its day and we don't miss a (Avenue) beat when it comes to cOmMeNtInG fOr tHe aLgOrItHm.
Drink up 🐸☕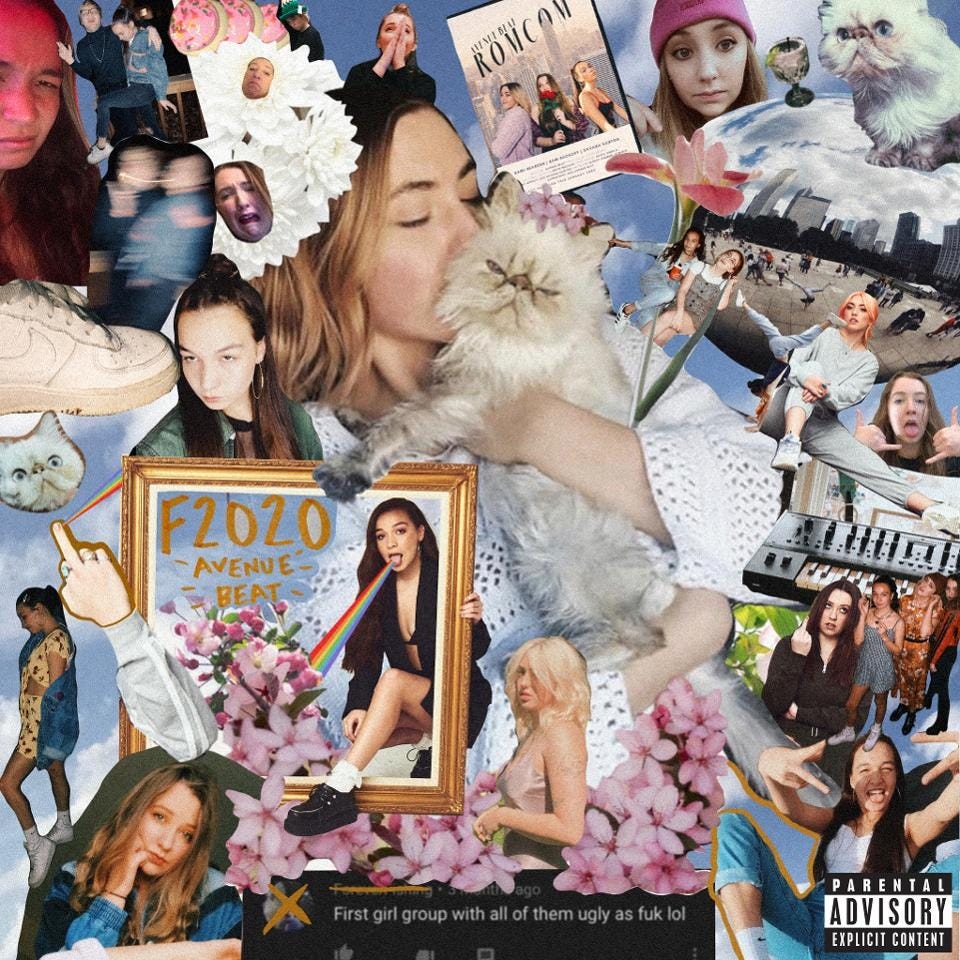 Avenue Beat, F2020
what we've been sipping on
Tl;dr it's been a week. Listen, I know we've been stuck on our cyclical woes like a broken record as of late, but let us have this one pls. Just when you thought 2020 couldn't get any worse, we're suddenly faced with the thought of a world without TikTok. Cue the Wilhelm scream, a dramatic Phil Collins drum solo and sling us a couple of spiked teas for this 💔 moment. And please, respect our privacy at this difficult time.
You already know we love to wax lyrical about TikTok here. To put it bluntly: we're obsessed, 🚫🧢, no apology necessary. Bear with us for a hot sec. Forget the dancers, forget the D'Amelios, forget the e-ᗷᕼᑌᗴᔕᒍYᗴᔕ: TikTok has engrained itself into the shitshow that is '2020 culture', as the #1 music discovery platform for Zs. You can quote us on that. 🐸☕
👶have you ever met a real rockstar?
"I don't even use TikTok...is that the same thing as Triller?" - DaBaby, October 1st 2019
DaBaby. Let's talk about it. No teen on TikTok in America right now has made it more than ten minutes on their for you page without hearing "brand new Lamborghini, fuck a cop car", and that's on TikTok's *chef's kiss* algorithm. We are, ofc, talking about DaBaby's ROCKSTAR (ft. Rody Ricch), the stand out track from BLAME IT ON BABY, which has quickly cemented itself into our unofficial quarantine soundtrack. Less than 3 months since its release in April, the bop has positively exploded on TikTok: 5.6M videos (and counting), plus a Hot 100 stickiness – which has kept it at #1 for the past 4 weeks in the US, 6 weeks in the UK and 8 weeks in Ireland. 👀🇮🇪
DaBaby is just one of many artists that we've seen fall into this pattern as of late; Doja Cat's Say So (20.3M TikTok vids) and Megan Thee Stallion's Savage (30.2M TikTok vids) have enjoyed similar viral success on TikTok, the latter of which became March's most played song on the platform with 7.6B views. Both songs paid respect to the app's part in their success: Doja Cat scooped up 17-year-old Haley Sharpe (aka @yodelinghayley), creator of the Say So dance, for her official music video, while Beyoncé's verse on the Savage remix "Hips tik tok when I dance", pays its respect to Keara Wilson (aka @keke.janajah), who created its viral choreographed counterpart. Of course, both bangers secured their #1 spots with lowkey co-signs from Nicki and Beyoncé...if you've ever heard of them.
guys!! guess where you'll be seeing me tomorrow?! tune into doja cat's youtube channel tomorrow at 10 am ET to watch the premiere of say so!!<3
#dojacatsayso
🥺🤪🤩
"your For You feed gives you additional opportunities to stumble upon new content categories, discover new creators, and experience new perspectives and ideas as you scroll through your feed...by offering different videos from time to time, the system is also able to get a better sense of what's popular among a wider range of audiences" - TikTok, 2020
On TikTok there's no time, but there's also no time to waste. Early adopters from the industry world have also been rewarded with a piece of the TikTok pie, by latching on to smaller creators Doing Bits™ in this fleeting music space. After using the Lopez Brothers as backing dancers for his single FREAK (ft. Megan Thee Stallion) in mid-March, Tyga one-upped himself by hopping on Curtis Roach's viral quarantine sensation, Bored In The House (42M views), just two weeks later.
The ridiculousness doesn't stop there. Tyga's remix of Drip Report's Sketcher's capitalized on an existing one billion streams on TikTok, and, similar to The Kid LAROI's 'Addison Rae', Tyga teased 15 seconds of the track with "should we drop it 🔥??", set to a backdrop of Netflix's Tiger King. It just doesn't get more 2020 than that.
Why reinvent the wheel when there's so much low-hanging fruit for the taking on TikTok? Make it make sense! That being said, whatever you do, don't be a Jason Derulo: aka sampling Jawsh 685's Laxed for his new release, Savage Love, without credit. Hmmm...we thought that sounded familiar. 🐸☕
"Part of the magic of TikTok is that there's no one For You feed – while different people may come upon some of the same standout videos, each person's feed is unique and tailored to that specific individual." - TikTok, 2020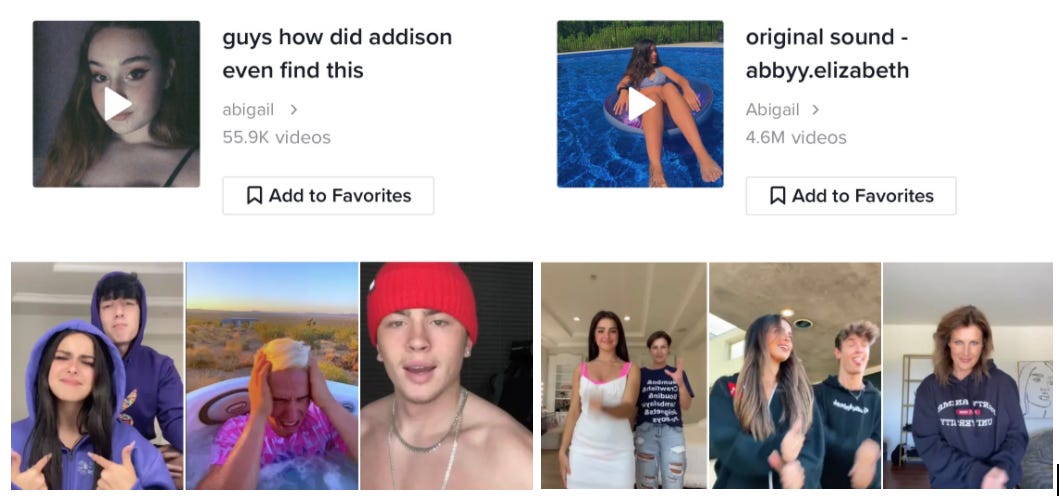 TikTok sounds used in Addison Rae's most recent videos, from unknown creators, which no doubt made it onto Addison's for your page 👀
Before we get lost down the TikTok rabbit hole, we just gotta say this: the genius of the for you page is in its universal individualism. The #fyp is the largest algorithmic fishing net you could possibly imagine, and, since the medium is the message – we're scraping the ocean floor with this one. Once hailed as one of TikTok's most mysterious features, this subtly curated feed is now the best way to tell what the next #1 is going to be. Hey, it was fun while it lasted.
While we still got TikTok in our hearts and in our hands, look no further for the next break out song of 2020….
lowkey fk 2020
Off beat? Nah: Avenue Beat. Meet Sam, Savana and Sami of Avenue Beat, the girl group who reached #9 on iTunes yday for their brand new song F2020 (a certified bop)...with a little help from TikTok. How? These gals are smart, smart. Not long after the US declared lockdown, the three decided to move in together to continue working on their music; and also upped their TikTok game. Not only were all three now posting that good good 👉👈 relatable content that tapped straight into the Z zeitgeist (cc. #hititfergie, #retainers, #idrlyb), they also released new music: 'thank u anxiety' and their digital EP 'the quarantine covers' over the same period. Listen, some of y'all don't release music that matches your TikTok brand and it shows.
On June 27, Avenue Beat dropped their first sneak peek of F2020 on TikTok, with the caption "day 1 of tryna get this song we wrote to pop off so our manager will release it lol heLp." The song was such a banger, with self-deprecating lyrics the whole world could vibe to: "my cat died / and a global pandemic took over my life / and I put out some music that nobody liked / so I got really sad and bored at the same time / that's why I'm like fuck 2020". Within 24 hours they achieved 4.5M views (now 12M views and counting). The track was so on the money, a mere week later they let all their stans know: F2020 was coming fr.
"no one's ever going to let us put this out, why don't we just throw it up on TikTok so it has a place to live. Then it got four million views." - Savana Santos, NYLON
'cause this is Triller, Triller's night
With Pompeo pulling up with the imminent threat of a TikTok ban lurking, where to next for the US market and our beloved matriarchs of hype? We think India might have some answers. Since TikTok was banned at the end of June, we've been waiting with baited breath to see who nabs the top spot and we're already seeing signs of nature healing. Triller, the social video platform, is trending and it's jump from 0 to hero is almost too good not to mention. Sitting around a modest 400 in the iOS charts in early June, Triller has skyrocketed this week to 1st place (we weren't kidding when we say it's been a journey) and looks to be a solid contender for replacing the TikTok sized gap in our lives. Also catching our 👁👄👁is byte, aka Vine 2.0, which has also had an insane week of monumental climbs. Peep the US iOS DL stats below, (thanks App Tweak), the jump has us shook.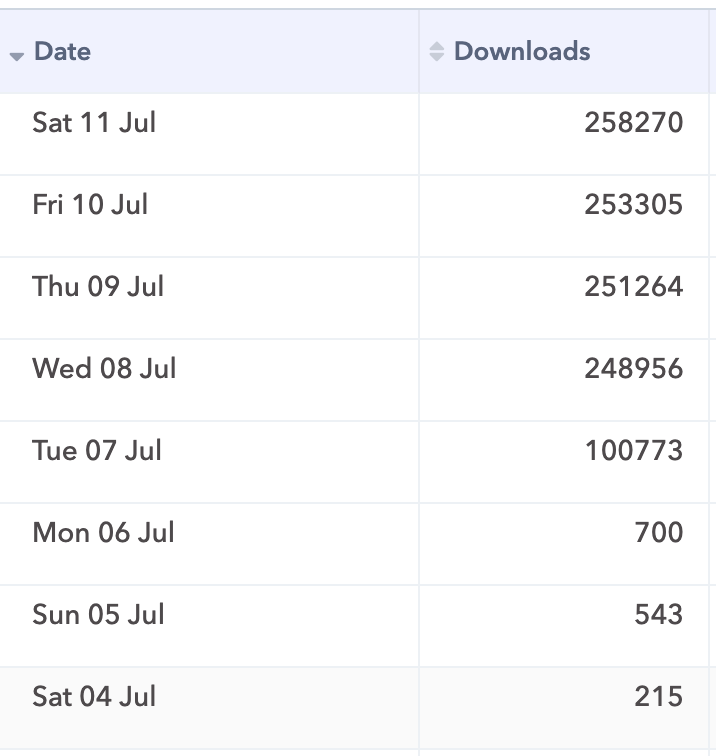 Many of these DLs are from members of alt-TikTok hoping to dominate byte's equivalent of the for you page before the 'straight' TikTokers eventually make it over. TL;DR they aren't as impressed with the millennial content they see, and are quick to call out the major differences to TikTok, but the lack of Hype House and big name influencers has the alts gassed. Byte does it for the girls and the gays, that's it? Stay tuned 👀.
Make no mistake, friends: the true winner of the platform wars will be decided by the moves of our gal Charli D'Amelio (who reached 70M followers on TikTok this week, no less). We're keeping tabs on which app our dancing qween heads next, because as ya'll know, it's an absolute sure thing that whoever gets the gal, will get the Zs on 🔒.
---
kettle's on: ones to watch
catfished by a cake. First it was sourdough, now the internet is going mad for sponge with a strange twist that has cakes looking uncannily like other foods, and that's not even the end of it. The absolute artistry now has everyone paranoid that everything *could* be a cake, cue the new Twitter memes that have us questioning the meaning of life.

fyp.rip. Worried about storing your viral vids once TikTok gets the heave ho? We got u. Now you can own a copy of your original TikTok content via fyp.rip, the new tool that downloads all of your original content and then sends all of your internet goodies to your email. You're welcome 💅

TikTok to the streets. We don't know how it happened, but we're so glad it did. Chinese streetwear TikTok has exploded onto our algorithms, and we're so hype(beast) for it. While we skulk about in our quarantine pieces, the streetwear gods and goddesses from across the globe show us the true definition of fashion killa: bang bang, boom boom, pop, pop. 😎
---
Okay, you made it. Now comment for the algorithm 🙏.
ttyl,