and I oop-
look mom, we made a newsletter
You are cordially invited to this week's brew of High Tea, your dispatch of 🔥internet culture served piping hot. This week: high school activism, gutsy gals take centre stage on TikTok & Miley and Justin find their voices.
Drink up. 🐸☕️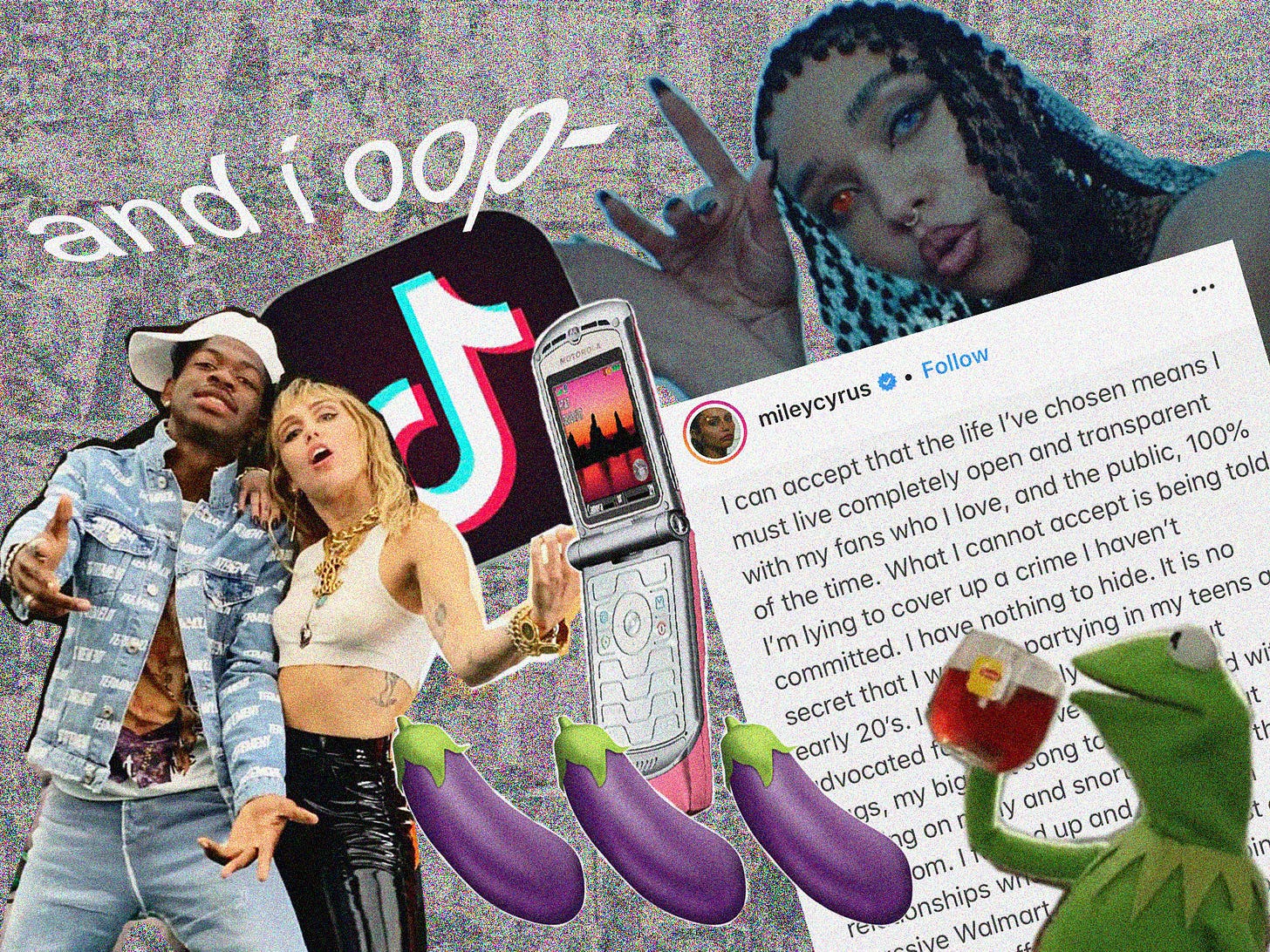 what we've been sipping on
In times defined by teen YouTubers baring more than the authenticity of their acne scars, videos that show Gen Z laughing in the face of the 'gram generation have caught our eye — and we find it fascinating. This viral TikTok, showing three young women brazenly letting it All Hang Out™ with choreographed nonchalance, has been liked over 2.6 million times at the time of writing. The power of it's IDGAF sentiment is palpable and, dare we say it, nothing short of rebellion. Putting bellies on blast in 2k19? We stan. 👏
Playful and persuasive, this unapologetic example of teens acting without social consequence is refreshing af 🔥and kind of has us wishing we were born in the 00s.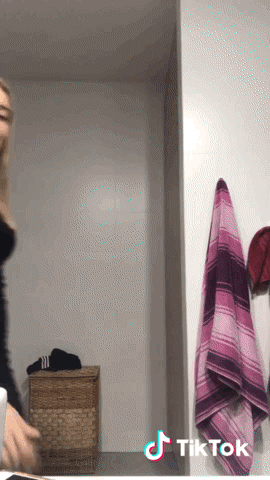 Meanwhile in Nevada...high schooler Gillian O'Sullivan made headlines as she took to TikTok, seeking justice for educators across her school district - and made some serious money move$. Of course sometimes shit go down when there's a salary raise promised for teachers pursuing a master's degree and they just...don't...get...paid. Because that's totally cool, right? tl;dr Clark County School District spotted hangin' out the passenger side of this lawsuit ride.
In her TikTok, with almost 44,000 likes, Gillian (@gill.no.chill) lives up to her username and berates the Clark County School District, stating:
"Literally, they won't pay the teachers what the teachers earned...personally, I don't think this is fair and I'm kind of sick of our district thinking it's ok to walk all over teachers and students all of the time...So if you're sick of this too and you want respect for yourself as a student but also for your teachers please strike…because I'm done and you should be too."   
Pretty badass considering that teachers' strikes are illegal in Nevada (sus af if you ask us, thank god we're not in high school anymore). Before the school week was out, the beef had been called off - with all parties involved reaching an agreement (cue the M.I.A. cash register sound). Thanks to teens like Gillian, it looks like the days of Facebook slacktivism could be behind us. She even tells Teen Vogue "if anything else happens, we are ready to hop back on it". 
Just this once, let's hope what happens in Vegas doesn't stay there for good.
the medium is the message
It was the best of times, it was the worst of times, it was the age of the Notes app. Once reserved exclusively for keeping tracking of passwords for free trials we'd like to remember and a list of conquests we'd rather forget 🤫, the Notes app (soz Android) has emerged as the preferred medium for covering-your-ass-from-PR-disaster, favoured by celebrities and politicians alike (or are they the same thing now? ☕️🐸). Never has a hastily written public apology been more in demand, in a world where gummy vitamins and a can of soda can cancel a career as fast as it built one, sis. The graduation of Notes from private to public sphere has propelled its screengrab to the ubiquity of urban legend. Some like it hot...and served with receipts. 
We were left with whiplash this past month, bouncing between confessionals from not one, but two monoliths of millennial celebrity culture. Both Miley Cyrus and Justin Bieber published their Notes, raising a defiant middle finger firmly in the face of the TMZ style "exposé", blowing the whistle on...well, themselves. Despite the expected revelations of sex, drugs, and rock and roll (check, check and uhh ✅), these self-published tell-alls revealed more than just the sum of their parts. 
"I can accept that the life I've chosen means I must live completely open and transparent with my fans who I love, and the public, 100% of the time." - MC

"Sometimes it can even get to the point where you don't want to live anymore" - JB
Hope you find time to read this it's from my heart
With authenticity the buzzword of 2019, both Miley and Justin's intimate revelations of what it's like to live in their shoes comes across fearless and vulnerable in equal parts. By peering into their Notes - which might as well have started "Dear Diary" -  we are reminded that they're only human after all, figuring this shit out just like the rest of us. Celebrity doesn't discriminate; insecurity, addiction, self-loathing and uncertainty are well trodden paths for both stars. But now, we get to hear about it from the horse's mouth; forging an empathetic bridge between our two worlds. From private confessional to public broadcast, the intersection between Notes and Instagram has paved the way for more human connection in an increasingly inauthentic world.
So what? JB and MC did the dirty on their own past indiscretions, holding their hands up to a healthy dose of teenage misadventure...yawn, is this really breaking news? We think so. We grew up with these stars -love them or loathe them- and it was our gen who catapulted them to success in a world where streaming and follower count began to overshadow album sales. Their anthems were the soundtracks to our teenage breakups and bad behaviour; danced out on sweaty club floors with cheap vodka fueling our questionable wall twerks (sorry mum). But did we afford the same allowances for the teens that penned these tracks? 🤔
We salute these child stars for speaking their truths and have our eyes peeled for the continued evolution of the Notes app...including Lil Nas X conceptualising the entire storyboard for his panini music vid.
---
kettle's on: ones to watch
Okay, you made it. Now you can go back to being hungover.
ttyl, High Tea.