don't @ me
maybe we're Caroline Calloway too
You are cordially invited to this week's brew of High Tea, your dispatch of 🔥internet culture served piping hot. This week: JUUL burn out, BigKlit gets her big break and Billie Eilish is a whole #mood.
Drink up. 🐸☕️
Give a teen a JUUL, and you harm them for a day. Teach a teen to JUUL, and you harm them for a lifetime…isn't that how the saying goes? Here's the Gospel according to HighTea. 🙏
ICYMI, smoking has graduated from dodgy roll-ups behind the bike sheds to finding its crown JUULs within the new frontier of vaping. Sleek and seductive, JUUL is synonymous with an iProduct (surprise, surprise its co-founder is an Apple alumnus 👀) and could easily pass for the next piece of millennial must-have tech.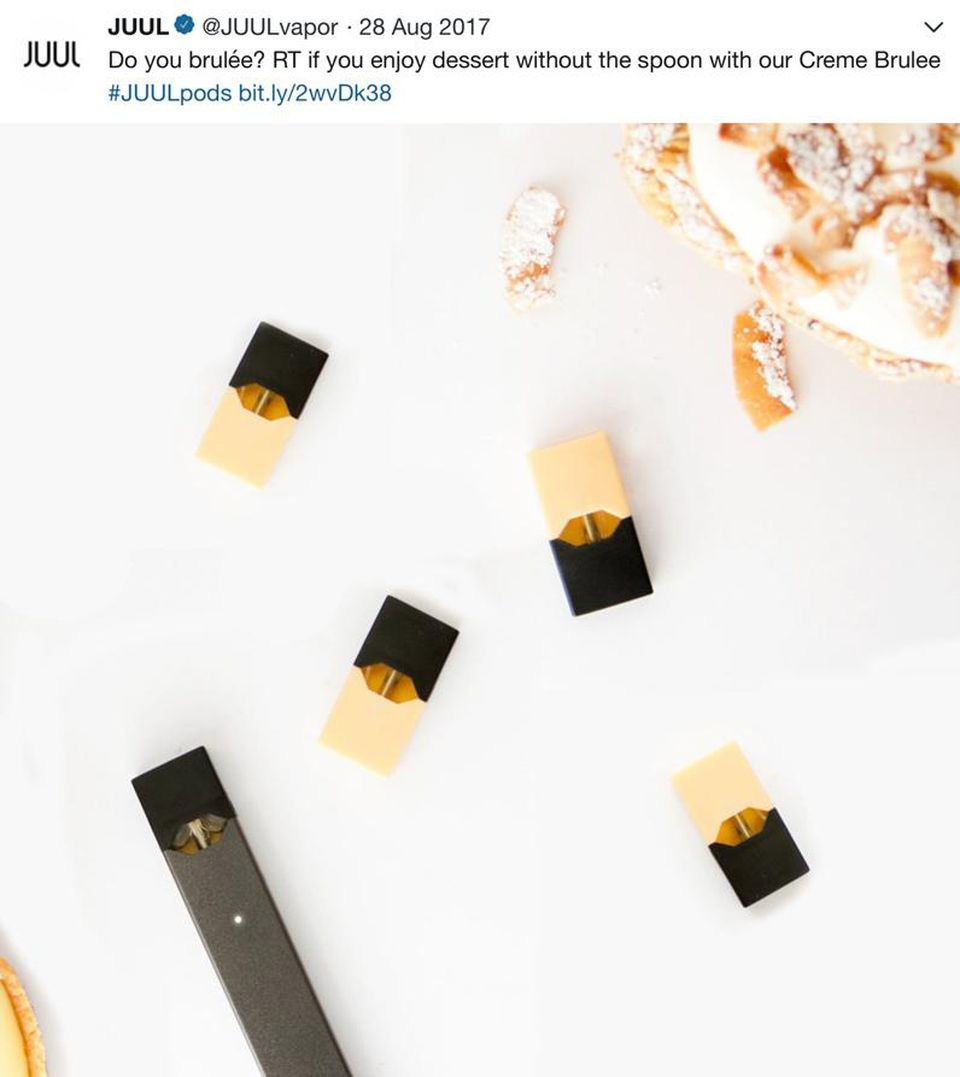 Do you brûlée?
JUUL's product team weren't smoking around. Flipping the script on vape design, they rejected the imitation game of first generation e-cigs and the ego of second gen vapes - legendary for their clouds of cotton candy smoke (remember when Drake flew the Vape God to his house?).
JUUL not only reinvented smoking, they repackaged it, capitalising on the teenage affinity with trending tech. Juuling isn't just an activity, it's an accessory. Boasting an aggressive nicotine content (equivalent to smoking a 20 pack in one pod; triple in the 🇺🇸) and insatiable flavours (alpine berry, anyone?), is it any surprise that JUUL effortlessly captivated the youngest and most impressionable market of all...🐸☕
For teens, Juuling is more than a high school hobby. It's a way of life:
Forget the days of smoking on the sly before your parents got home, now Zs puff puff discreetly during a bathroom break at school - smelling like nothing but roses when they return to class. And they're doing it in their droves. According to The National Youth Tobacco Survey over 3.6 million kids (and we mean, like, literal children) used e-cigs in 2018 👀. But wait…weren't vapes invented to get the 40-a-day middle aged chainsmokers off the 'cancer sticks'?...try telling that to their early marketing campaigns.
🚨But this Summer things got super weird and scary real fast 🚨
Eight vaping related deaths in the US to be precise. And that's not all of it. The emergence of conditions that have baffled medical professionals have been widely publicised this month; from lungs filled with congealed vape oil to acute respiratory distress syndrome. JUUL isn't the sole culprit of these unknown maladies (especially if their legal team are reading this lol 👀), but with 530 cases and counting it's enough to get teens taking action in just about the only way they know how. Cue the #stopjuuling campaign across TikTok, featuring Gen Zs throwing their Juuls out of windows en masse with a persuasive plea "no but seriously guys...we all gotta stop juuling". But is it too little too late - are they hooked?
With India, one of the world's largest smoking markets, giving the big heave-ho to all e-cigs lowkey last Wednesday, and Trump himself threatening to follow suit, can we expect the humble JUUL to just..sashay away? We doubt it. Now that we've tasted this sweet mango freedom, are we really expected go back to smoking in doorways? Not while JUUL holds roughly 70% of the e-cig market…and sits next to the moisturiser in aisle 3. Hard pod to swallow? Put that in your JUUL and smoke it.
Amen.
in the tea leaves: don't sleep on BigKlit
You heard it here first 🔮. The early bird, in this case 26-year-old Indigo aka BigKlit (no one knows her last name, so don't even try), catches more than just the worm with her hyper-charged, intentionally reckless rap. Defying genre with her visceral sound; you either feel BigKlit in your marrow or not at all.
You won't find BigKlit on Instagram (banned, don't ask 💦). You won't find her bio lurking on Spotify either - despite topping their Top 50 Viral Songs last month with Liar, a certified TikTok anthem (you didn't hear that from us 🤫). But BigKlit is more than just a meme.
Promising chaos of biblical proportions with her debut album 2028 (alluding to her alleged future Presidential run…#MakeBigKlitGreatAgain), she followed up with more corrosive bangers in her most recent project - Klitorious B.I.G.; ultimate hubris, but we rate.
Think: alien spawn of 6ix9ine and Lil Kim, sent by Satan himself. And you're still not even close. With hyperbolic vitriol and scandal as BigKlit's raison d'etre, nothing is off limits - including recruiting her entire family for her latest visual. That Bitch™? Mum's the word.
Despite not fitting into the cookie cutter industry spec, BigKlit just signed to RECORDS (like literally yday, we told you not to sleep on this energy). Will that industry bread and production make her commercially palatable? Doubt it, but do we care? This gal is the litmus test for big things to come. And that's what we call BigKlit Energy.
The devil works hard, but BigKlit works harder.
kettle's on: ones to watch
Okay, you made it. Now you can go back to being hungover.
ttyl, High Tea.