🗳how to win fans (and elections)
billie and biden race to the ballots
You are cordially invited to this week's brew of High Tea, your dispatch of 🔥 internet culture served piping hot. This week: it's Billie's [virtual] world, we're just living in it; AOC shows she's always been 'Among Us'; and 100 Thieves gets its voting hat on.  
Drink up 🐸☕️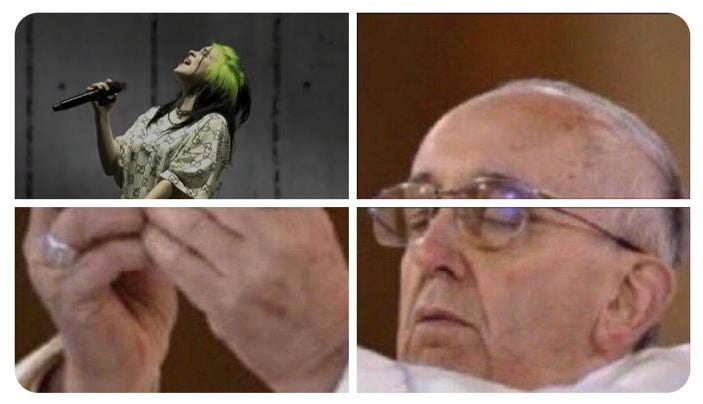 ---
How to lose friends and alienate people? Excuse me miss girl, this is not the Trump campaign. We're not sus like that. We're here to find favour with fans and win elections. From AOC to A$AP Ferg and Billie Eilish to Biden, it's been one hell of a week for getting out the vote (GOTV) for Gen Z. And with just 9 days to go until the U.S. election, every minute and every imposter matters. This week we're weeding out the baaaaad guy from the extended nightmare on the campaign trail, to extended reality taking centre stage in head-to-toe Gucci. Teapots at the ready, because this one's piping hot. 
what we've been sipping on:
It's fair to say that Among Us, the wildly popular multiplayer game with Zs, has been having a bit of a moment as of late. A certified winner of the pandemic, which only served to accelerate interest in the 2018 game, has seen Twitch channels and Discord servers explode with Among Us communities and content alike. Footage of James Charles playing for the first time has gained 11M views on YouTube and MrBeast, upping the ante as always, is about to hit 8M views for his $10k in-game giveaway. 
We thought we'd seen it all on the Among Us hype train tbh, until AOC (aka Congresswoman Alexandria Ocasio-Cortez) decided to pop off on Tuesday, making her Twitch debut alongside Congresswoman Ilhan Omar and gaming glitterati such as pokimane (6M followers on Twitch). With 439k concurrent viewers, AOC managed to bag the third highest individual stream by viewership in Twitch history, pipped to the post by Ninja and Drake (pretty sus if you ask us). TL;DR Congressman Ted Yoho, we think you misspoke in your previous comments regarding AOC, because this is a bad bitch you're dealing with.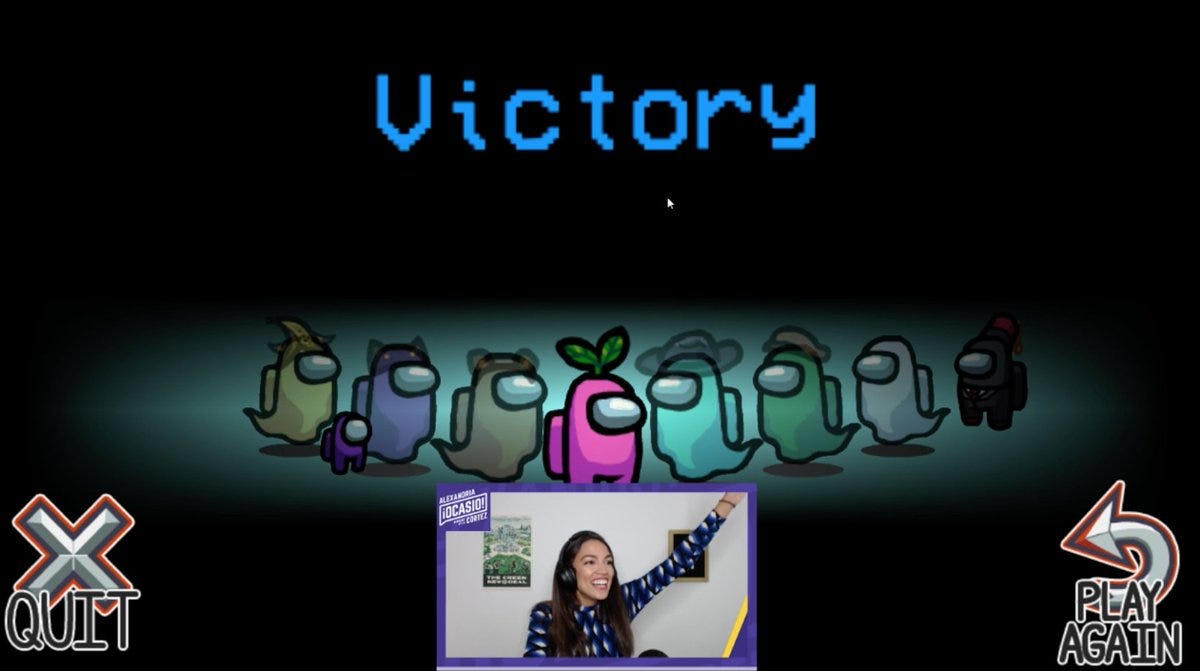 Screengrab from AOC's Among Us Twitch Stream
"The future of politics isn't just young, tech-savvy, and meme-literate. It is accessible. Ocasio-Cortez talks to everyday people on Twitter and Instagram Live, and even visits constituents in Animal Crossing. These sustained efforts allow her recent Twitch stream to seem less like a political stunt and more like another genuine attempt to reach people where they live. "Pokémon Go to the polls" this is not." - Patricia Hernandez, Polygon
The stickiness with this singular streaming event, evident in the abundance of AOC fancams and TikToks condensing the stream into viral moments, extends far beyond the affinity Zs have with Among Us. Instead, this intersection of gaming and politics represents entry into the territory of hyper-engaged fandoms, facilitated by a platform frequented by Gen Z and, by default, first time voters. So, where next for the streaming wars of 2020? Enter: Billie Eilish. 
Welcome to the show. Please be kind to each other. I love you.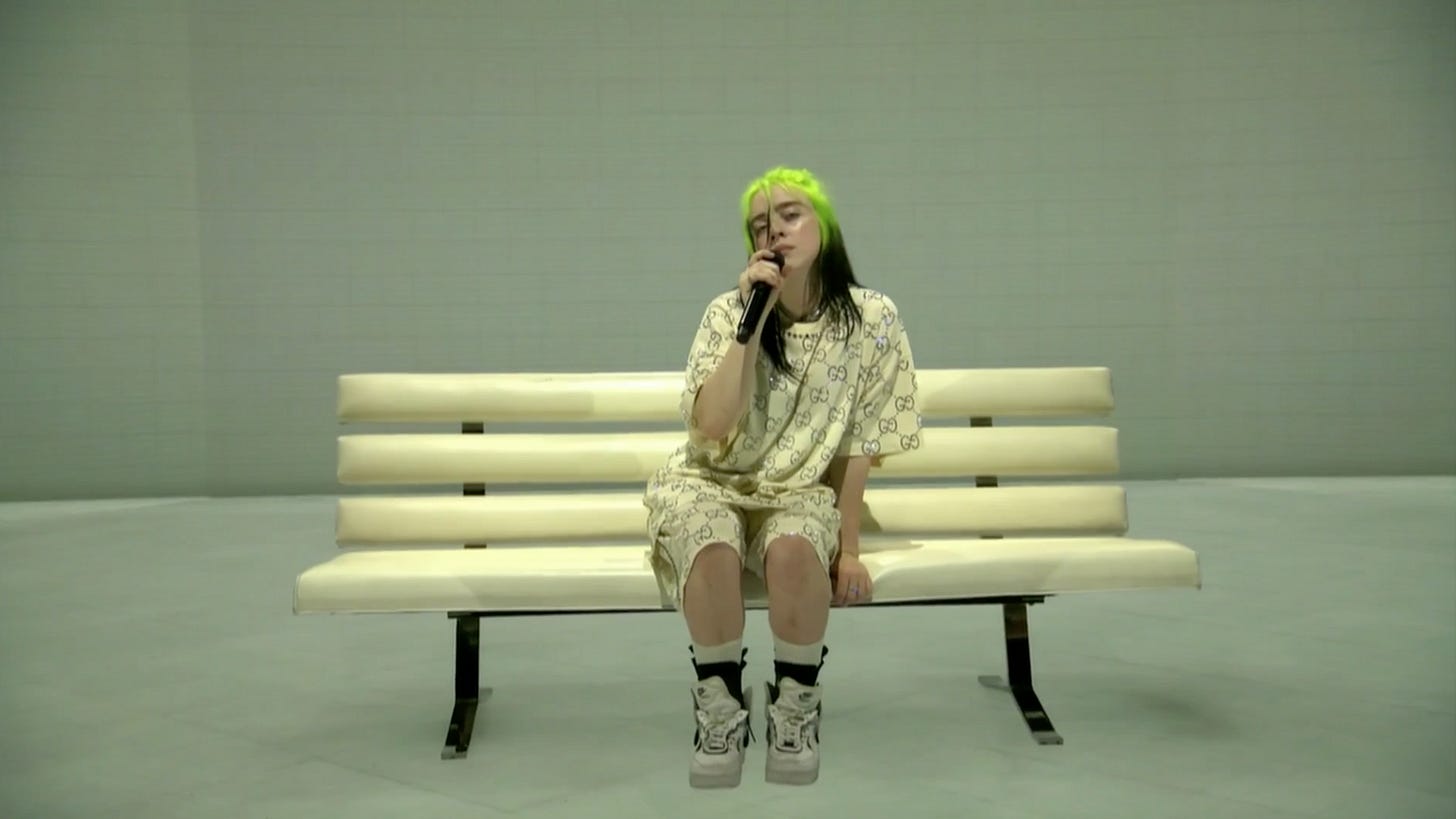 Screengrab from Billie Eilish's WHERE DO WE GO? THE LIVESTREAM
"the reinvention of fandom in the streaming arena no doubt will inform activations when the world reopens." - Cathy Applefeld Olson, Forbes
If there's ever been a year to harness the power of livestreams, it's 2020. For artists and musicians without IRL venues, most hastily took to IG, Facebook or YouTube at the beginning of the panny-d, including Diplo and his Corona Sabbath, Billboard's Live At Home, H.E.R's Girls With Guitars and Bright Minded, the series from Miley Cyrus. But just when you thought we were all sick of celebrities sat cross-legged on Calabasas living room floors, broadcasting their cookie-cutter quarantine lives via livestream, Billie Eilish said: hold my Blohsh.
It was a gutsy choice to announce a ticketed livestream at $30 a pop, during a time when people are pinching the pandemic pennies more so than ever. This is even more relevant given the fact Billie, a teenager herself, commands such a young fanbase with limited disposable income. Well, fortune favors the bold. As reported by Bandsintown, who have tracked more than 50,000 livestreams since March 25, paid livestreams have risen by 577% between July 1st and September 30th (compared to their free counterparts which have seen a 26% decline). 
If Billie matches the appetite for her cancelled world tour, where all 500,000 tickets sold out within the first hour of going on sale, last night's livestream will have grossed a cool $15m in ticket revenue alone. Not to mention sales from exclusive merch for livestream viewers, made available for purchase pre-show in the virtual shop: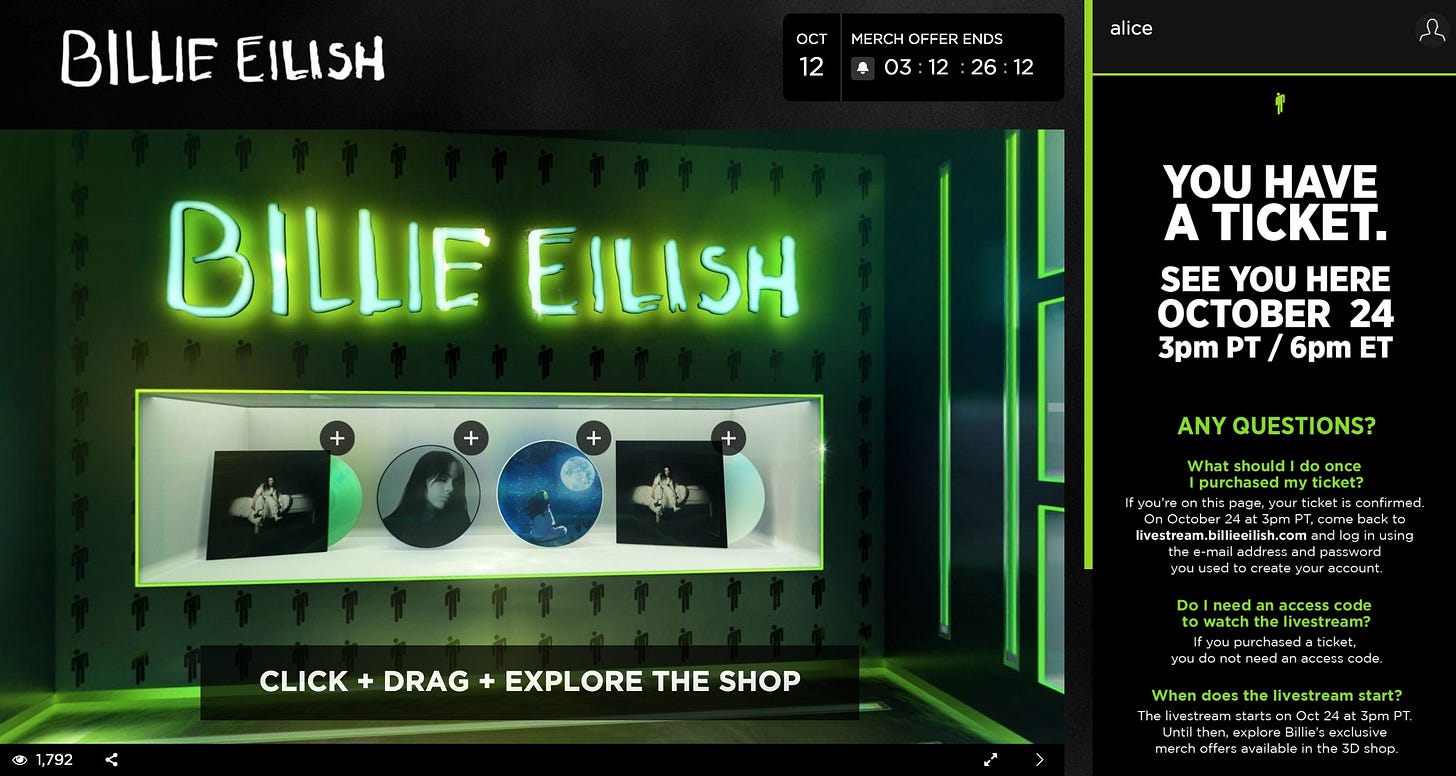 This flawless content-to-commerce entertainment experience was no stroke of luck, but a carefully choreographed series of digital activations, which ensured the success of arguably the most anticipated livestream of the year. Pre-show, Spotify was on board, revealing elements of Billie's show on Spotify canvases for WWAFAWDWG?, as well as even more exclusive merch for fans. Because…you can never have enough Billie Eilish merch, right?
Postmates wasn't far behind with an 1,000 ticket giveaway, free delivery for fans (code BILLIE, ofc) and an in-app pop up from the woman of the hour herself, encouraging users to vote "like our future depends on it": 
Which brings us to the most important part of the show, or rather pre-show, Billie's interactive voting room – which awaited eager viewers who tuned into the livestream early and had time to kill exploring these virtual spaces. This was followed with a continued emphasis on getting the vote out with direct to camera pieces from Lizzo and Jameela Jamil, encouraging viewers to make a plan to vote with Vote Save America.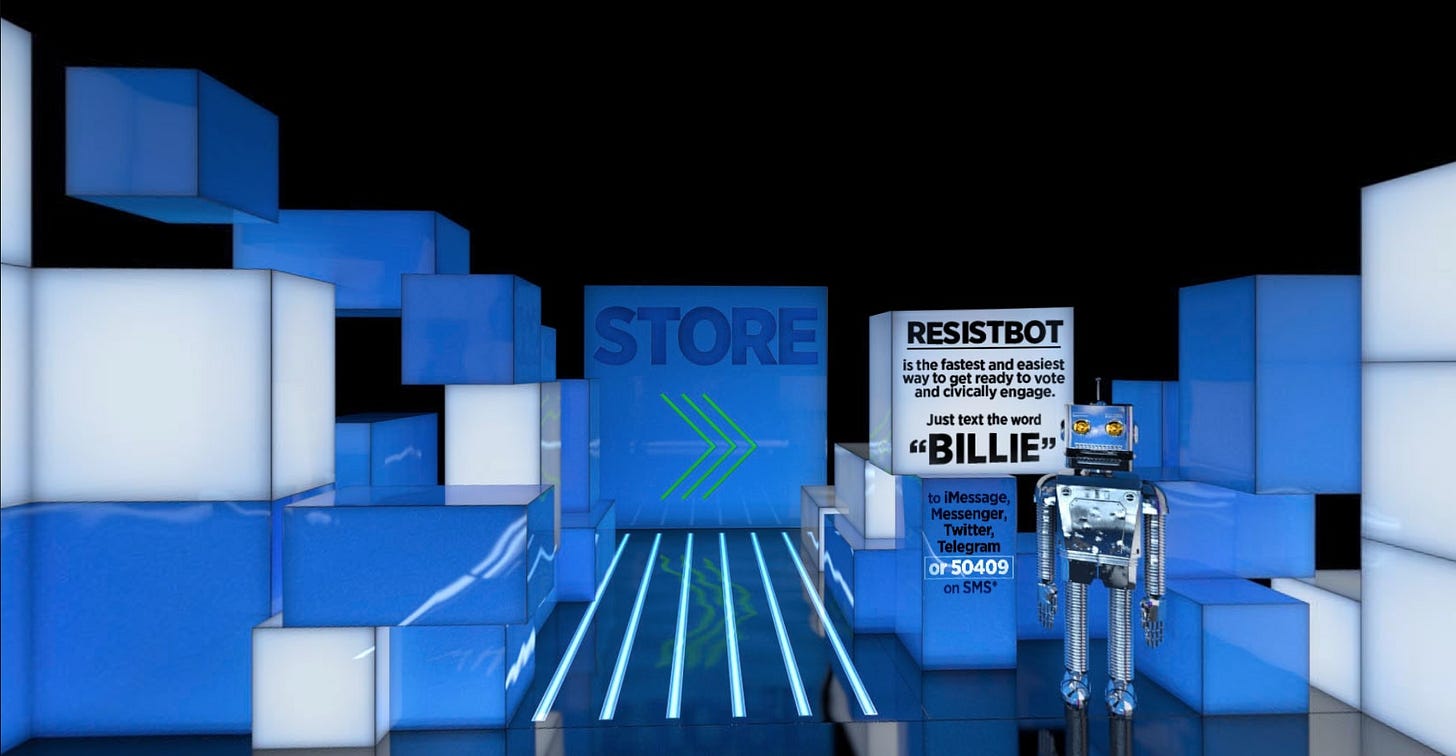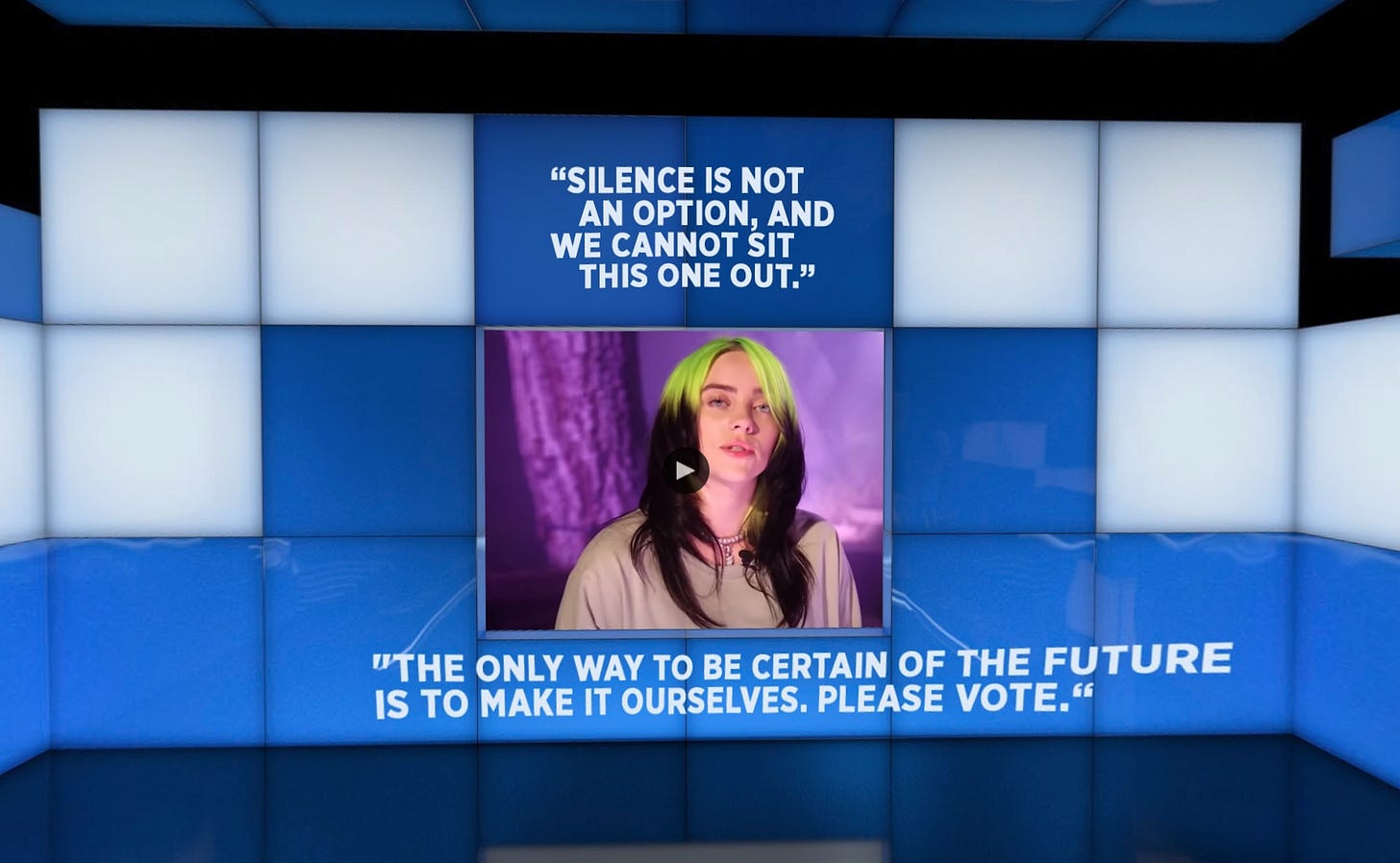 Screengrabs of Billie's pre-show interactive voting room
During the show, against a backdrop of forest fires, melting icecaps and a screen that read "NO MUSIC ON A DEAD PLANET", Billie had this message for her U.S. based fans: 
"please, vote people. We have 10 days til this election. It is is so important that you vote, especially if you're young, because we're the ones with futures — unless you don't vote and we all die. But I cannot stress enough, vote as early as you can. I voted last week… We've gotta do something, because the world is dying and people are dying and Trump is the worst."
See, in the crowded space of livestreaming, the cult of personality will always win. And Billie, like AOC, is able to capture our hearts, minds and dollar$ in 60 minutes or less. 
livestream: the medium for limitless artistic expression + monetization  
So how did she do it? Not only was the livestream a re-imagined version of her WHERE DO WE GO? 2020 arena tour, but the medium allowed Billie to perform in a 3D rendered environment, meaning anything — yes anything —  was possible. Although we've already seen hints of this with Travis Scott x Fortnite, up until now artists' livestreams have largely lived within the limited confines of IG and TikTok. Ofc, Billie teaming up with lili Studios, the production studio whose website proudly boasts "the most advanced live streaming experiences", Moment Factory on immersive visual content, plus the hosting smarts and technical prowess of Maestro, most definitely produced the most pivotal panny-d pop culture moment, periodt. We said what we said. No longer restricted by other platform infrastructure, Billie invites us to explore further dimensions of her artistry in the form of a rich tapestry of high fidelity 3D environments to accompany every song. Did we know we needed a strong dose of Billie cinematography and artistic direction? No, but omg, are we glad to see it. 
"There are much higher engagement opportunities that didn't even exist before due to limitations in venues. We start with a very deep conversation about what do you want the fan experience to be? What do you want your fans to feel, to think, to experience, to see? How shall it smell for them?" — Maik Kahler, co-founder and chief creative officer at lili Studios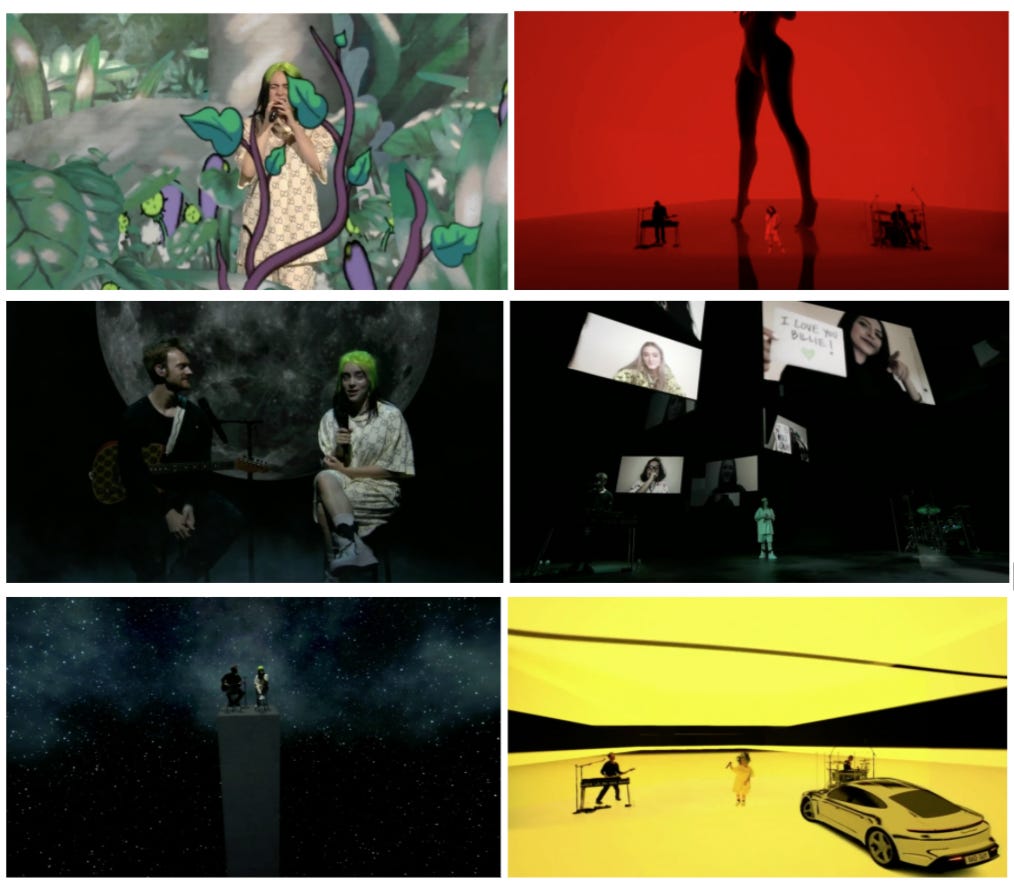 And it's not just the visual experience that gets the facelift. Livestreams, notoriously difficult to monetize, are now the glue in helping artists get their bag. Every element of Billie's immersive experience was coordinated with such operational prestige and optimized within an inch of its limited online real estate to sell Billie's exclusive stream merch. While waiting on the "Show Starting Soon" screen, our group chat had already 'checked out' without leaving the site [ty Shopify]. Now that's what we call a *chef's kiss* commerce experience.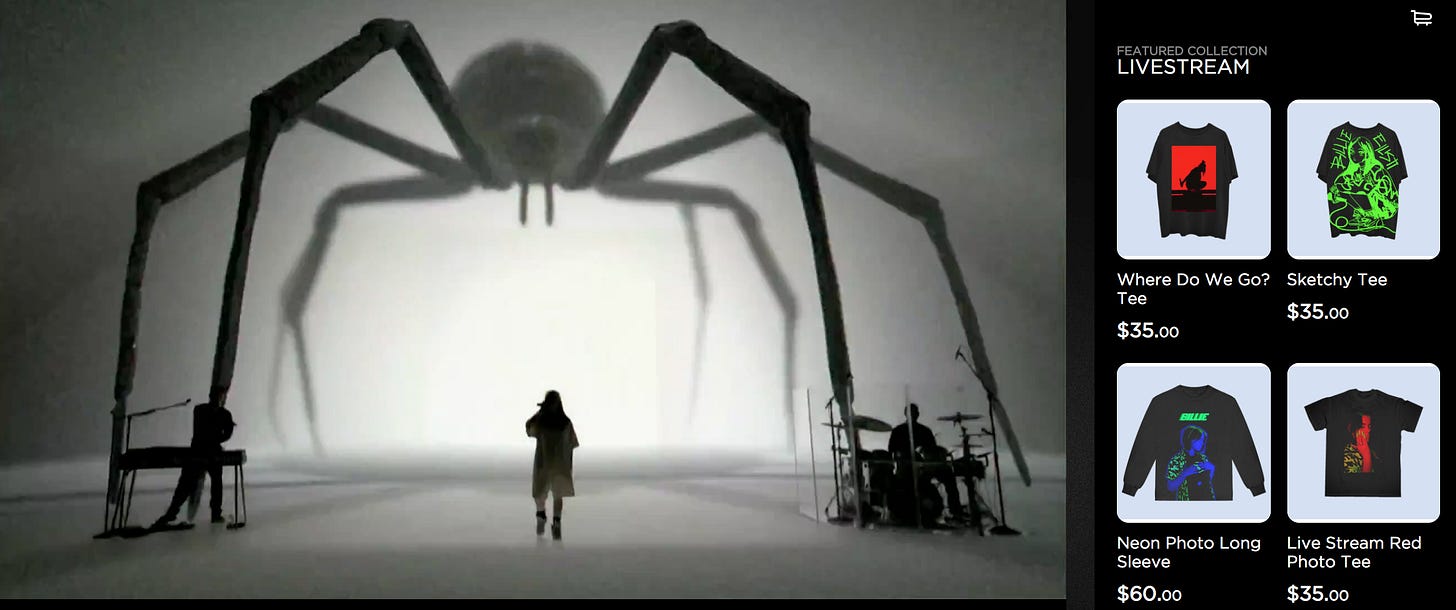 from this 👆 to this 👇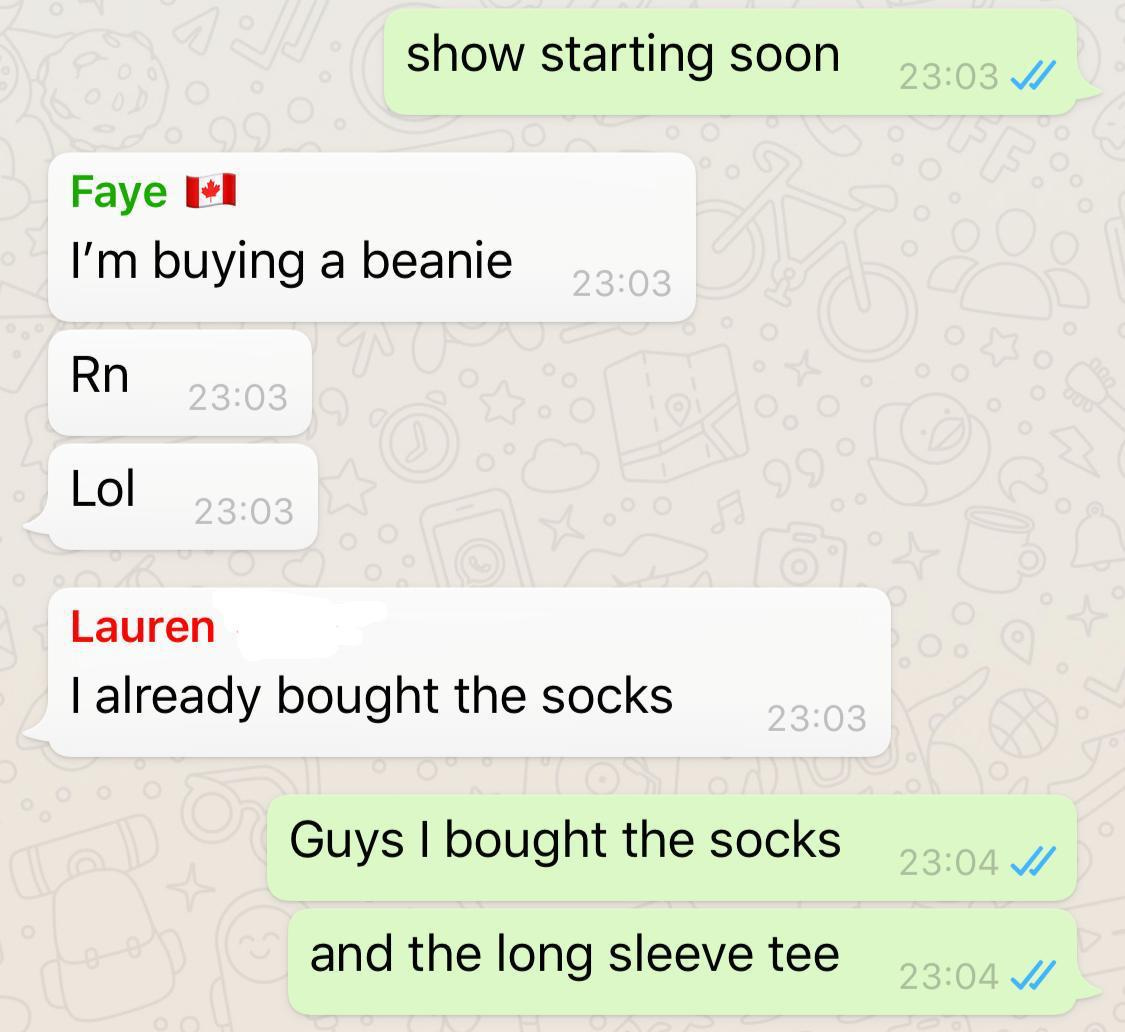 With Maestro's mission to 'grow the GDP of the creator economy', allowing artists new outlets to monetize without compromising on experience, while also providing analytics of every single user action [so granular in fact, Maestro's executive VP of revenue states he can see how many people named 'Steve' are on the stream at any given time], the platform gives artists meaningful data points to learn from beyond just simple viewership numbers. Pals, get ready for the influx of LaaS companies around the corner in 2021. You can quote us on that. 
WHERE DO WE GO? 2021
We now know livestreaming no longer necessitates sitting in bedrooms gazing into the social media abyss. For artists, livestreaming provides an opportunity to achieve other-worldly performances, previously impossible or unattempted before. After yesterday, it's clear: Billie is seizing the opportunity to not only perform in settings of her wildest dreams, but also communicate with fans on full service platform that promotes creativity (XR technology), authenticity (Q&A + BTS with crew) and community (fan interaction throughout + GOTV). This pals, is the future of live music as we know it.  
---
kettles on: ones to watch
100 Thieves x GOTV. This week gaming and lifestyle company 100 Thieves opened its doors to LA voters, after announcing it would play host to the County's official Voting Center. To bless the occasion, the team partnered with graffiti artist Slick to design a 'VOTE' mural, which will be changed to 'I VOTED' post Nov 3rd. With David Dobrik galvanizing 120,000+ Zs to register to vote this month and ofc, Billie's GOTV influence this weekend, it's exciting to see all corners of pop culture and influence come together to bring politics firmly into the forefront of young voters' minds. 

Genies, Gucci and our new digital passports. Were we ready for this collab? Surely not. This week avatar creators, Genies, announced their newest SDK update: allowing everyone to create and use their own digital persona across platforms. With their vision to become the universal digital identity, the Genies SDK allows the avatars to now live in "AR/VR platforms, games, and in use cases or SDK partner platforms that demand a 360-degree rendering of the digital goods they purchase." And listen pals, it's all Gucci [and Giphy].

McBroken no more. There is something to be said for that feeling of utter woe when you pull up to a McDon and the ice-cream machine is broken. Rashiq Zahid decided to do something about it. Creating 'McBroken' a unique tool that allows McFlurry mega fans to track exactly which locations have 'out of service' machines in the U.S., Rashiq aims to stop those dastardly moments in their tracks. He even caught the beady eye of McDonald's VP of US Communications in the process. 
---
Okay, you made it. Now, as Billie says, you can "vote the orange man out".  🍊 
ttyl,