millennials in retrograde
a star is born
You are cordially invited to this week's brew of High Tea, your dispatch of 🔥internet culture served piping hot. This week: Co-Star gets our co-sign, Bull & Moon gets up to MSCHF and Rise N' Shine™ gets Kris Jennered.
Drink up. 🐸☕️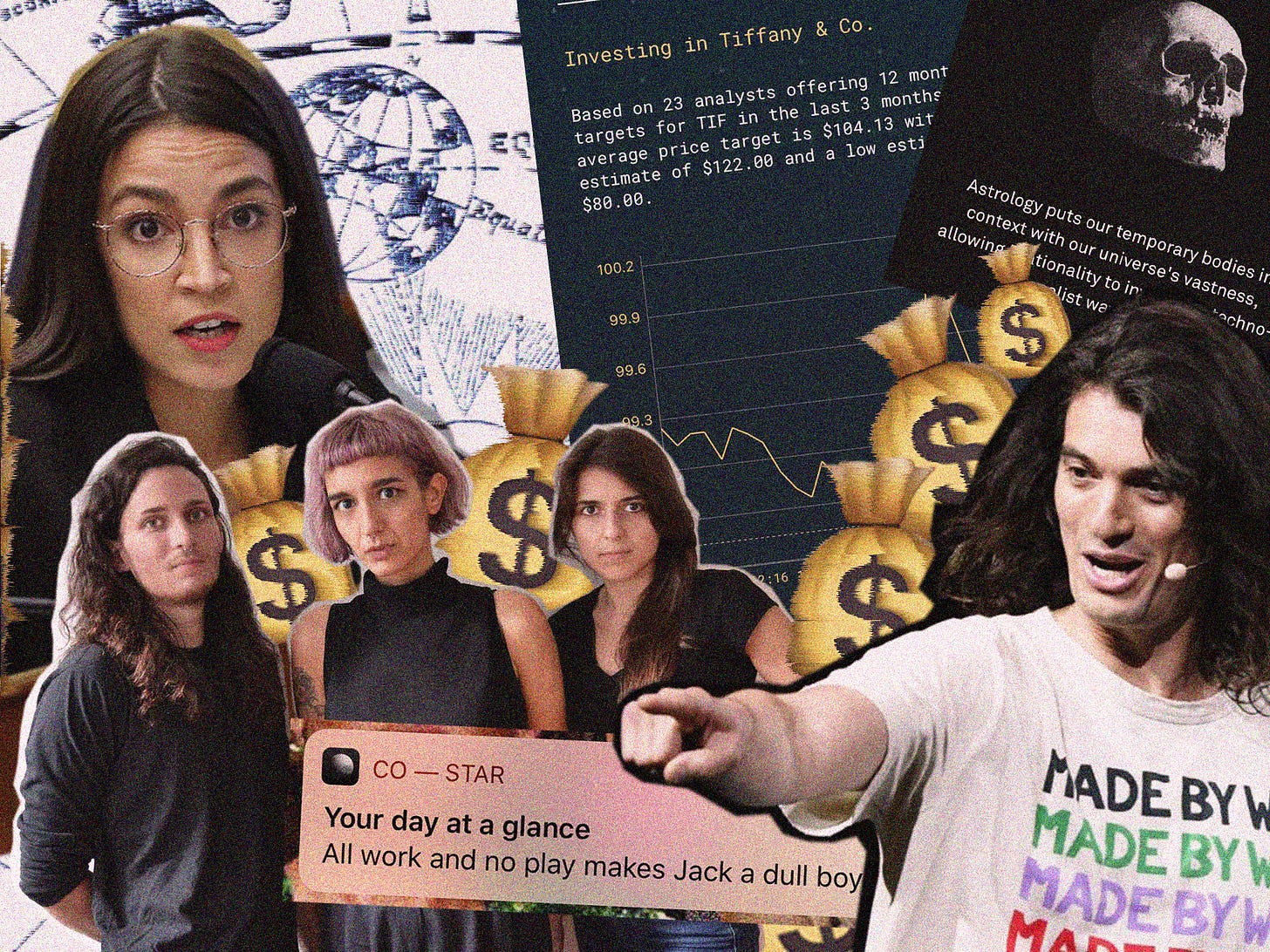 what we've been sipping on 
Mom, can you pick me up? I'm scared. My Co-Star knows absolutely everything about me. 
If you a) own an iPhone b) are a woman (sorry but it's facts) and c) exist in a millennial pink echo chamber of self aggrandisement like us (but like...it is Scorpio szn, bitches), then you'll *know* Co-Star - the first-ever A.I. powered astrology app. 
Promising us an "astronomical snapshot" of our entire personhood, with hyper-realized, real-time horoscopes - Co-Star, alongside other astrology apps, has managed to capitalise on the millennial thirst for wellbeing and self-improvement. We're obsessed with philosophizing on the minutiae of the mundane; trying to make better sense of our flawed, everyday lives. Spoiled with possibility and haunted by expectation in equal parts, we've created apps to record our every step, calorie, moment spent ovulating, minute spent sleeping and even blood-alcohol content (that one is kinda sus, if you ask us 🤔). 
There's a reason we're called the me, me, me generation. Anyway, back to us. 
See, as teenagers, we were raised instead by the ubiquitous establishments of inherited womanhood - think Elle, Grazia and Vogue, for our sins. Our sense of self was found between their pages and nurtured by their cut-and-paste horoscopes that lived, forgotten, somewhere near the back of the glossy. We devoured talk of "life-changing" opportunities "coming soon" and pseudo-succesful iterations of tall/dark/handsome men who were also promised as vague, near-future realities. 
But who needs the nostalgia of past naivety when you've got NASA and their data informing your product...am I rite ladies?! Co-Star hooked us in with talk of juicy insights, algorithms and "techno-rationalism" (yeah, we don't know either but hey, it sounds legit). We want more and we want it on-demand. That might explain why the mystical-services market raked in an estimated $2.2 billion last year.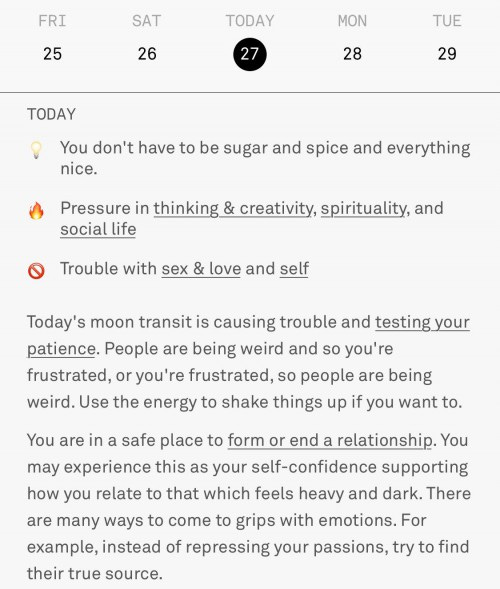 It's undeniable: the Zodiac is big business. 
Co-Star set the ball rolling earlier this year after successfully raising $5 million to bring its app to Android. The Sanctuary, who provide live monthly horoscopes for WeWork in New York  (uh huh honey, they're gonna need some good news 🐸☕️) just announced its own seed round of $1.5 million. Don't even get us started on The Pattern -  a "social network that helps you better understand yourself". But it turns out we've understood enough...maybe too much. We're just as shooketh as Channing Tatum on this one.  
From reading the birds to the planets, looking up into the sky used to be enough to satisfy our appetite for making sense of the unknown. But after this recent astrology glo up, we're not sure that we can go back to reading the tea-leaves after this.
Bull & Moon or bullshit? 
Show me the monie$$$ 🔮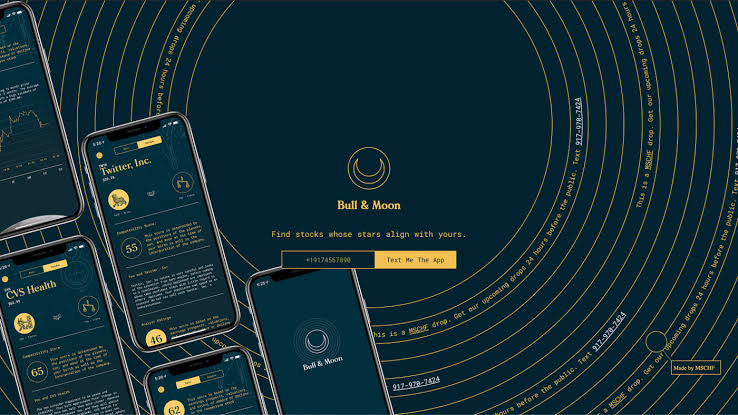 Financial astrology is not a new concept - you can even trace it back to the Babylonians - but we get it: it sounds 'woo woo' to make stock market decisions based on the planetary cycles. But consider this: some of the most talented practitioners of financial astrology predicted the financial crash of 2008 and the biggest one-day plunge of Bitcoin in 2018…who's laughing now? 
Enter Bull & Moon: the newest astrology app to help millennials buy stocks compatible with their star signs. But, wait..don't people have star signs, not companies? Bull & Moon argues that they both do (they get around it by using the public company's birthday, aka its founding date). After only putting in a birthdate, not birth time (a small detail that will have some zodiac stans running for the hills) Bull & Moon recommends users up to 6 stocks to invest in. It even has delightful little blurbs to explain why you and the company featured are so compatible, see below Faye's relationship with Tiffany & Co: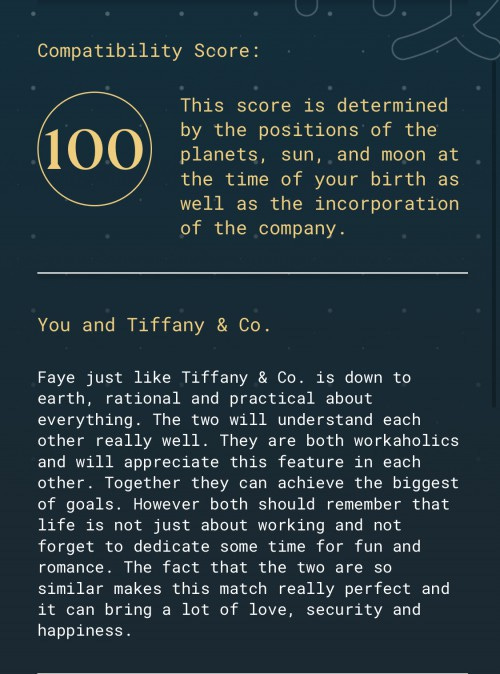 [ WE'RE SOLD 💎 *opens up Robinhood*] 
No, it isn't a joke…or is it? Being the brainchild of creative agency MSCHF, the masterminds behind Jesus Shoes (customised Nike Air Max 97's with holy water from the River Jordan in the sole), Netflix Hangouts (a chrome extension that lets you watch Netflix at work by making it look like you're on a conference call) and Times Newer Roman (a font that looks like Times New Roman except each character is 5-10% wider) we can't rule out the possibility that the app is a satirisation of the current cultural zeitgeist. As MSCHF's newest creation, Bull & Moon plays on millennials' affinity with Co-star and The Pattern, to reframe the astrology boom with a purely capitalist agenda. The app is not a direct joke, especially if it's six-page white paper on planetary-guided investments is anything to go by, but it's definitely straddling a fine line between 'pulling a funny' and 'show me the money.'
Oh, and in case you were wondering: over the duration of Q3 2019, an investment portfolio guided by Bull & Moon's algorithm showed returns of 7.47% versus a market baseline of 1.7% on the same quarter 🤑
kettle's on: ones to watch
Okay, you made it. Now you can go back to being hungover.
ttyl, High Tea.