quibbler, anyone?
we're. not. sold.
You are cordially invited to this week's brew of High Tea, your dispatch of 🔥internet culture served piping hot. This week: we quibble over Quibi, FaceTime shoots to thrill and Drink Haus gives us something to celebrate.
Drink up 🐸☕️
what we've been sipping on:
At the start of 2020, Quibi was a hot, wild whisper in Twitter circles; not even *that* Super Bowl ad could dampen spirits. Even COVID-19 leaving us no other choice but to shelter-in-place, felt strangely in line with their offering. With screen time up, attention spans (still) down, and Tiger King leaving us with a rather insatiable penchant for the weird and wonderful, Quibi, the mobile-only short form streaming service, in theory, couldn't have dropped at a better time. 
Come launch day April 6, we were ready (so ready) to sample the delights. 
Our first week thoughts? TL;DR Dire. But, that still won't stop us spending the rest of the dispatch giving you the (Poopy-di) scoop. Belt up. 
After diving into the data, the actual download numbers are quite startling:
Gaining just 930K U.S. downloads in its first week, with days 4 to 6 seeing downright painful downloads (averaging 40K on iOS a day), Quibi is undoubtedly off to a rocky start. But how, might you ask, does this happen to a company with a (deep breath) $1.75 billion valuation?
Well, we have some ideas. 
If 'Content is King' then Quibi is due its day in court 
The show themselves feels like one giant quib, and that's no joke. 
Mobile-only? Read the (living) room...
What seemed like a good idea in a pre-pandemic world, now falls rather flat (white). Rather than jostling for our morning coffees in line-ups as long as your arm, the new normal has seen us sink firmly into our sofas conveniently facing our larger than life television screens. With people feeling less inclined to while away the commuting mins with a quick bite (a quibi, if you will), it's little wonder we're all feeling an affinity with Netflix and chill, rather than 'can't sit still.' Quibi doesn't help itself here. There is no TV app; it doesn't even support AirPlay. In these odd times we're living, their strict adherence to a mobile-only offering feels a little...disconnected. 
Sharing is...scary. 
Joe Exotic and Baby Yoda are international memeified treasures. We've seen *sips tea* and Joe's mullet more times than we'd care to...and let's not start on the 'Carole Baskin' remix of Savage. These culture defining moments are immortalised by the sharing and re-sharing of content as it finds its renewed purpose reverberating throughout the zeitgeist. It is a mechanic that has made TikTok the success story it is today, no question. Imagine our surprise when we quickly learn that with Quibi, social sharing is off the cards. 
So strict in fact, that if you try to screen grab, the app has an in-built function which detects your squeeze and automatically turns the screen black. Sharing now feels illegal and wrong which goes against everything TikTok taught us. In today's world, where our only connection to the outside world (and our bestest pals) is through online platforms, this UX decision just hits...different. 
oNe cOoL tHiNg
There is one feature that we find noteworthy. This is the left and right scrolling capability, which you can change according to your preference (lefties rejoice!), and a timeline of the episode which allows you to skip to your preferred morsels.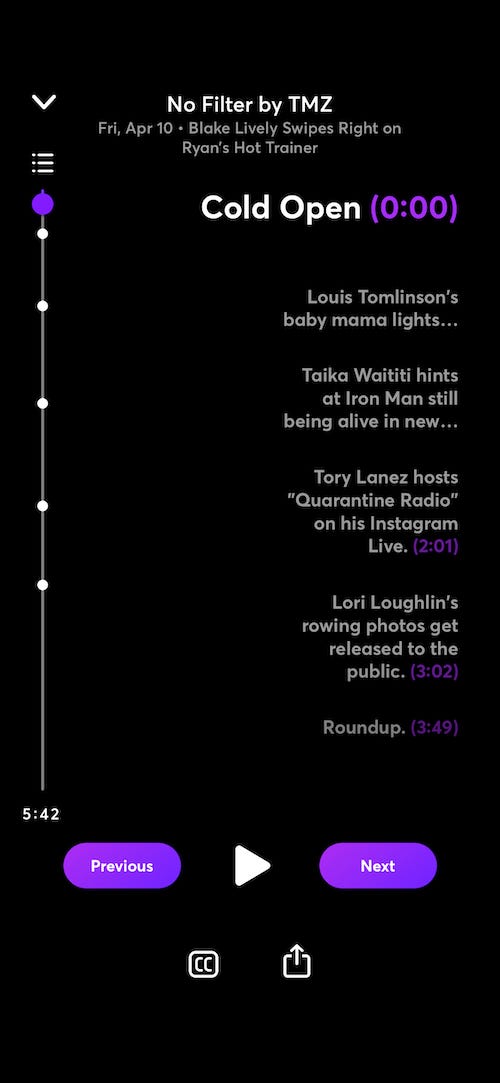 With the Super Bowl ad just a small dip in the marketing budget of $400-$500 million, we know haven't haven't seen the last of Quibi. This poor week will no doubt have the team frantically Zooming about next steps, but pandemic or not, Quibi will need to do some serious evaluation and adaptation for its next attack. Preferably, one that makes the platform the perfect Quarantine friend, not foe. 🐸☕️
kettle's on: ones to watch
🤳🏻Kiss me thru the iPhone. We stan an inventive queen, especially one that is willing to try new things in the name of fashion. This week, Bella Hadid graced us with her presence in a 'bella' shoot for Vogue Italia, shot, you guessed it, through FaceTime. Don't blame us the next time our screen time shows 10+ hours. We are making art, mom.
👏Kylie gives a helping hand. Named on Forbes' 2020 World's Youngest Billionaires list for the second year in a row, we have all been patiently waiting for KJ to step up, and, oh YASSS she has. This week Kylie Skin donated 6000 pounds of hand sanitizer to hospitals and clinics throughout LA. Keep 👏it👏coming👏
🍸We'll Drink (Haus) to that. With restaurants feeling the pandemic pressures and then some, our favorite beverage curator Drink Haus, has forged an initiative to help out local restaurants, by co-creating apéritifs that reflect their culinary approach. And, wait for it, *all* the profits will go to those restaurants, to enable them to keep on staff and cover costs during COVID-19. Cin-Cin!
You made it, now you can go back to your sourdough,
ttyl,