the city of the future
designed by YEEZY
You are cordially invited to this week's brew of High Tea, your dispatch of 🔥 internet culture served piping hot. This week: Kanye digs for gold, the future feels carless and selling nudes saves the world.
Did you miss us? Drink up. 🐸☕️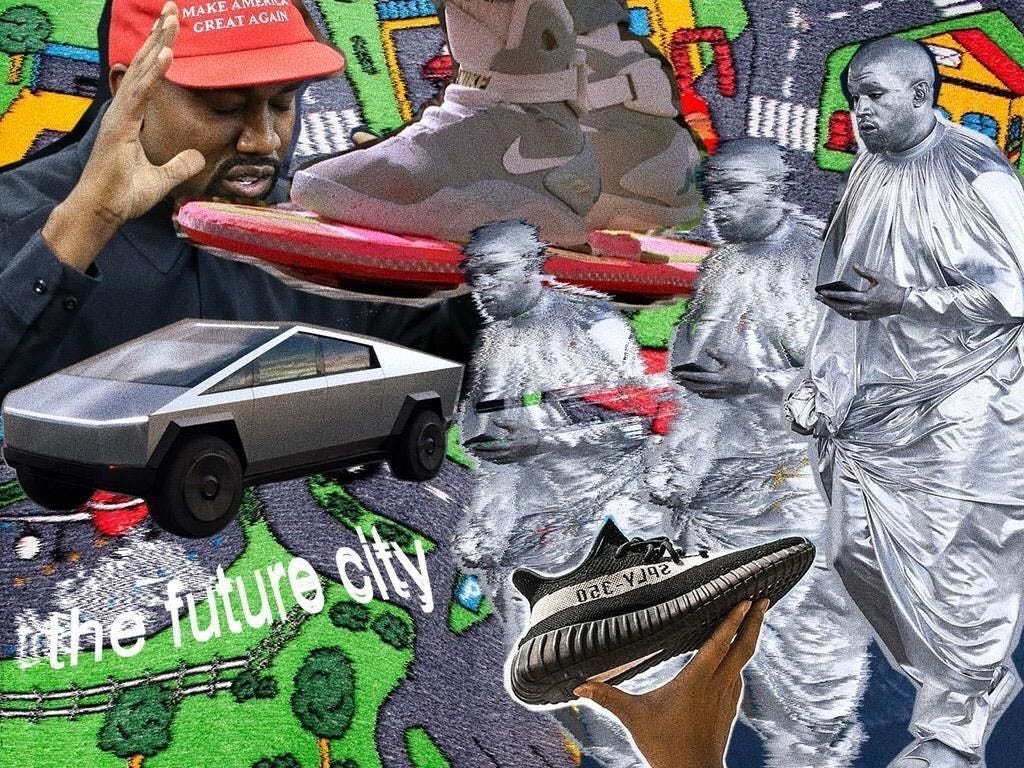 what we've been sipping on
What do Kanye West, Phidias and Frank Lloyd Wright all have in common?
Good question. From the Golden ratio to the Guggenheim, they have all pioneered ideas that push design to the forefront of their ideals. For Phidias, it was mathematics that would go on to inspire the Mona Lisa smile, for Lloyd Wright it was the Lovness Cottage ("it wasn't just a house; it was a lifestyle") that would form the blueprint for American suburbia and for Kanye it was...? Well that's TBC but, as Yeezy put it himself, "I'm a creative genius, there's no other way to word it".
my presence is a present, kiss my ass
While Ye's hydrogen-powered "iPlane 1", pitched to another stable genius, flopped harder that Cats at the box office *sips tea*, will his graduation from wanting to design hotels (and nail it) to designing cities lend itself to delivering the City Of The Future™? 🏡💸
"We shine because the hate us, floss cause they degrade us / We trying to buy back our 40 acres" - Kanye West
Ye isn't the first creative force to spearhead his own personal utopia. As Picasso once said, "good artists copy, great artists steal.'' Say hello to Broadacre City, the post-Depression brainchild of Frank Lloyd Wright (you know, one of the most prolific architects of the 20th century). Broadacre was never realized, but it's a Back to the Future tale worth telling. Grab your hoverboards.
"First and foremost, a city is not an arrangement of roads, build­ings and spaces, it is a society in action. The city is a process, rather than a form." - Frank Lloyd Wright
FLW's vision was for a "society in action" with affordable housing ✅ community ✅ and public facilities ✅ all designed to enhance life. His city would provide the space, freedom and beauty necessary for the growth of the individual. If that's not a vibe check, we don't know what is.
wake up Mr. West.
This is where Ye comes in. Since 2018, Kanye has been dipping his Yeezys into the world of social architecture to build his own community, self proclaimed 'the new frontier'. Becoming to real estate what Henry Ford was to cars? Kanye's like "hold my beer".
Where can we find this Garden of (Y)eden, you ask? Enter Cody, Wyoming. Population 9,826.
you know what the Midwest is? Young and restless
You heard right. Kanye's vision for his designed Wyoming community (and future YEEZY sample lab, cya Calabasas 👋) sits at the intersection of wellness, sustainability and creativity. His thesis involves the synergy of the greatest minds in architecture, education and art, for a "pathway to the future". Sign us up.
"I really do believe that the world can be saved by design" - Kanye West
While much of Kanye's vision is shrouded in mystery, we do know that he was denied planning permission at the end of 2019...for an amphitheatre called the 'West Meditation Large Impact Structure'. You know what they say, fortune favours the bold.
Here's what's for sure, 'architected' by a college dropout with a deep understanding of space and sacred proportions, we have our eyes peeled for the actualisation of Kanye's latest 💡idea. If his appetite for leading the charge as a vehicle for change is anything to go by, we're in for a treat.
Welcome to the good life? Watch this space.
& Ye..he isn't the only one.
welcome to the post-car era! 😎

Imagine developing a city as you'd develop a startup: building from the *literal* ground up, optimising for product market fit, complete with all the zeitgeisty eco-friendly trimmings, and disrupting the status quo 🤓 That's exactly what SF-based developers Culdesac are doing with their $140 million Arizonian development: the first of its kind to ban residents from using their cars in favour of micromobility alternatives. And we can't get enough.
icymi
With approximately 26 percent of 16-year-olds in the U.S. holding a driver's license in 2018, compared to 46 percent in 1983, it's clear Zs are losing interest in ownership of mobility assets as we currently know them. Sorry Elon, but you're not going to need one in the city of the future.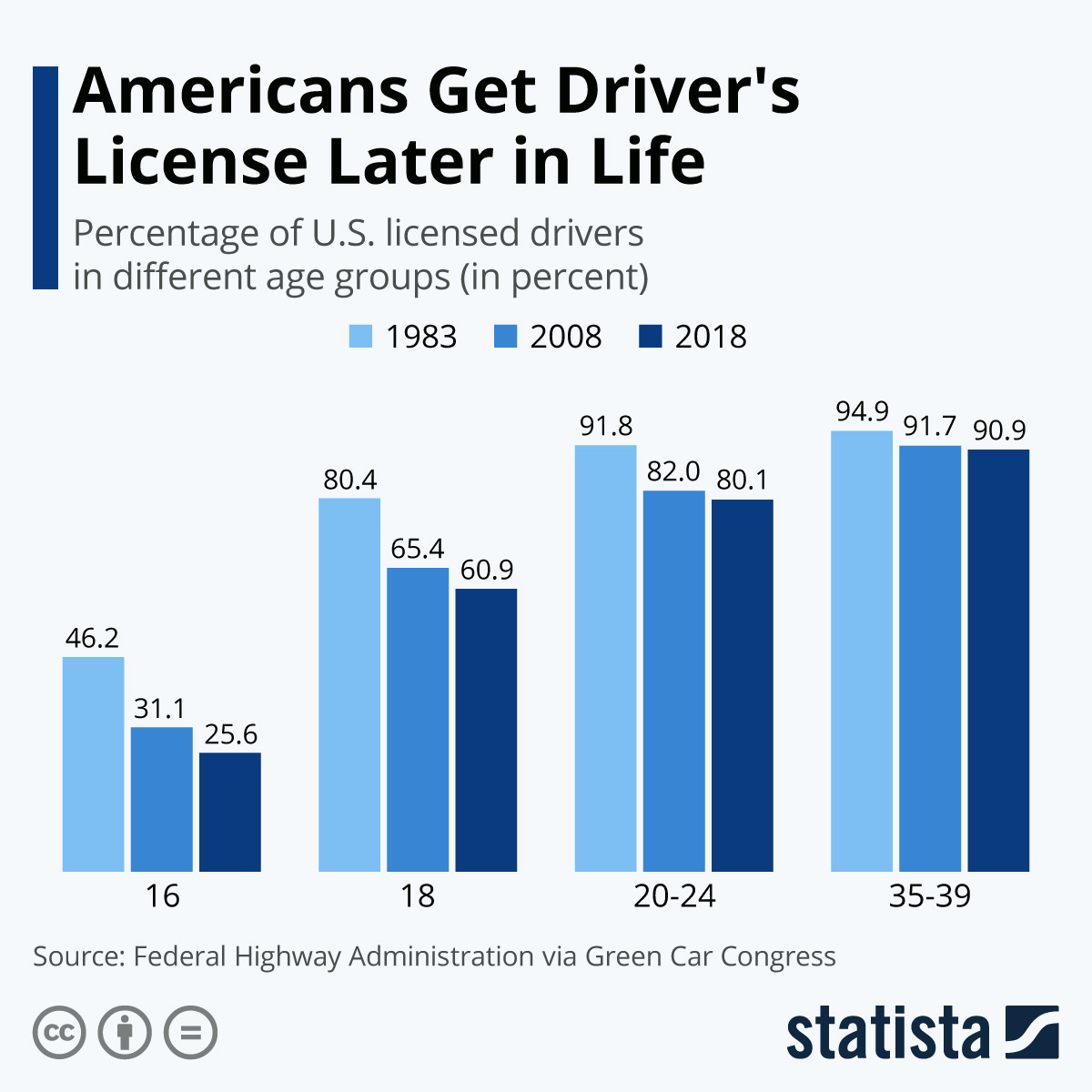 Not altogether automobile agnostic, Zs did praise brands such as Uber and Tesla for their sharing-economy solution and environmental impacts respectively. Seriously, Zs ain't got time for outdated systems. The popularity of David Dobrik's Christmas Eve Tesla giveaway [hi @ian from seat geek], and Claudia Suleweski's dream car vlog [we give you one guess] speaks for itself. Collaborating with brands that align with their environmental interests and affinity with 'mobile-first' are Z's top priority, and automobiles are no exception.
[Although, we'd hedge our bets that we're moving towards a car-less city entirely, but that's none of our business *sips tea* 🐸☕]
where do we sign up?
Culdesac's solution, coming in Fall 2020, will house up to 1000 residents and provide substantially more open spaces and retail opportunities than the current archetype. Forget skinny sidewalks so hot you could fry an egg on, Culdesac will instead reward its eco-conscious residents with open parks, large courtyard spaces and general greenery 👀. Cue Julie Andrews-esque fits of running through lush foliage: the hills are now definitely alive and kicking.
Oh, and micromobility options we hear you ask? They've sorted that out too. Founder Ryan Johnson reassures that: "Culdesac Tempe will be a welcoming home for shared bikes and scooters, providing them with dedicated parking spaces and charging infrastructure". They've even made space for a small lot dedicated to car sharing solutions, think ZipCar, perfect for those longer trips. Restaurants and shops will no longer be out in the sticks in vacuous malls, but rather a hop, skip and a jump away, full to the brim of 'your' people in your community. Are we in heaven?
As Millennials ourselves (guilty as charged) our preferred method of travel involves two wheels not four (skating and scooting the city streets, brb) we're excited to see Culdesac's offering which prioritises the pedestrian and an investment in our future, over, quite frankly, anything else.
kettle's on: ones to watch
Pls send nudes. It's to save the world, we promise. Haven't heard of OnlyFans? Get to know. We've got to take our hats off to the "Naked Philanthropist" raising $1M to help fight the fires in Australia. PSA: that's more than Jeff Bezos, aka the richest man on earth 🐸☕️

The real deal-io It's official. The D'Amelios are a big deal, and we're not just talking Charli and Dixie. Now parents Marc and Heidi D'Amelio are getting in on the act by also signing with United Talent Agency "which will work with the family on digital content, live touring, podcasts, books, TV, and licensing and endorsements." icymi, Marc and Heidi each have their own social media accounts with over 2M followers combined. 👀

Baby Yoda gone rogue. We don't ask for permission, only your forgiveness in sharing yet another Baby Yoda viral meme. Never did a North Face puffer + flat peak = the cutest roadman you ever did see; you're welcome.
Okay, you made it. Now you can go back to dry January.
ttyl,
x
P.s. don't @ us unless you found all the hidden Kanye refs.