the internet's most wanted
a fame special
You are cordially invited to this week's brew of High Tea, your dispatch of 🔥internet culture served piping hot. This week: how to grow your own cult online, 'Peloton Wife' swaps the bike for the booze and Baby Yoda breaks the internet.
Drink up. 🐸☕️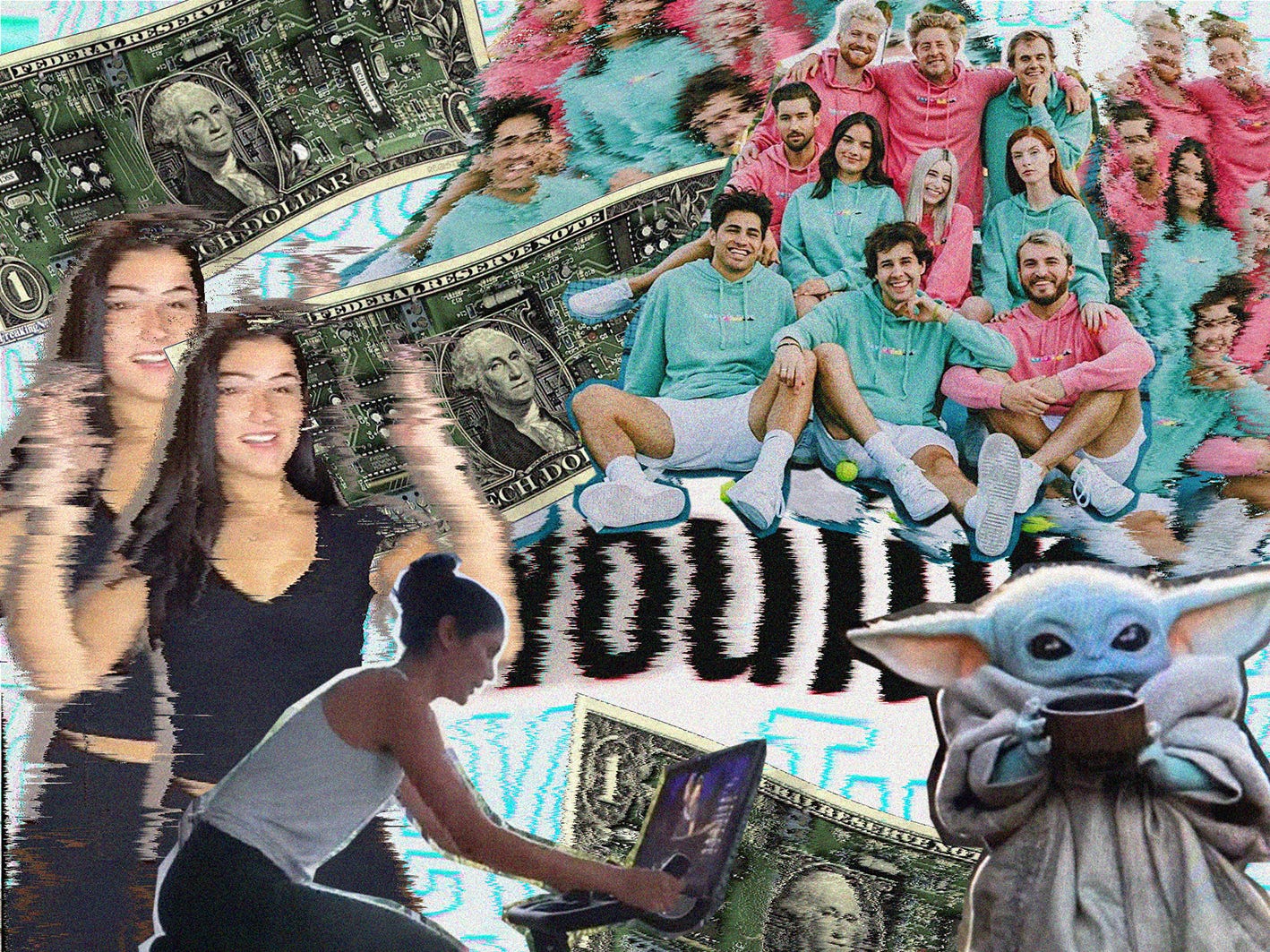 what we've been sipping on
In the words of Cardi B, "bitch, throw it back like a 10-year challenge". 
So it's 2009 and the Black Eyed Peas top Billboard with "I Gotta Feeling", which will go on to become the longest-running number one of the decade. At the box office, Avatar becomes the highest grossing film of all time. And, from a bedroom in Nebraska, 15 year-old Lukas Cruikshank (aka Fred) has just become the first YouTuber to reach one million subscribers. Only five other YouTube channels in the world are even half as close. This is big. 
Today, just 3 weeks away from the end of the decade (HELP), four YouTube channels hit one million subscribers every single day. But who still has our attention? 
It's David Dobrik. 
Dobrik is no stranger to the internet, getting his big break after joining Vine in 2013 when he was 17 (we'll never stop mourning its loss here at 🐸☕️). Trading on the currency of addictive 6-second long comedy skits, he amassed 120,000 followers in his first year and 1.5 million by the end of 2015, the same year that he joined YouTube. By the end of 2018, he had reached 10 million subscribers. 

Web Searches for "David Dobrik" over the past 5 years. (2014-2019)
If you're wondering what that spike is, it's his breakup video with fellow YouTuber, Liza Koshy, which is about to hit 59 million views. 👀
It takes 10 years to become an "overnight success", or three if you're David Dobrik. 
There's no cheat sheet to going viral, but Dobrik managed to defy genre in an already-saturated online world by inventing his own. Replicating the digestible Vine format into long-form content, Dobrik has successfully carved out his own space for new age vlogging, while showcasing his (now) signature videography style; a flash of seamless jump-cut sequences at an unmatched pace, following the lives of the infamous Vlog Squad. It makes for addictive viewing.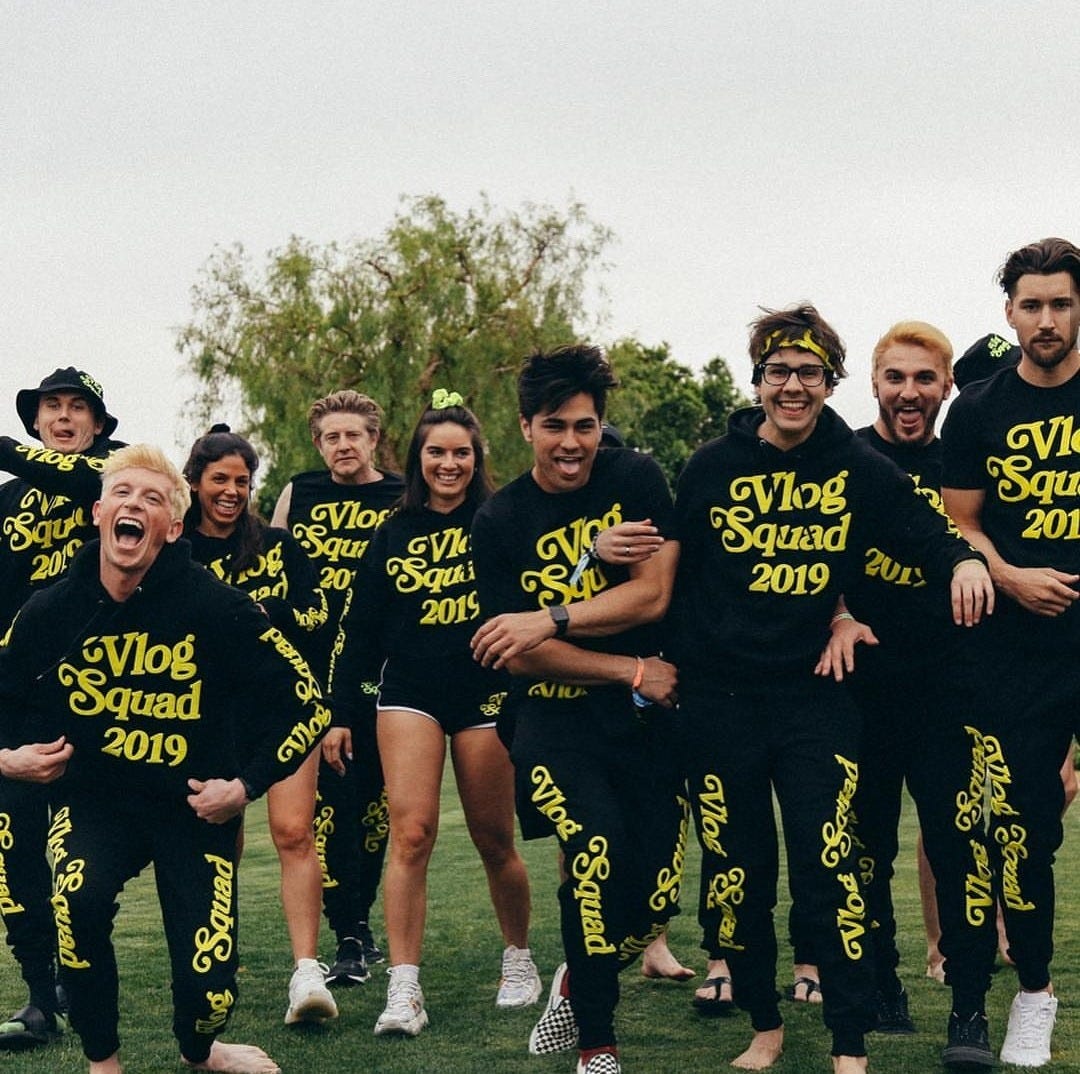 His channel's virality is formulaic: posting 3 videos per week, exactly the same length, with accompanying thumbnails and titles that could put TMZ's clickbait to shame. Though depicting a fresh batch of the type of chaos only found while navigating your early twenties, each video fits into a familiar, prescriptive pattern.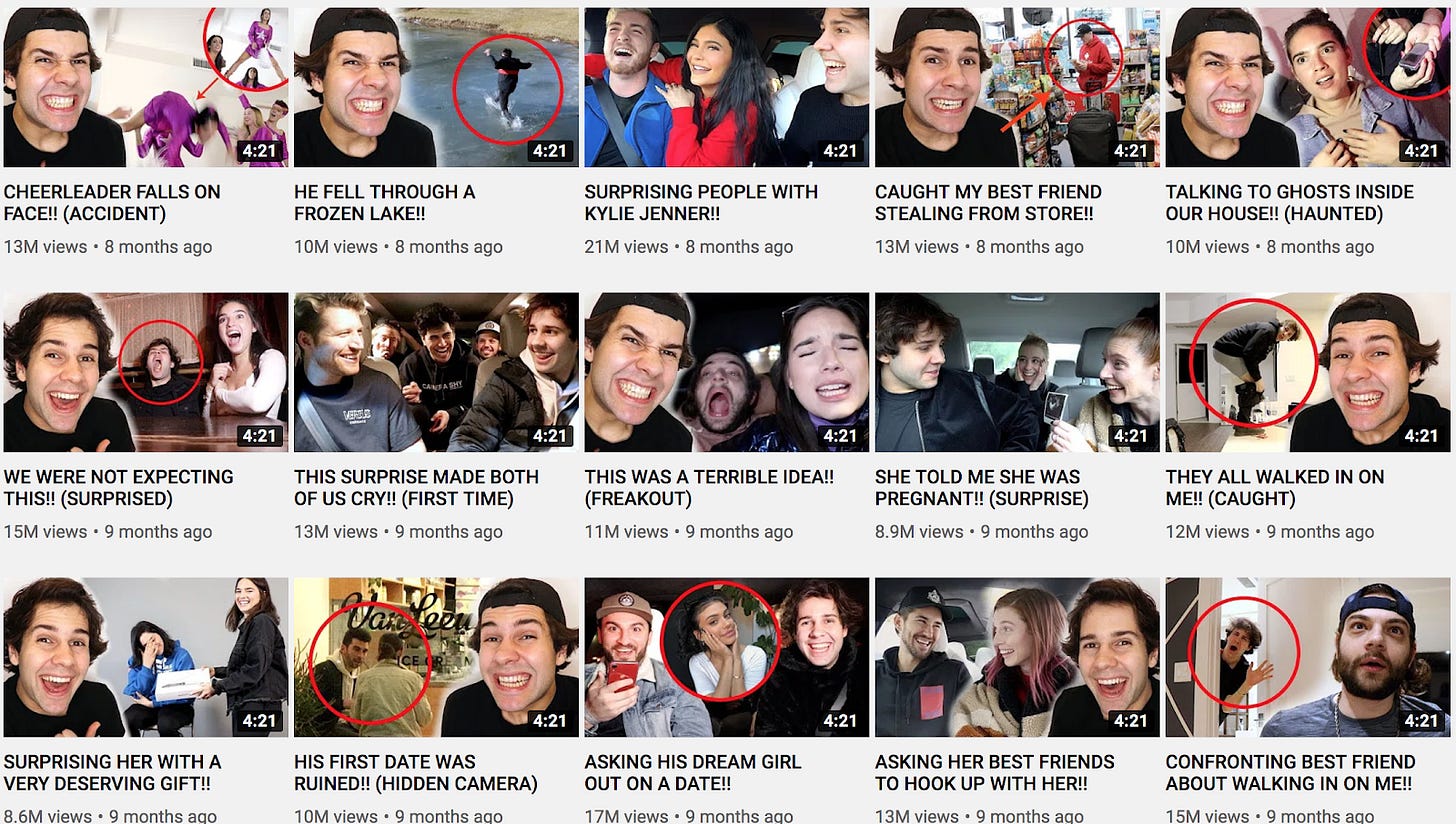 The undisputed king of content and clickbait, it's no surprise that Dobrik is worth $7 million at just 23. But there must be a catch. 
And there is. 
Despite bringing in 200 million views a month, his YouTube earnings in 2019 have plummeted from $275k to roughly $2k p/m. One word: demonetization. This is an all too common tale for creators who could formerly rely on YouTube as their main source of income. Nevertheless, Dobrik continues to do what he's always done; diversification of platform while retaining his audience. They go where he goes, and he knows it. The Pied Piper of YouTube 2k19.
David Dobrik will likely see in the New Year with the Vlog Squad, hitting the 15-million-subscriber milestone, but will he stay on YouTube throughout 2020? We think this could be our last year of a repeat Dobrik prescription. 
i lowkey just want my idol to notice me... omg
Charli D'Amelio is the ultimate internet girl gone IRL. After propelling to the dizzying heights of 8.5 million followers after just 6 months on TikTok, D'Amelio has gone on to launch a successful VIP meet and greet ($100+ for refreshments, signed postcards and an "exclusive" TikTok dance class), performed live with Bebe Rexa at a Jonas Brothers' gig (weird flex but okay), and has a brand deal with eos (that didn't take long 💅🏻). Oh, and did we mention that she's only 15? We are suitably impressed. 
ICYMI, Charli is 'TikTok famous', a label that does exactly what it says on the tin. Unlike the Gen Z YouTube diehards; David Dobrik, Emma Chamberlain and James Charles (to name a few), Charli's online career skyrocketed after joining the video-sharing network in June 2019. She acquired 5 million of her subscribers organically within the first 3 months, without even a whiff of a "subscribe to my channel." Charli replaced  the *woe* of the adpocalypse for hitting *The Woah*, a viral dance move and a firm staple in her TikTok repertoire. 
On a platform known for its viral dance challenges (that enter the zeitgeist as quickly as they exit), Charli has established herself as the undisputed qween of TikTok, posting herself and friends performing simple, yet captivating, moves for her fans (she's racked up more than 202 million views already). Going viral on TikTok isn't a roll-of-the-dice novelty for Charli anymore, its inevitable.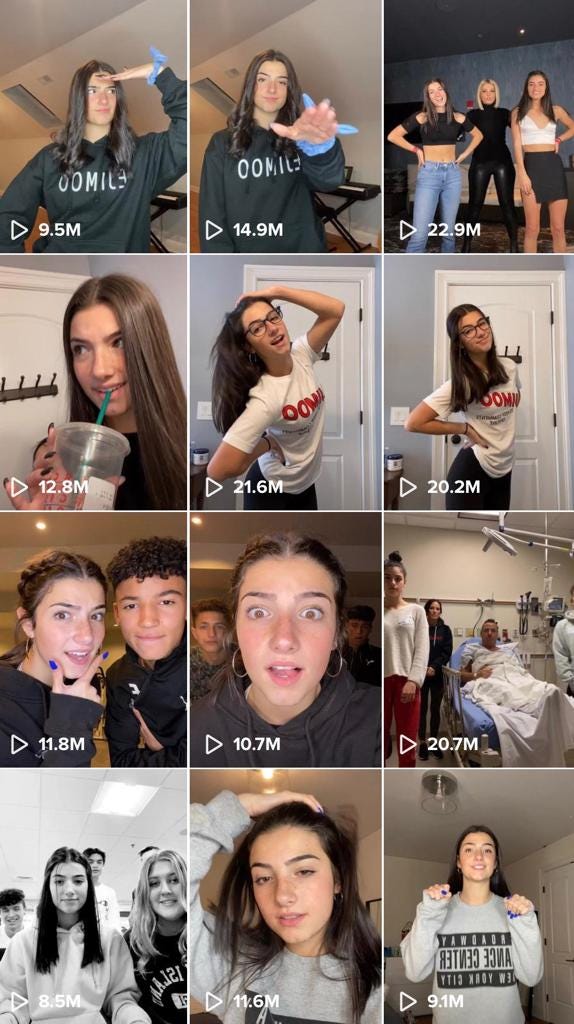 If you're still you're wondering *why* she's famous, you're not alone. Even Charli herself is ¯\_(ツ)_/¯. Her bio reads: don't worry i don't get the hype either. Who needs a 'link in bio' when you've already got an enticing mix of self-deprecation and self-awareness? She must be Gen Z.
But heavy is the head that wears the crown. With TikTok swiftly establishing itself as one of the easiest routes to your fifteen minutes of fame, it's unsurprising that Charli is receiving her fair share of hate. Although quick to confess that her routines are 'basic' - due to, in part, the nature of the platform itself -  Charli is already expanding her brand by launching her own YouTube channel, which has garnered mixed reviews, to say the least. 
While we applaud her intention to capitalise on her ever-growing audience and swerve the domain of #cancelculture, we would be lying if we didn't admit we were expecting more authenticity from her first vlog. Charli's intro is even performed in her classic TikTok style, which doesn't wholly translate across platforms, but nevertheless is now a TikTok meme in its own right. How meta.
We're waiting with bated breath to see what her channel turns into. After scaling TikTok in a matter of months, we have no doubt this 15-year-old will be quick to innovate with the support of her fans. And they're dedicated...we even found a change.org petition titled 'I want Charli D'Amelio to follow me back.' They aren't going anywhere. 🐸☕️
kettle's on: ones to watch
Okay, you made it. Now you can go back to being hungover.
ttyl,
x