triggered
from breakdown to breakthrough
You are cordially invited to this week's brew of High Tea, your dispatch of 🔥internet culture served piping hot. This week: YouTuber burnout, Animoji Alphas kill us with cuteness and Wagatha Christie unites Brexit Britain.
Drink up. 🐸☕️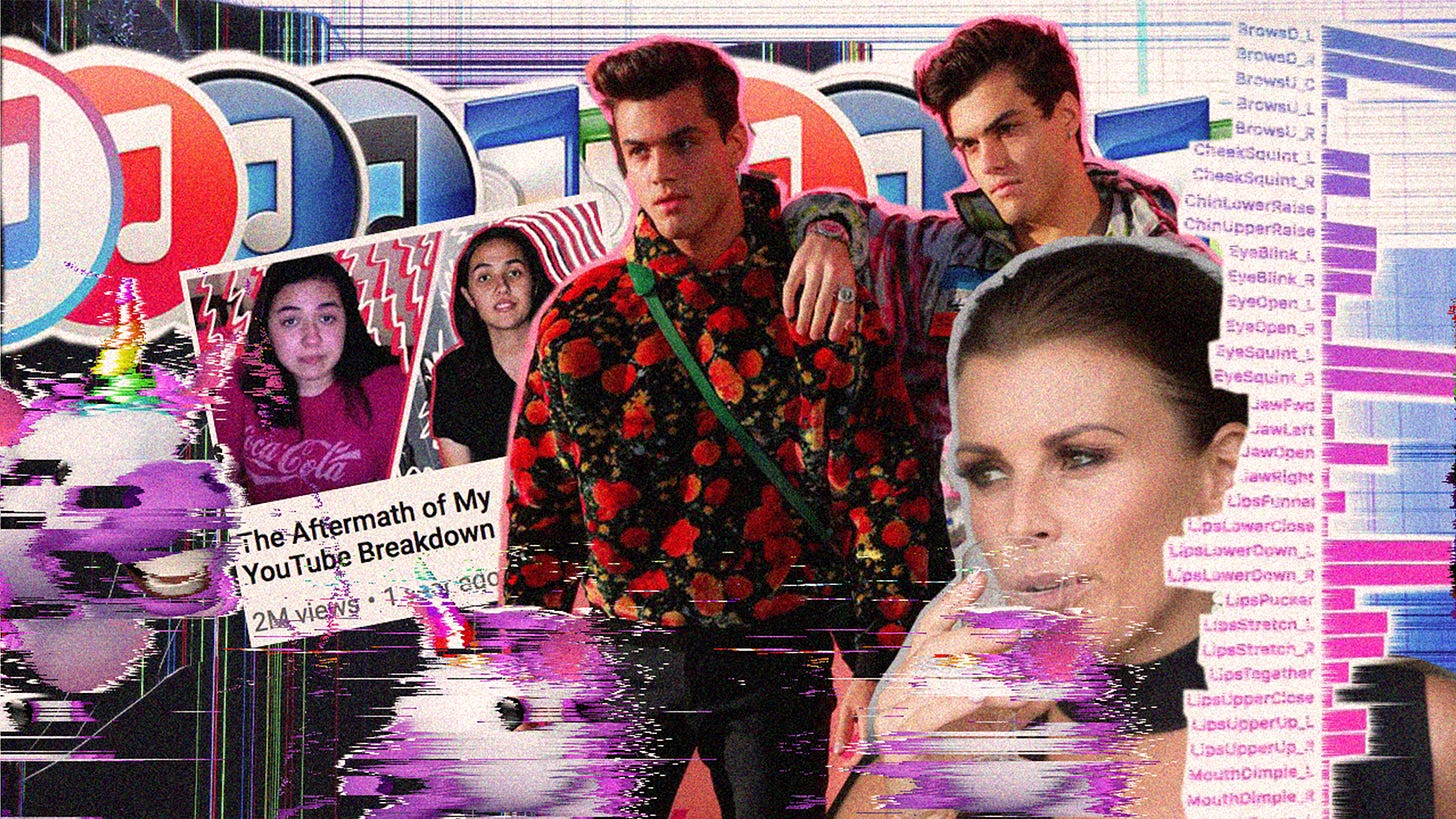 what we've been sipping on
We'd barely finished supping Shane's I-wanna-be-Jeffree-Star-rich Kool-Aid (after his latest docu-series went dumb viral), when the godfather of YouTube was back on our screens before the week was out. If we're talking demise and disaster, Shane Dawson is a familiar figure on social when it comes to saving face. That's where YouTube burnout comes in.
Despite the fairly recent phenomenon of social media burnout, it's not strictly a novel or new revelation. Fellow Gen Z creator, Elle Mills, set the bar pretty high with her vulnerable breakdown broadcast to 1.8 million subscribers in 2018, when she was just 19, instigating the wider conversation around online fatigue and mental health. Now enter the Dolan Twins stage left.
With the path already paved for them by YouTuber pioneers, the collaborative Dolan confessional cannot be underestimated, airing on a platform watched daily more than Netflix and Facebook combined. Born two weeks before the turn of the century, 19 year old Ethan and Grayson Dolan represent everything you need to know about being successful online these days. Their rise to infamous internet stardom was both meteoric and formulaic; transplanting a burgeoning fanbase on Vine (RIP) to a successful platform on YouTube, passing the 10 million subscriber count this June. But the higher you get, the farther you fall, right?
90s kids had The Mickey Mouse Club; Gen Zs have YouTube - where popularity trumps purse strings when it comes to voting with their subscriptions. A such, they've succeeded in creating a new (digital) dawn of celebrity, of which the Dolan Twins are founding teenage fathers. Posting on YouTube every week since they were 14, Ethan and Grayson have donated their formative years to entertaining the Zoomer masses. It's safe to say that their audience grew with them. But this latest tell-all has exposed us to the dark side of internet fame, magnifying the gravitas of this long overdue conversation.
"I need to quit, I can't fucking do this anymore"

"I feel like I stunted my own self growth"
"Why should my happiness matter?"
The biggest revelation in the tell-all came as a real shock to most: the end of their weekly video posts, but this was just the tip of the iceberg in a discussion that shed light on social anxiety, overwhelming public expectation and voracious media consumption in the 21st century. Through breaking the fourth wall in this week's video, ominously titled "It's time to move on", their raw adolescent woes took centre stage rather than their highly-edited, exaggerated storylines we're normally used to.
We saw a refreshing glimpse of real life beyond their on-screen caricatures. As for other YT stars, their revelation gives small comfort that YouTube doesn't have to be the way, the truth and the life. Could this mark a new era of online authenticity? We hope so.
ello, ow u today?
From the woes of social media to the weos! This week Gen Alpha stormed Twitter with its pure, unadulterated cuteness. What started as a nonchalant upload of user Sophia Tripodi's young niece playing with Apple's animal-moji feature has since sent the SoMe world into meltdown. Now others are jumping on the Animoji x toddler bandwagon to follow suit.
We defy anyone who doesn't "aww" audibly at this:
and this from @thisisJenLewis:
Apple's Animoji (Animal-mojis) and Memoji (People-mojis), around since 2017 and 2018 respectively, first launched as a new feature of Apple's iPhone X and iOS 12. Since then, both 'moji types have amassed nearly half a billion combined views on TikTok, plus gained a wealth of press over 🔥moji music video collabs with Ariana Grande and Khalid.
Tech tidbit: The face tracker works by using a true depth sensing camera as well as a chip inside a compatible iPhone to capture and analyse over 50 different muscle movements in your face 👀
As Gen Alphas and Zs develop a stronger affinity to avatars and mojis through virtual third space community-forming hotbeds like Roblox and Fortnite, we can expect to see avatars in all corners of social media and communication very soon. Get ready to 'moji ur face 💁🏻‍♀️
kettle's on: ones to watch
Okay, you made it. Now you can go back to being hungover.
ttyl, High Tea.