validate me
an influencer special
You are cordially invited to this week's brew of High Tea, your dispatch of 🔥internet culture served piping hot. This week: Shane Dawson breaks YouTube, virtual influencers make real world moves and Forbes meets Fortnite.
Drink up. 🐸☕️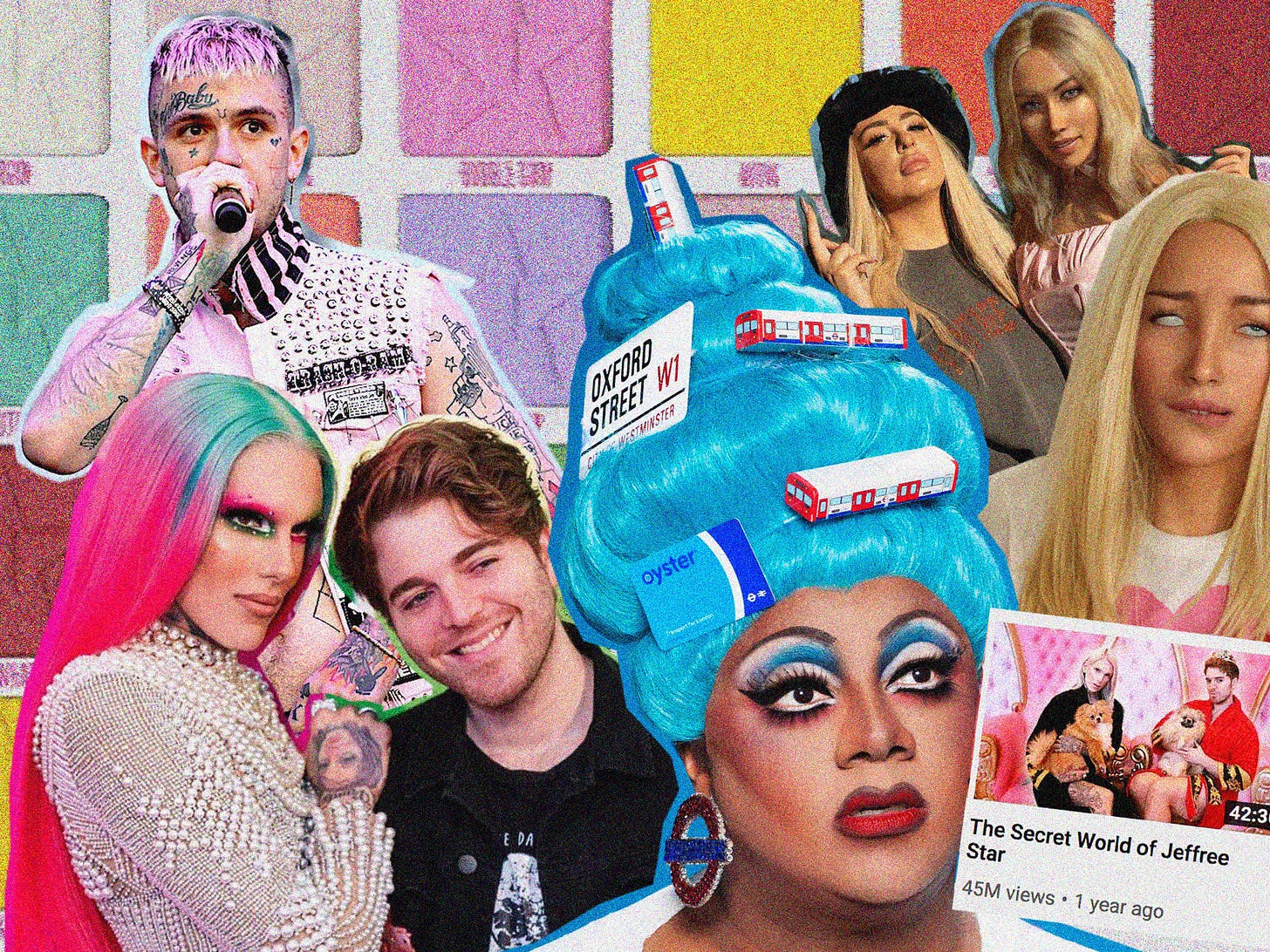 what we've been sipping on
It's been a busy week on the internet and we're exhausted. Shane Dawson, the OG YouTube veteran (5 billion views don't lie 👀), broke the platform yet again with his signature long form documentary-style videos. We didn't know we needed another series on the salacious makeup mogul, Jeffree Star, until Shane dropped two 🔥episodes this week. 
why Shane?
Shane Dawson was there at the very beginning. Okay, maybe not quite Me at the zoo beginning, but he was around when YouTube was a place exclusively for homemade parodies on a shoestring budget, pixelated webcam confessionals, and...Fred. Fast forward 12 years, bucking the trend of YouTuber burnout *sips tea*, Shane has managed to retain the attention of his 22.6 million strong audience, while evolving his content to match the expansion of his channel. Shane Dawson didn't just grow up on YouTube, he grew with it. 
His 2018 five-part series on Jeffree Star, which drew in 151 million views (and counting 👀), was evidently the litmus test for our thirsty social appetites. It was both the primer and justification for a second season (when can we get our mitts on the boxset, like for real?). Context helps here: Keeping Up With The Kardashians, the most watched show on the E! Network (and one that signed a $150 million network deal in 2017 fyi), drew an average viewership of 1.9 million per episode last season. 
Released 3 days apart at the start of this month, the first two episodes of The Beautiful World of Jeffree Star have already exceeded the total combined views of the last two seasons of KUWTK. Two whole seasons. We have to put respect on Shane's name for that. He understands the value of transient social currency and how to capitalise content in the age of information overload. Shane's episodic drip feed has given us a nostalgic taste of waiting (yes! Waiting, Gen Z!) for TV to land on our screens, while feeding our taste for binge-worthy media. Oh, and did we mention that Shane's beloved YouTube gifts us this piping hot tea free of charge? Forgetting-to-cancel-your-monthly-subscription? We don't know her! It poses a worthy question for future creators and commissioners alike: does platform maketh the man or man maketh the platform?

Shane Dawson's lens into the bizarre, yet captivating, world of the self-made and self-styled is YouTube storytelling at its best and most authentic. Among the saturation of **not CLICKBAIT** storytime teens attempting to go viral (and secure their SeatGeek spons 🤑) with fabricated fallacies, Shane tantalises with his insistence on honesty and journalistic integrity. Fake nails > fake news. From what we've seen so far, Shane speaks his truth, with relatable naivety, from the eye of the tornado. And we want to be right there with him. Mark our words: this collab will make YouTube history.
My 1000th PSL of the season and they FINALLY got my name right! 🙄🍁☕️
Bermuda is no ordinary influencer. She's reached the dizzying heights of internet stardom (insta verified with 173K followers and counting), had a face transplant and has released her cover of Red Hot Chili Peppers' Under the Bridge with the key addition: Only Pretty People Can Hear This Song. Authentic to her insta brand, by mixing high key moments (getting sent to jail) with low key (chilling with her best mate Lil Miquela and her ex Blawko22) Bermuda is one of the hottest influencers in LA. Oh and she's also not real— but we aren't complaining. A self-confessed "Robot/Unbothered mogul with daddy's PIN and a flawless highlight ✨💅💵 🎶" Bermuda is insatiable and audacious in equal parts. We think she might just be the virtual influencer of the year. Soz not soz, Miq. 
Bermuda has always been the black sheep of the virtual influencer world. Hacking Lil Miq's Insta account last summer, she started some pretty colossal beef. It took Lil Miquela's team a day to get it back  🐸☕️ But since this fateful week, it has been mainly tumbleweed on Bermuda's account — until now. Last month we saw images of Bermuda plagued with peeling skin and half-rolling eyes (a plea for her programmers at Brud to get her an update); we also saw her posing happily with her new bae only to couple it with the caption "I'm cheating on him 🙃 " which drove everyone insane. Bermuda has upped the ante on her brand voice— she's interesting, unpredictable, a genuine fake (if you will) and we're all hooked.
Now for the icing on the cake. To promote her new single (Under the Bridge) she's teamed up with none other than YouTube star Tana Mongeau for her biggest collaboration. Why is this significant? Well, firstly the team at Brud are taking Bermuda seriously at long last. Tana is as ruthless as Bermuda when it comes to drama —remember that wedding that kind of…wasn't legal?— and is the perfect collab partner to reflect Bermuda's brand voice: they're both unapologetic, authentic and turning social media on its head. Could Bermuda outperform Lil Miq in the long run? If this recent campaign is anything to go by, B and T are the ones to watch 💅🏻 
kettle's on: ones to watch
Fortnite makes Forbes. Tim Sweeney, the CEO behind Fortnite (one of the world's most popular games fyi...just in case you've been living under a rock), has landed on the Forbes 400 list of the richest Americans for the first time - with an estimated net worth of $4.5 billion. Pretty impressive for a game released in 2017, huh? That's just a small $110bn behind Jeff Bezos (who else), who occupies the top spot for the second year in a row. 

Lil Peep lives on. We can't believe it's been nearly 2 years since the tragic passing of Lil Peep (real name Gustav Ahr) at just 21, from an accidental fentanyl overdose. This week saw the release of the teaser for his feature length docu - Everybody's Everything. A must watch for music aficionados, as well as a moment to highlight the continued opioid crisis that hangs over hip-hop. 

God Save Our Queens. Ru Paul's Drag Race has finally graced our screens this side of the pond, with the release of its UK edition this week. Baga Chipz? Snatched wigs? British humour? Ugh, we're hooked already. And uh, what strings do we have to pull to get a Ru-Peter badge? 😘

YouTube goes virtual. Erika Costell (a seasoned Team 10 alum, but don't let that put you off), has gone virtual this week - producing her first VR experience to 4.6million subscribers (or Costellers, if you're that way inclined) - with a tour of her recording studio. We're absolutely here for YouTubers diversifying their content and adapting their channels to include more immersive experiences for viewers and fans alike. 

Who needs time on TikTok? Throw out the blueprint (and rulebook) for other social media platforms, TikTok doesn't have the time. No, really, the platform is designed so people don't know how long they've been scrolling nor when a vid was posted. Scrolling in TikTok is truly an isolating experience, content is always fresh and you can often spend hours on it without realising. Could this be their intention…? 🐸☕️   

No Glass? No thank you. You know when people try to redefine something that, like, doesn't need redefining? We all remember about the tide pod craze, it both shocked and concerned the world. By whyyy we gotta keep trying to make tide pods happen? Whisky distiller, The Glenlivet, has unveiled its newest capsules, for boozing on the go...we think? Can we imagine people ingesting their whisky this way? God, we hope not. Def not Zs. Hit or miss? Swerve swerve. 
Okay, you made it. Now you can go back to being hungover.
ttyl, High Tea