what do you meme?
media and mischief in times of crisis
You are cordially invited to this week's brew of High Tea, your dispatch of 🔥internet culture served piping hot. This week: mapping lockdown through memes, virtual reality and live-ish music.
Drink up...just make sure it's not bleach 🐸☕️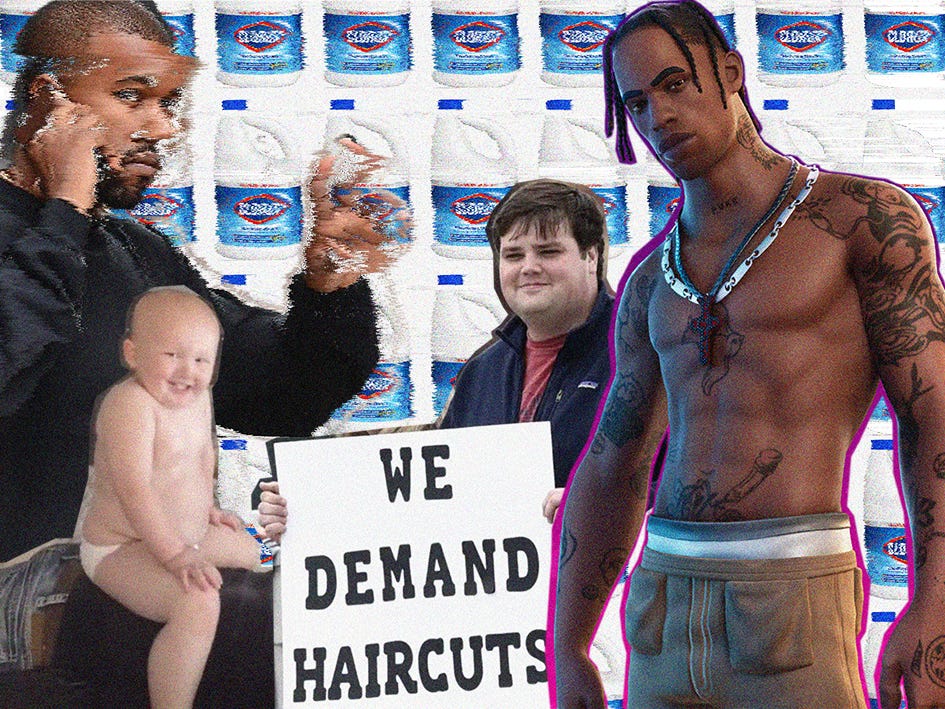 the meme is the message
It's all been a (-$37.63) barrel of laughs this week, hasn't it?
45 told us to pull up to the Zoom BYOB with a Clorox daiquiri (he's not a doctor, he's just got a very, very large brain), stateside immigration was taken off the (green) cards and oil hit rock bottom. As per usual, the online world (are we still pretending there's a difference between online and offline these days?) has responded to the cascading chaos of crisis with, you guessed it, memes.
Understanding the language of the internet through memes is a well trodden track; self-medicating using a lil comedy during the Dark Times™ is nothing new (remember Disaster Girl?). Sure, you can even study memes at Cambridge these days.
But now, these leitmotifs of a new, emerging age are providing the connective cultural tissue, in real time, between Zs, Millennials and Boomers alike, as we all grapple to translate collective suffering on a global scale.
and in the beginning, there were TikToks
Coping with news of the unknown and the downright depressing has provided a public opportunity for performative unease for many, and Gen Z have risen to the occasion.
'Coronavirus' by iMarkkeyz has been used in 967k+ TikTok videos & streamed more than 3M times on Spotify
If you can hear 'coronavirus' without thinking "shit is getting real", then we have to ask: which rock have you been quarantined under...okurrr?! For those of us on the other side of the tracks, TikTok lurking (hey, it's research) has offered a fascinating insight into the shared psyche of Zs and their rich digital tapestry of life under lockdown.
But now, as the gravity of the global pandemic continues to unfold, teens on TikTok have graduated from #boomerremover (1.8M views) and #coronaviruschallenge (2.2B views) - in this first wave of quarantine - to trends such as Charli D'Amelio's #distancedance (13.7B views), paving the way for a new type of lockdown content.
@jeremycohen's rooftop love story (65M views at the time of writing) raises questions about the future of dating and love in a post-pandemic world. Curtis Roach's Bored In The House viral anthem (which got its own Tyga remix) illustrates the potential for industry and underdog to meet in the middle. TikTok Prom (featuring the likes of Diplo and Dillon Francis) is a blueprint for all social apps to follow, as we move into increasingly virtual spaces.
In a world where connections are now forged online, IRL (In Real Life) has become Internet Real Life: where wires are increasingly crossed between the consumption and regurgitation of digital media.
Mapping pandemic memes across the internet is like an archaeological deep dive; an excavation of online communities and their transient participants. But it's not just about "internet culture". Rather, we have a bird's eye view to the zeitgeist playing chameleon to the 'new normal': aka holding a mirror up to society at large. Or, at least the parts of it that we want to see.
kettle's on: ones to watch
👾We got goosebumps (everytime). As we're all bored-in-the-house-and-we're-in-the-house -bored, trust Epic Games to come thru with the goods. We're barely over the first ever Fornite concert with Marshmello in Feb 2019 which at the time was the game's biggest event ever. But enter sicko mode, as this week Travis Scott x Fortnite collab brought in - wait for it - over 12M views breaking the previous record of 10M. ICYMI, check out the show on YT and spare a thought for all the incredible artists and devs that pulled this off while quarantining! It's lit 🔥
🤑Facebooked and busy. These past weeks Facebook announced the launch of its coronavirus worldwide tracking project + FB Gaming + FB Virtual Dating + FB Video Chat (with no FB login). It feels definitely like it's all or nothing with Zuck: the kind where you wait patiently for one bus and 4 come along at once. But seriously, this is pretty neat and no mean feat for a remote team, plus taking on the likes of Houseparty + Zoom, has definitely been a long time coming. Pew pew pew.
🎤Live stream roundup: (1) 🤛🖐✌️MrBeast's Rock Paper Scissors Tournament, another demonstration of his philanthropic personal brand we know and love, this week saw YouTube stars such as Tana Mongeau, David Dobrik and general dote Jack Black himself, battle it out to win $250,000 for their chosen charities. (2) 100 gecs took to Minecraft in their virtual festival experience titled: Square Garden (lol). The line up featured the likes of BNOC Charli XCX, + had donations go to 'Feeding America' 🙌 (3) Post Malone's Nirvana Tribute also brought in the "crowds" this week (6.2M views and counting) with his livestream gig (complete with Travis Barker) raising $3M for The UN's COVID-19 Solidarity Response Fund. 💸
👟Yeezy Peezy. Exsqueeze me? Forbes (finally) announced that Kanye West is now worth a hefty $1.3bn (and *that's on Adidas and their 15%*). You bet that he wants you to know all about it - although, staying on brand til the very last word, Kanye had something to say about their valuation: "It's not a billion," West texted us [Forbes] last night. "It's $3.3 billion since no one at Forbes knows how to count". Ye, maybe it's time to take that crash course in being CEO of your own net worth. 🙃
---
Okay, you made it. Send quaranmemes - DMs open!
ttyl,