👽 i'm only human after all
virtual beings on lock(down)
You are cordially invited to this week's brew of High Tea, your dispatch of 🔥internet culture served piping hot. This week: real recognize real in the virtual world, Barbie goes fourth-wave (and teaches us a thing or two), and pigs fly...on TikTok.
Drink up 🐸☕️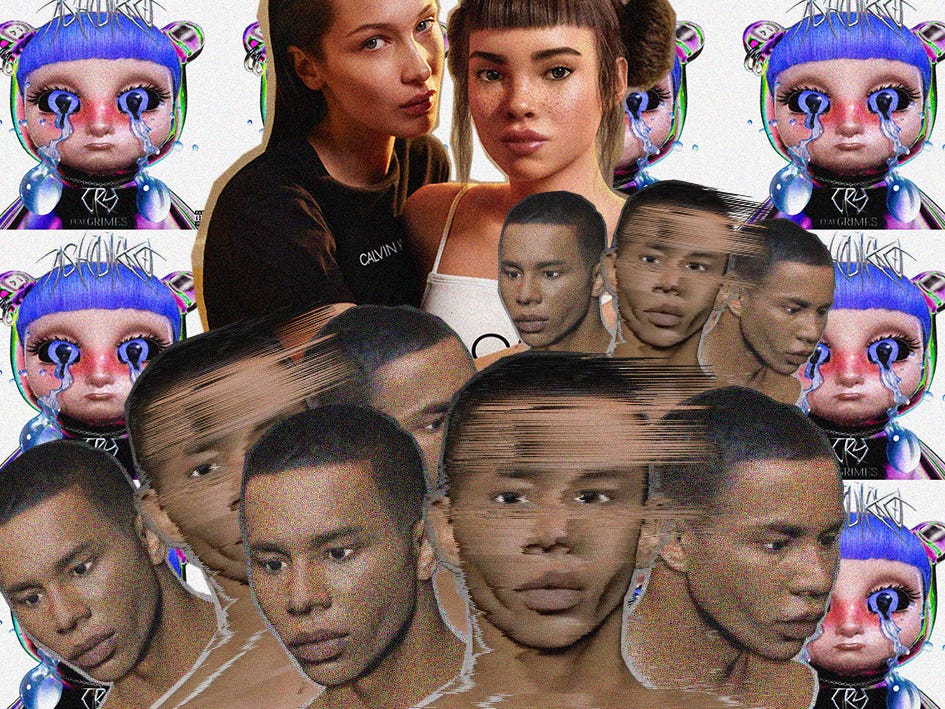 what we've been sipping on:
High Tea said: no fake friends. Well, maybe a virtual pal or two since we been staying lonely in lockdown and our islands on Animal Crossing just ain't been hitting the same lately 🔔. Meet virtual beings: aka the mandem, the future of entertainment and a calm multi-million dollar industry. Since bursting onto the scene we've befriended virtual influencers (cc: Bermuda-is-bae), idolized VTubers (Hatsune Miku's own VR theme park is underway), and even relied on chatbots (Replika - hi how are ya?) for mental health help and support. It's safe to say that in 2020 that we're ready to risk it all for our virtual virtuosos. 
barbie's glo up
💅🏻
ICYMI: Barbie is a vlogger now, and she's woke af. After launching the Barbie vlogs back in 2015 due to dwindling sales, makers Mattel managed to revive the doll's gen z relevance with motion-capture, a refreshed narrative and a new YouTube channel. Forget the focus on the doll face and the cookie cutter outfit, now Barbie and pals chat to their 9.1M (and counting) subscribers on topics such as bullying, finding your voice, depression, anxiety and even, wait for it, meditation. Is Barbie a misunderstood feminist icon? We think so. Especially if her latest wellness vlog, titled 'Making Sense of a New Routine', is anything to go by. With Barbie also feeling the woes of being bored in the house (same, tbh) she offers her young audience a lifeline with a long list of things to do to keep happiness up and boredom down.
Also did we mention just how 'real' these vlogs are? Peep Barbie's curiosity and self-awareness, mixed with the meticulously detailed facial expressions and movements. Mattel has been able to humanize and ameliorate Barbie's 'tired' image to a vibrant and determined Z who is unapologetic and doesn't pretend to have all of the answers (cc: 👑 Emma Chamberlain). We crown Barbie with the best virtual glow up of 2020. 
she's (right) back
Okay, we couldn't talk about virtual beings without a nod to the OG and our fave 'change-seeking robot with the drip', Lil Miquela. This bitch has been going OFF in quarantine – partnering with Yuna, Justine Skye and Bülow to raise money for musicians and music-industry workers impacted by the pandemic, as well as BLM grassroots organizations. Sis is securing the bag for causes to get behind, aka a staple for Zs who come correct with front row seats to your cancellation if y'all aren't about dismantling systemic racism these days. 
After partnering with CAA (the 💎of the Hollywood establishment) last month, who knows what's next for Lil Miq and her team. What we can say for sure: blink and you'll miss it, bc this is about to blow up. 
this could get gruesome
If Ashnikko isn't on your radar yet, wyd?! We've been stanning this bb alien since she dropped Thrust back in 2k17. The rest of y'all caught up last year 🐸☕when she hit the mainstream with breakout banger STUPID ft. Yung Baby Tate, going viral on TikTok (ofc). tl;dr you can't put "stupid boy think that I need him" in your bop and not expect it to explode with the Zs. 
It's clear from Ashnikko's latest release, Cry ft. Grimes, that we ain't seen nothing yet. Anime inspired CGI, featuring the mutating and metamorphosing duo, catapults us to a parallel universe and allows for visual storytelling that plays with our sense of reality – blending genres in one fell swoop. Cerberus, Greek mythology's three-headed dog that guarded the Underworld, gets one hell of a 2020 rewrite – taking the form of Ashnikko as her demon alter ego. Grimes, ofc, does not disappoint. We stan our alien queen. 
Next stop: we've got our headsets on and we're roaming around alternate landscapes, exploring new realities and escaping the constraints of keeping our feet firmly planted on boring old planet earth. Now that would truly be out of this world.  
trollz + rats + sharks. oh my!
Look, allow us for a hot sec, we're talking about our 🐸☕problematic fave once again. You know what they say: ask for forgiveness, not permission. It's no secret that 6ix9ine has a knack for social (Tory Lanez is still shaking), but it's his aptitude for animation that has us turning (shark) heads this week. 
We can map 6ix9ine's affinity with Zs across (you guessed it) TikTok, which gives us a lens into how his fans are using AR animojis to insert themselves into the heart of Tekashi's narrative. ICYMI: when you only have 15 seconds to tell a story, you gotta cut right to the chase. It's no surprise, then, that many fans (or otherwise 🐀) are capitalizing on the opportunity to ride the coattails of his clout (or a sly drag) by exploring additional layers of their visual identity. Say it louder for people at the back: the meme is the message.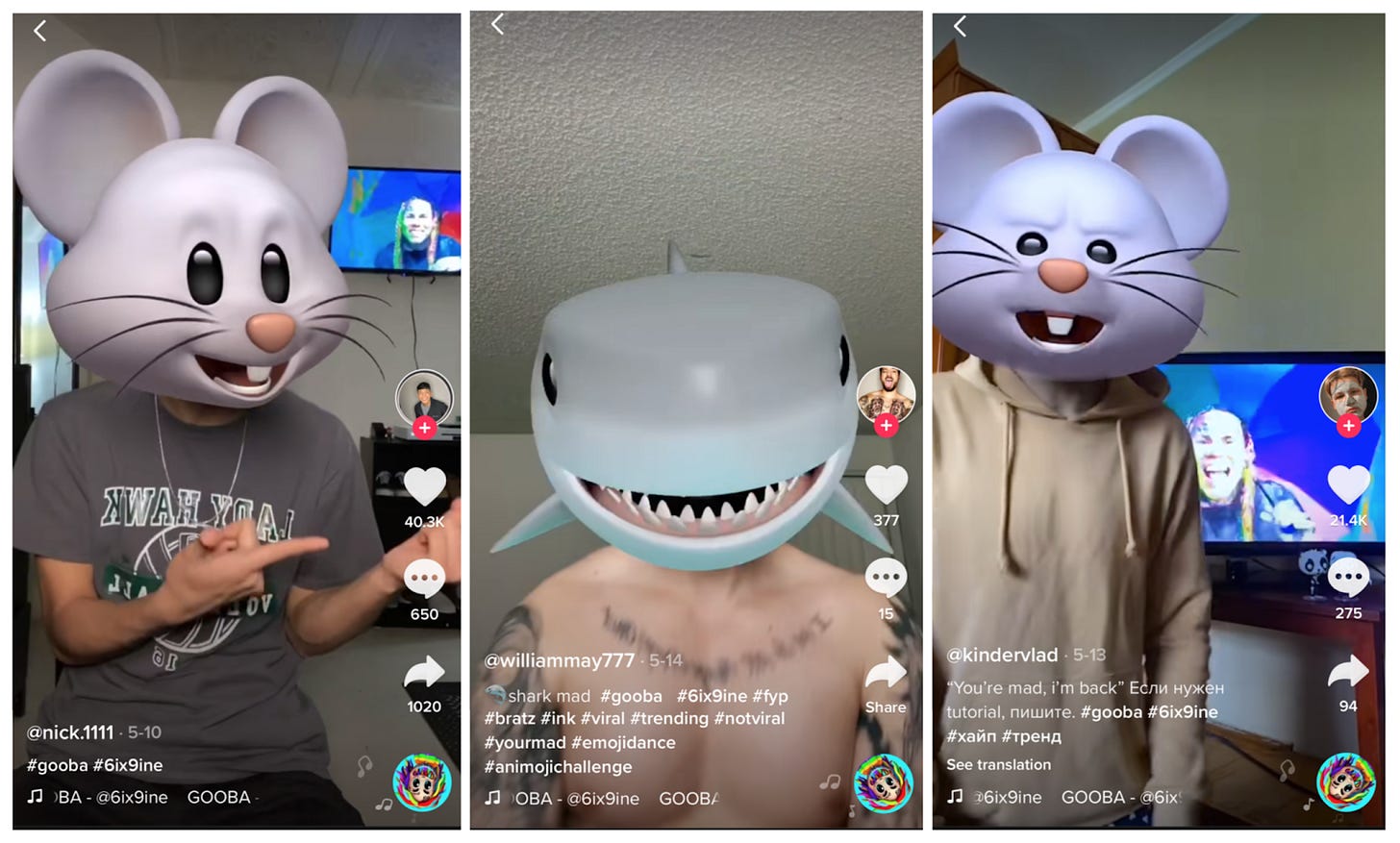 And the buck doesn't stop there. Snap has been weighing in on this meme-amorphosis for a minute already. Their artist lenses continue to elevate this element of role play for fans and haters alike, doubling down on intuitive ways to insert the consumer into a quasi-first person podium position. Snap said: you're back and they mad? Sure. To *chefs kiss* this journey from front row to front and center, Snap's partnership with SoundCloud (hi Snap Summit 👻) will no doubt continue to foster this exploratory environment and make headway for 🔥spatial  audio/visual collabs.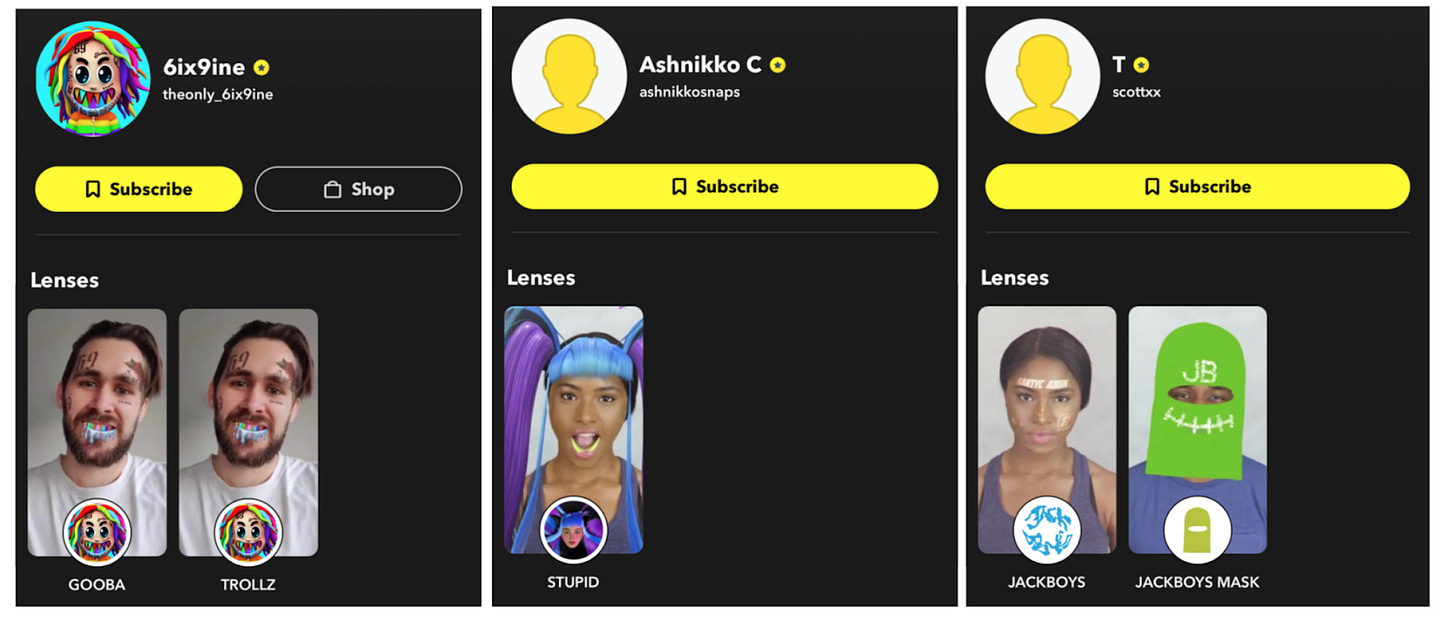 Snap lenses for 6ix9ine, Ashnikko & Travis Scott 
p.s. TikTok is also doing bits in the AR space, without simping for third-party uploads (like Apple's animoji), using their effect assistant and its brush tools. Yep, there's a shark brush (for all the 6ix9ine stans), but the lil pig 🐽 has to be our uncontested fave. And, well, we think it speaks for itself. 
balmain en vogue
It's no secret that the fashion industry is hurting from COVID-19. Between clothing sales plummeting since March, bc, let's face it, no-one wants to cough up for full drip just to...serve...at home, and Gucci abandoning seasonal collections (fashion week? We don't know her) – it's clear fashion is in need of rescuing. We're already starting to see glimpses of a revolution, with moves to embrace virtual models: oh haiii bionic Bella 🤖. Not a totally new concept, we must pay respects to those first-movers, a la Balmain's 'virtual army' in 2018, a creative decision which left many in the fashion world open-mouthed:
We can say the world wasn't ready back then, Olivier, but we are now. Tl;dr models are out-of-work and fashion houses are out-of-luck if they want to showcase their collections as-standard this season. Virtual influencer and activist NooNoouri was already killing the campaign game pre-COVID, signing with IMG and partnering with Dior, Hugo Boss and Versace on their latest digital spreads – however now traditional IRL showroom modelling is getting a face-lift. How do we know? Olivier Rousteing himself, Balmain's Creative Director, announced the launch of Balmain first virtual showroom this week; a digital third space full of avatar muses, and stars himself as the host (with the most). We can't lie, his avatar is pretty uncanny…
A bid to win affections for Balmain's upcoming cruise collections at its flagship Parisian address, we think this is a huge red-soled-step in the right direction for fashion houses to embrace new ways of digitizing their art and adding expansive experiences around retail. Imagine if we can start dressing our own avatars on Insta or TikTok with Balmain's virtual collection a la Animal Crossing. With Snap announcing its partnership with Louis Vuitton at this year's Summit, via an AR logo trigger, we're excited to see how big name designers will continue to push away from their bricks and mortar boundaries to engage new audiences. Hey social commerce, come get your bag 💰! This is something we'd definitely pay for…a message to fashion houses: DON'T BE SHY PUT SOME MORE! 
---
As digital communities, the Very Online™ and Twitter stans thrive during lockdown, we see these virtual beings taking on new roles, and adapting to meet the needs of their loyal fanbases. Forget conversations of "are you real tho????", it's no longer important. Rather, we're seeing virtual beings - and virtual platforms that facilitate these experiences - stepping up to reach a whole new level of permeation (soon to be domination 👀) in mainstream landscapes, and coming to a third place near you. In a world where influencers content is confined to their four walls of lockdown, we're relying on virtual beings to keep us entertained, engaged (and even afloat 👗) before we totally lose our minds. 
---
kettle's on: ones to watch 
New tweets, who dis? Wait, did you hear that? Twitter has launched audio (to a select few), marking one of the most monumental updates in the history of the co (lol). From Taylor Lorenz's ASMR debut to Cardi giving us *that* laugh, we're gearing up for new ways to interact and stan our faves. Ahem, Twitter if you're reading this, the British tea is sorely missed — we're here if you need 🐸☕️

Don't throw Belle Delphine out with the bathwater. Okay, we're shook. This week Belle Delphine returned from her mysterious internet hiatus (paddling pool accident, don't ask), to drop her GOOBA remake (9.7M views in 4 days). But wait, that's not all...when is it ever with Belle Delphine? For all you avid BD fans (*taps mic* anyone out there?), you can now show her some love (and some $$$) on Only Fans...where else?! Between Caroline Calloway and her literary themed 📸 (we'll never look at Miss Honey in the same way) and Tana Uncensored, we simply cannot keep up. If one thing's for sure, it's that these ladies are not about to fumble that Only Fans bag. Go get em, gals. 🍆🍑

The Legend Himself. We've spilled some tea on Wave before, but we gotta put respect on the name since they sealed the deal on their latest round of $30M funding for virtual concerts. Next week R&B artist John Legend, arguably Wave's biggest star yet (allow it, Dolly), will be performing his new single Bigger Love as his own avatar on the virtual stage. Fans with 6DOF VR will be able to tune in and experience the full immersion of being in the crowd in real time, while others can tune in on FB and YouTube. We're excited to see how John sets his scene, in a world where creatively *nothing* is impossible. We 👏can't 👏 wait. 
---
Okay, you made it, just in time for our final virtual bee-ing 🐝 of the week.
ttyl,