🐧 join the club
they've got jackets
You are cordially invited to this week's brew of High Tea, your dispatch of 🔥internet culture served piping hot. This week: losing ourselves to virtual nostalgia, Club Penguin enjoys its renaissance and "Pornhub" cleans up its act.
Drink up 🐸☕️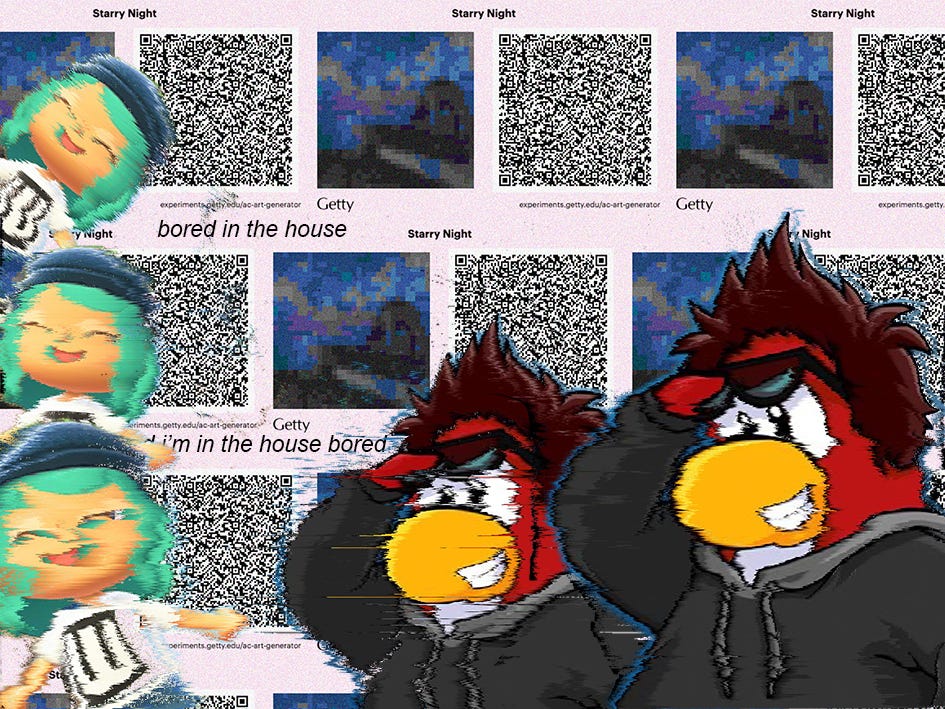 what we've been sipping on:
#RocNationBrunch twitter has been out in full force since the start of this crisis, drawing parallels between the Bubonic Plague (naturally) and the subsequent emergence of the Renaissance, an explosion of boundless innovation and social change, which rose from the ashes of a culturally decimated Europe.
We've been enjoying a rebirth of our own here at High Tea: Zoom BYOBs in our pyjamas, unpicking the Hype House drama one *here's what REALLY happened* tell-all at a time and watching the Barbz and Bardis of the internet unite for Uncle Bernie.
It was a cultural reset...it was a cultural reset.
It's been a week — let's dig in.
in club penguin, the drinks are free
Following a whole heap of Twitch whispers, we can confirm: the *officially unofficial* Club Penguin is back [in the zeitgeist]. This may pull at some of the flippers of our avid readers, who, like many, spent hours waddling about the pixelated virtual world, chatting BS to others penguins and earning coins to adopt puffles in 2005. Well, it's cool again — and you can thank quarantine for that.
Both Club Penguin Online and Club Penguin: Rewritten, two private gaming servers, not affiliated with the official Disney version shutdown in 2017, are experiencing an overload of users, which forced its developers to add new servers ready for the influx in mid March. 7 million registered users later, and Club Penguin Online is close to its maximum quarantini capacity.
So, who's in the club? It's mainly Zs and college students, with a couple of millennials peppered through. 3 weeks into quarantine and we've seen everything: from IRS stimulus check info to virtual proms.
But the biiiiig Club Penguin tea this week was Soccer Mommy's listening party Friday night in Rewritten:
The virtual event saw hundreds of waddlers across all servers bopping along to the new album with Sophia and her band [who were ofc, cute penguins themselves], plus a chance to do Q&A "backstage". Worth noting again: this Club Penguin we're blessed with is *still* the unofficial version, hacked together using SWF files from the game's old website. Little help over here Disney! Where ya at?
With over 30,000 new players joining everyday and with group therapy sessions on the rise, [heart-to-hearts in decked out igloos], Club Penguin provides a smack of good-time nostalgia plus real lasting connection in times of social separation. We can confidently say: Club Penguin is not *just* a game [and arguably never has been]: it's a community 👏
in animal crossing, let out that artidote
So if Club Penguin has the Zs and young millennials wrapped up, what about everyone else? Enter: Animal Crossing, New Horizons, aka "an island of peace among stormy seas". We're sure it isn't news to you. Twitter has been hot hot hot since the latest launch last month. But we're starting to see some incredible interactions in-game that are too good not to highlight.
We chatted with friend of High Tea Jerry Lu at Advancit Capital, and this was his 🔥 take:
What's interesting to me is really the ability to create an identity that's separate from one's real-world self. People want to adopt a personality that's different from who they are. That's where the freedom of expression and creativity kicks. This ability to create your own identity digitally is why I'm so amazed by the creativity that comes out of places like Animal Crossing.
He ain't wrong: we're seeing fashion design and artistry getting a real virtual boost.
'cause she a fashion killa
Fashion is blowing up on Animal Crossing as gamers, as well as established retailers, create virtual designer garments to use in-game, pixel by pixel. This is painstakingly arduous, but the results are 🔥. We're talking Chanel to Dior, Supreme to 100 Thieves, and not unlike IRL, for some it'll cost you. As it's still relatively early days, the majority of creators are giving up their QR coded outfits for free, but we don't anticipate it staying this way for long. We're already seeing some users already finding ingenious hacks to monetize their designs:
Fashion retailer Net-A-Porter has also swooped in on this opportunity, by working with multiple Chinese fashion designers to create avatar skins from their spring/summer collections. Users can mix the virtual with the IRL by buying the digital skins plus the actual physical garment itself at the checkout. Trippy.
The creativity itself is truly unmatched, with fashion editorials and Instagram accounts solely dedicated to showcasing the campaigns, quickly picking up clout. Tip of the hat to creator Kara Chung for spearheading the trend. Check out her hypebeast editorial:
hey, must be the monet
Fancy a Cézanne on your kitchen wall (next to the soup dumplings, ofc)? Say less: there's QR code for that too. Yes, Lorde…Hang it in the Louvre.
This is all thanks to the (temporarily closed) LA-based Getty Museum and its art generator tool, which allows players to import more than 79,000 real artworks into their virtual worlds, all via QR code. Because...what's weathering a global pandemic without a lil Van Gogh and Rembrandt to get you through. *Ariana voice* I want it? I got it. Cop the tutorial here.
Next stop: QR codes for our sourdough starters because you already know we need our own Bon Appétit kitchen. Can someone pls tell Claire Saffitz that we miss her? 😩
mi casa, su casa
Building penthouses to host our extensive VR art collection is not the only piece of pandemic tourism that leans into our fascination with dystopian escapism. Enter: virtual Frank Lloyd Wright house tours. We're seasoned fans of the prolific 20th century architect at High Tea (read all about it), so we were chomping at the bit to take a peep at 12 FLW-designed houses that have opened their doors to virtual tours. If you're bored in the house and you're in the house bored...at least escape to someone else's.
Wright's works bring people together in harmony with the natural world, reminding us that we are all connected, even when we're apart.
If you're more of a city fly on the wall, don't miss a virtual tour of The Guggenheim (nyc edition) on Google Arts & Culture, using...none other than Google street view. 👀
kettle's on: ones to watch
🛁ScrubHub is born. Feeling...dirty? Well, here's something for ya. Director and conceptual artist, Ani Acopian [also the Founder of Amazon Dating] has given us yet another great project to write home about. Meet ScrubHub: it's PornHub, but for hand washing. In times like these, when we get excited over hand soap and TP, ScrubHub is a welcome addition. Oh and did we mention the partnership is official? PornHub getting involved is *chefs kiss*.
🎤You Can't Always Get What You Want. Or...maybe you can? Celebrities and their quarantine offerings have been hit and miss as the world sobers up to the new realities of 2020, unfolding in real time. So, whether you love or loathe the instagram lives coming in thick and fast from the Hollywood Hills, we've got to admit, One World: Together At Home, hit the right spot. The charity gig raised $127.9 million for coronavirus relief efforts. Our faves: Billie and Finneas (who else) covering Bobby Hebb and, ofc, the Stones. We simply love to see it.
🏠Clubhouse. That's the tweet. Our names are on the list! We swear! We got all this way without mentioning the club that VC Twitter went nuts for yday. A voice chat app, where participants can hop into voice chat rooms with each other, sounds too good to be true right now. Who needs calendar invites anyways? To confirm folks: it's still in beta, unless you are one of the lucky ones to get your mitts on the link you'll have to sit with severe FOMO.
---
Okay, you made it. Now you can get back to your year of rest and relaxation.
ttyl