i would do anything for monica
hype house makes mat
You are cordially invited to this week's brew of High Tea, your dispatch of 🔥 internet culture served piping hot. This week: Netflix and Cheer, the cult of teenage stardom and Vine 2.0 makes its debut (get ur handles asap). 
Drink up. 🐸☕️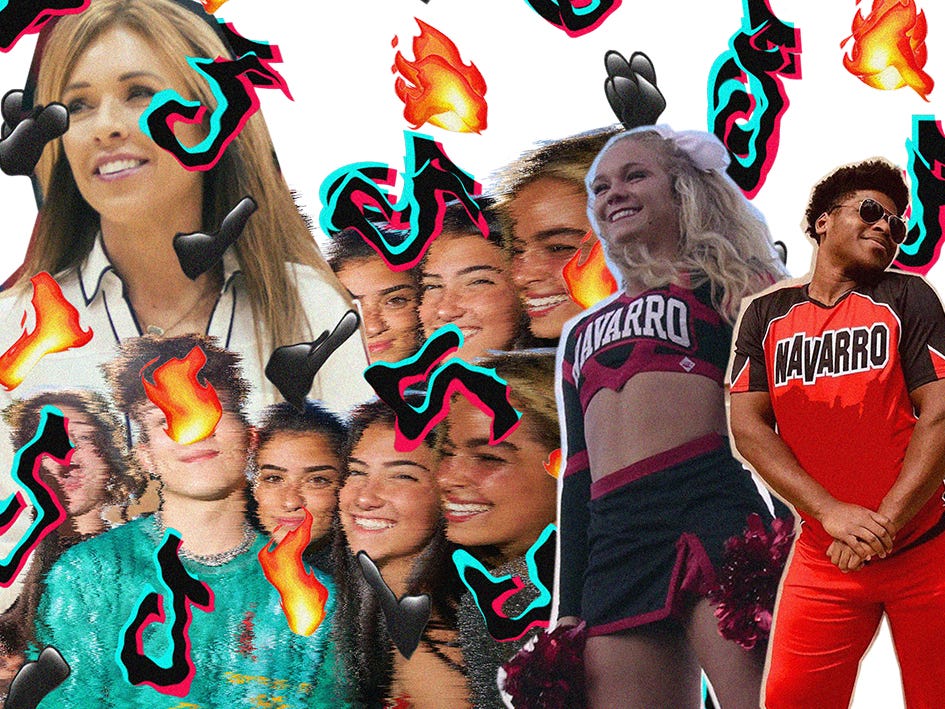 what we've been sipping on 
2019 marked the 25th anniversary of Friends. You remember that, right? We wrote about it here, icymi. Past popping a bottle for a quarter century, we were more interested in cutting our teeth on the show's monumental Gen Z revival. We said:
Friends was the first-of-its-kind in many respects; a show that celebrates friendship in its purest form - the collective trials and tribulations of navigating early adulthood. Friends mirrored a culture where friendship began to replace the family unit - and that's something Gen Z finds relatable at its core.
But that was last year, things be hitting different in 2020.
At the dawn of a new decade, getting bang for your buck these days is about combining an unrivalled product with an emphasis on the experiential. TikTok sealed the deal on this one. Hands up who got the app "just to see" what all the hype 🐸☕️was about and now spends more time watching @charlidamelio (20.6M followers at the time of writing) renegade than they'd like to admit? We thought so. 
TikTok has successfully created an ecosystem of its very own, where, just like the nuances of the Friends gang surviving a mid-90s Greenwich Village, investing in the narrative becomes part and parcel of its navigation. 
That's where the Hype House comes in.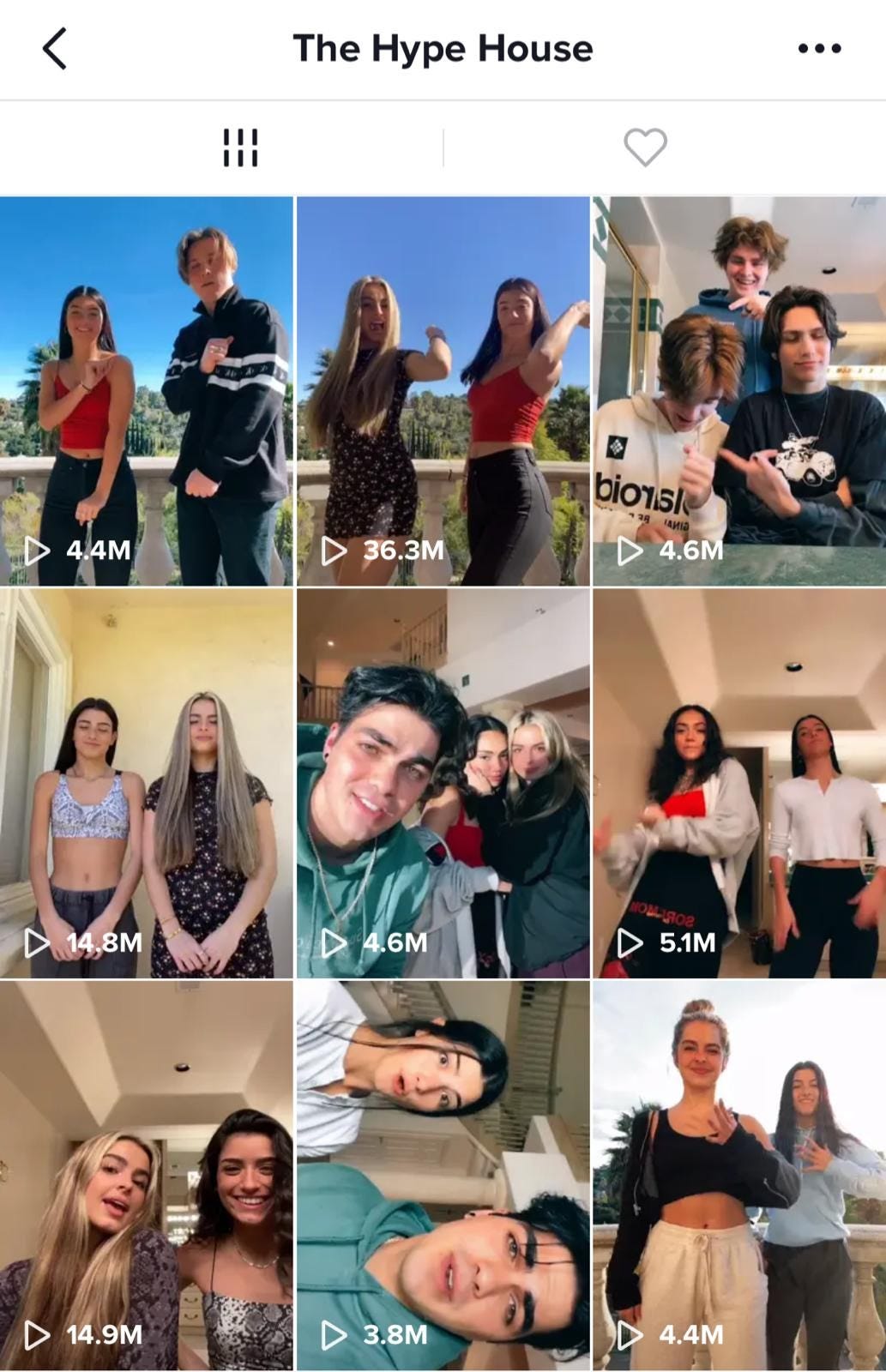 the future is collaborative 
"If you want to be a part of the group, you need to churn out content daily." - Taylor Lorenz 
If you're not Keeping Up With The D'Amelios then Gen Z anthropologist, Taylor Lorenz, is your cultural commenter-cum-translator on this one. In her piece for the NYT, Taylor details the early beginnings of this LA based collective, the Hype House -  in essence, a mansion full of TikTok teens ready to capitalise on their fifteen minutes. Who needs an office when you can build a social empire from your back pocket?
The culture around collaboration is nothing new (Jake Paul and 1600 Vine Street, we're looking at you), but the Hype House have catapulted themselves to the status of first family of TikTok. In doing so, they've created the formula for collective storytelling, where connecting the dots is left down to the detective work of the viewer. That might explain why Taylor's behind-the-scenes TikTok, catching the silliness of unguarded teenage hijinx by chance, went viral last week. How very meta. 
The genius of the Hype House content, though arguably not groundbreaking, is that it captures attention in striking the perfect balance between relatability and aspiration. Not dissimilar from Friends of yesteryear, 2020 is all about a palatable kind of friendship, lived out on screen, but this time we get to see it live.
The commodification of friendship has landed, mate. 
did you make mat?
TikTok's first family does have some strong competition however, and no it's not from the Jewish Hype House. If the names Gabi Butler, Lexi Brumback, Morgan Simianer, La'darius Marshall or Jerry Harris don't mean anything to you, *deep breath* you're forgiven - but not for much longer. 
Cheer, Netflix's no frills reinvention of Bring It On, has become a sensation since its January 8 release. Forget pom poms from the sidelines, Cheer puts the sport (and we're talking about athletes here, make no mistake) at the heart of the often patronising depiction of cheerleading in the mainstream. Not "just" reserved for the halftime show, Cheer challenges our expectations and misconceptions of everything we thought about cheerleading (NBA, we're looking at you 👀). If the Hype House is a careful curation of LA's zoomer elite, Cheer is an entangled throng of the real ones, depicting the dizzying highs and inevitable pitfalls of navigating teenage life when the odds are stacked against you and it 👏 just 👏works👏. 
A world away from overtly choreographed moments of the Hype House against the backdrop of a marble encrusted bathroom, the well-trodden mats at Navarro College - filled with messy buns and fractured ribs - tell another story entirely. The team's uniform effervescence in the face of adversity and uncompromising, perhaps ruthless, determination could humble even the harshest of critics. 
But there's something that unites both collectives. A sense of showmanship and camaraderie sits at the core of what they do; from DaBaby lip syncs in Hollywood mirrors to nailing toe points at the top of the pyramid. Their self-awareness matches an impressive exhibition of ownership that each group displays when it comes to their respective audiences. We're here for it. And this is just the beginning. 
Maybe the kids are alright after all. 
in the tea leaves: what we're listening to
Fake Heiress. The story of Anna Delvey (aka Anna Sorokin) captured our attention back in 2018, following The Cut's scandalous expose on how this fraudster, posing as an aristocratic trust fund baby, tricked New York's party people in style. The Queen of "fake it til you make it" is brought to life in this sensational podcast from BBC Radio 4. We're hooked.

Mac Miller. We've had a week to get our heads around 'Circles', Mac Miller's posthumous album, and we're still coming to terms with its painful confessionals delivered over soul and warm funk. Posthumous projects are a delicate and complicated process, but this album does justice to the legacy and memory of Malcolm and his art. AP calls it "heartbreakingly sublime" and we'd have to agree. 

Doja Cat? She's trash. Fam, we think you're mistaken. It only takes one peep at her latest release, Boss Bitch, to realise we're entering another, superb era of elevated Doja. Strap up, fellas, we're in for a wild ride with this one. 
kettle's on: ones to watch
Byte off more than you can chew? Vine walked so that TikTok could run. We already know this. But fresh this week is the newest addition to social media's finest. Enter Byte, (already the millennial version of TikTok) and handles are going fast. 

Period poverty goes with the flow. News we have to celebrate: as of this week, free period products will be available in all schools in the UK. Hallelujah!

Tana is a sell out. Since dropping the commercial for her eponymous perfume less than 24 hours ago, Tana Mongeau has already sold out of 'TANA BY TANA' and her reaction says it all. 
Okay, you made it. Now you can go back to your Grammy party prep. 
ttyl,
x