in the tea leaves with sophia smith galer
episode #1: TikTok journos, pasta pronunciation + digital activism
You are cordially invited to this week's brew of High Tea, your dispatch of 🔥internet culture served piping hot. This week we're dishing up something a lil different, with the launch of our new series 'in the tea leaves'. We'll be profiling the change makers of the zoomer zeitgeist; individuals who epitomize gen z culture in the way that they cover our favorite digital landscapes, immerse themselves in emerging and underrepresented communities, and continue to spearhead creating content in novel and authentic ways. These are the movers and shakers we get to raise a cuppa to and say "we told u so" when they blow up (more than they already have, ofc).
Today, we're chatting with Sophia Smith Galer, the BBC's resident TikTok expert, retired opera singer and multi-linguist (whose tongue in cheek pasta vids taught us more Italian than the British curriculum, lowkey). Sophia's ability to connect with both subject matter and audience as a visual journalist is unrivalled in the short form space, covering stories such as the disturbing trend of TikTok colorism, Afro-Latina witches of Brooklyn and VR churches – pushing underreported topics to the forefront of spaces most accessible to Zs. You may have seen her on your fyp duetting with her nonna, teaching us a thing or two about Arabic's influence on European language, the power of manifestation and pain of zillennial culture. SSG is vocal about examining who and what we believe in, sharing her experiences of identity and education, and resourcing her growing community with the toolkit for embarking on a career in journalism.
When we ask "is there anything this gal can't do?", we aren't surprised when the void answers back "no ♥️". 
Drink up  🐸☕
---
🍵kettle's on: who is sophia smith galer? 
"I wanted to be part of that change, shedding light on the voices and experiences that illuminate how we see the world."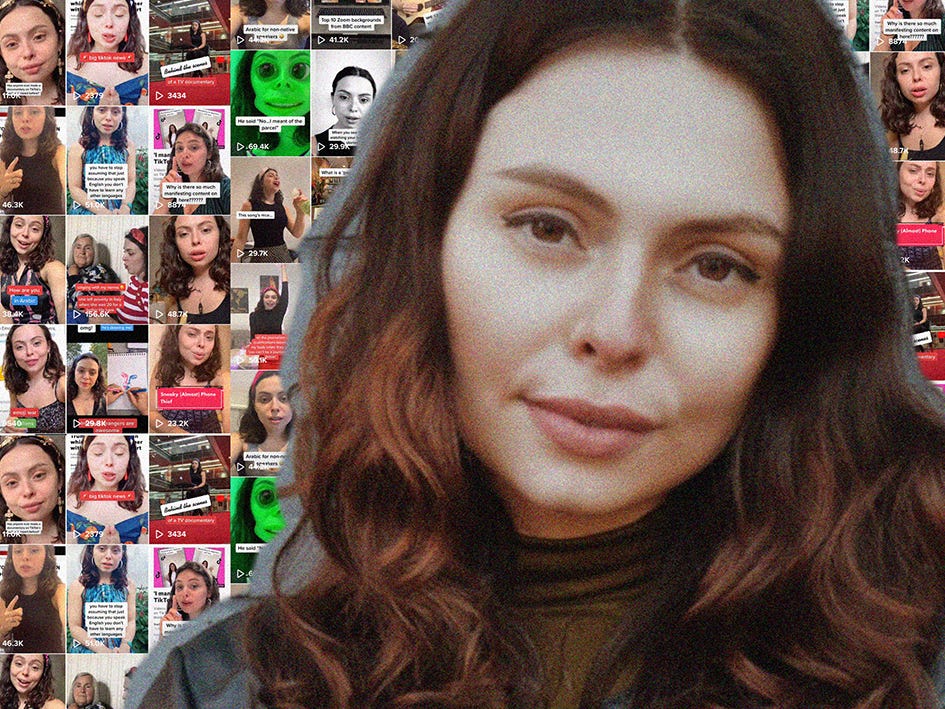 Okay we'll bite, who's SSG and what should the High Tea gang know about you? 🐸☕
Officially I'm the faith and ethics video journalist for BBC World Service English - unofficially I'm also a digital culture reporter and have a specialism in TikTok, where I'm a macro-influencer and creator with over 110k followers.
Faith and ethics is my day job; I grew up in church choirs, am a bad Catholic and studied Islamic civilisations at university, so when the job came up to do this from a social/video capacity I was really interested. From as young as I can remember I've been obsessed with Greek myths and how we construct the worlds we live in around what and who we believe in. The digital culture bit has developed gradually over time because that is how I spend my life - completely online. It's where I encounter stories and most feel like I'm part of a community. In some ways I don't know if I should even be calling it digital culture because it's simply culture. I don't see the digital and non-digital elements of my life as separate; they're liminal. 
We're already obsessed thanks to the singing duets with your nonna on TikTok, which tell us that you pivoted from a career in opera to broadcast journalism. How has this unconventional path has influenced and informed your work so far? 🐸☕
A youth spent in classical training has led to a lot of unexpected preparation for my job now. It prepared me for constant rejection pretty early on, plus how to perform to hundreds or thousands of people at a time. It also taught me the importance of looking after your body and being conscious of the sheer power it holds; I had to project my voice and emotion with no microphone over a complete orchestra. 
But then as a university student I decided that I wanted to pursue something that would be more impactful. Living in Lebanon over my year abroad was a hard and fast lesson in how communities and countries around the world have been grossly underreported and misreported. I realised with cultural awareness and sensitivity, that didn't have to be the case - and I wanted to be part of that change, shedding light on the voices and experiences that illuminate how we see the world. I did a Master's in Broadcast Journalism at City University and then that led me to my first job at the BBC as a social media producer.
You've broken and covered so many brilliant stories, we can't possibly pick our fave. What are the pieces you've enjoyed working on the most?
I've been lucky to travel around the globe for my job. I'm really proud of the radio documentary I made about consumer DNA tests with my Dad earlier this summer. Also my film about vaginismus - I did all of that origami myself. The religion stories I'm proudest of are when I went to VR church and when I went to New York to cover the Afro-Latina witches of Brooklyn and self-shot an Instagram documentary for it. There aren't many of us that do digital-first religion journalism, never mind shoot it and produce it all ourselves too. It's a bit knackering sometimes but it is immensely rewarding to have creative and technical control as well as the editorial vigour of the journalism. 
🚀milk and two sugars: TikTok 
"you see a video and you instantly think: 'there's a story here'."  
Firstly, I have to make it really clear that I do all of my TikTokking in a personal capacity.  I just wanted to see what all the fuss was about. As a video journalist it's natural to want to stay agile to new video formats and learn what the grammar of editing is for the platform. I never thought I'd make content on there, never mind have people actually enjoy it. 
I had so much pushback from colleagues in the industry for being on TikTok at the start. I don't get it anymore since the app entered the news agenda this summer with Donald Trump - but before that so many people asked me why I was on there, as if it was a waste of time. But I had a few who encouraged me and I'm very grateful to them - they gave me the confidence to keep doing it and now I have a global, hyper-engaged audience to share my journalism with as well as my personal life.
You said you'd "randomly acquired a sizeable TikTok following" (currently at 113k) – was there a tipping point where it really felt like your reporting was gaining traction among your followers and the wider TikTok community?
I guess when I started posting more language content - that's mainly what I do now. There is a huge appetite on TikTok for identity and education and languages fit very well into that genre of videos. TikTok is a way for me to keep my Spanish, Arabic and Italian alive as I don't use them every day and if you don't use them, you lose them. 
Linguistics, opera, your experiences studying abroad and your Italian heritage are all themes that feature heavily in your content – how has this visual storytelling impacted your experience on TikTok?
I never realised how many people there were like me - third generation kids lost in diasporas that have almost, but never fully, assimilated. How we fight to keep our cultures alive but also deplore values we see as out-dated, offensive or wrong. But also how much we love learning about other cultures too and finding the common threads that bind us.
You've covered stories such as the viral BBC news theme, the TikTok ban, targeted ads and their relationship to diet culture, WitchTok, the list goes on. How do you approach TikTok as storytelling?
I'm really proud of the TikTok story I did on the colourism trend I spotted. That made an impact in getting a horrible trend taken off TikTok, because its own moderation had failed so many users who were getting deeply offended by the content. I use TikTok as a newsgathering tool and that's only after years of being a journalist and developing a news sense; you see a video and you instantly think: 'there's a story here'. I make TikToks to find contributors which is something I've not seen anybody else do yet, probably because you already need a following for it to work and also lots of people wouldn't really want to put themselves out there like that. I DM a lot or comment saying that I'm a BBC journalist and I'd love to hear more.This is exactly the method I've been doing over the past few years on Reddit and Instagram - I've just adapted it to a new platform.
What does the future of video journalism look like to you?
More micro-entertainment, like TikTok. And then more bulky Netflix three parters. Fewer of the 'long shortform' videos that exist in between the two. 
🔮in the tea leaves: what's next for SSG? 
if you're in the TikTokking political world in the United States, there's still time to reach out to me
I am making the first TikTok documentary that's looking at the app's impact on politics, taking the upcoming US election as a case study, for BBC News. I'm looking at how creators are using it, whether they're politicians, campaigners or just voters looking for information - and how well the app supports or challenges these endeavours. I don't know any other reporter/content creators and so bringing the two parts of my life together like this for radio and television is letting me do some journalism innovation alongside my reporting, which is creatively very fulfilling. As a result I've discovered things that have really surprised me, and that's from someone who knows the platform intimately - so I'm hoping it'll make a bit of a splash when it comes out. Let's see - keep your eyes peeled for mid October and, if you're in the TikTokking political world in the United States, there's still time to reach out to me if you think there's something I need to be covering.
And most importantly, how do you take your tea? 
I'm more of a coffee person - a cortado, which is short and to the point but with a bit of flamboyant foam on the top. Just like me.
---
kettles on: ones to watch
🎤Miley saved-us. In a cultural moment so big it had the Twitter big wigs shaking in their cowboy booties, this week Miley Cyrus performed an absolutely stellar rendition of the iconic 'Heart of Glass' at iHeart's Radio Festival. As far away from the sickly sweet Hannah Montana and Wrecking Ball drama as you can get, Miley's shift to performing the Blondie classic has us feeling she's finally becoming the rockstar she was always meant to be. Oh and did you catch her cover of 'Help' by the Beatles? It even got the Chrissy Teigan seal of approval. Miley pls, rescue 2020 and give us the rock album we all so desperately need.
☕️coffee is the cure. Emma Chamberlain has been living in our heads rent free for the past 3 years. A famous YouTuber, TikToker, Podcaster and now a merchandise connoisseur, with her 'Ideal Planner' selling for just shy of $30 in Walmart no less, we can announce with glee Chamberlain Coffee (her most famous output) is officially ✨reborn✨ today. Hot off the Twitter press, this morning Emma announced the new chamberlain coffee line which is decidedly more decadent and extensive than her first. Anyone who knows Emma will vouch that there is no one else you would rather supply you with your first morning cuppa; this gal has coffee on the brain, and has expertly made it synonymous with her brand. Get your orders in quick, as this shit will hundy p sell out. 
💸89M for a TikTok, no album out. ICYMI, the internet's most famous aka Charli D'Amelio just hit 89M followers on TikTok. We'll pause there, and stress: 89M. Cast your minds back to December 2019 and our first coverage of TikTok's matriarch when she'd just hit 8.5M followers in 6 months. < a year later, and here we are. If you aren't following her story, wyd?
---
Okay, you've made it. Special thanks to Sophia Smith Galer for contributing to this week's tea and sharing her story. Now you can go back to bingeing her TikToks.
ttyl,