i influence
therefore i am
You are cordially invited to this week's brew of High Tea, your dispatch of 🔥internet culture served piping hot. This week: making million$ online, YouTube philanthropy, and Ok boomer makes it to Parliament.
Drink up. 🐸☕️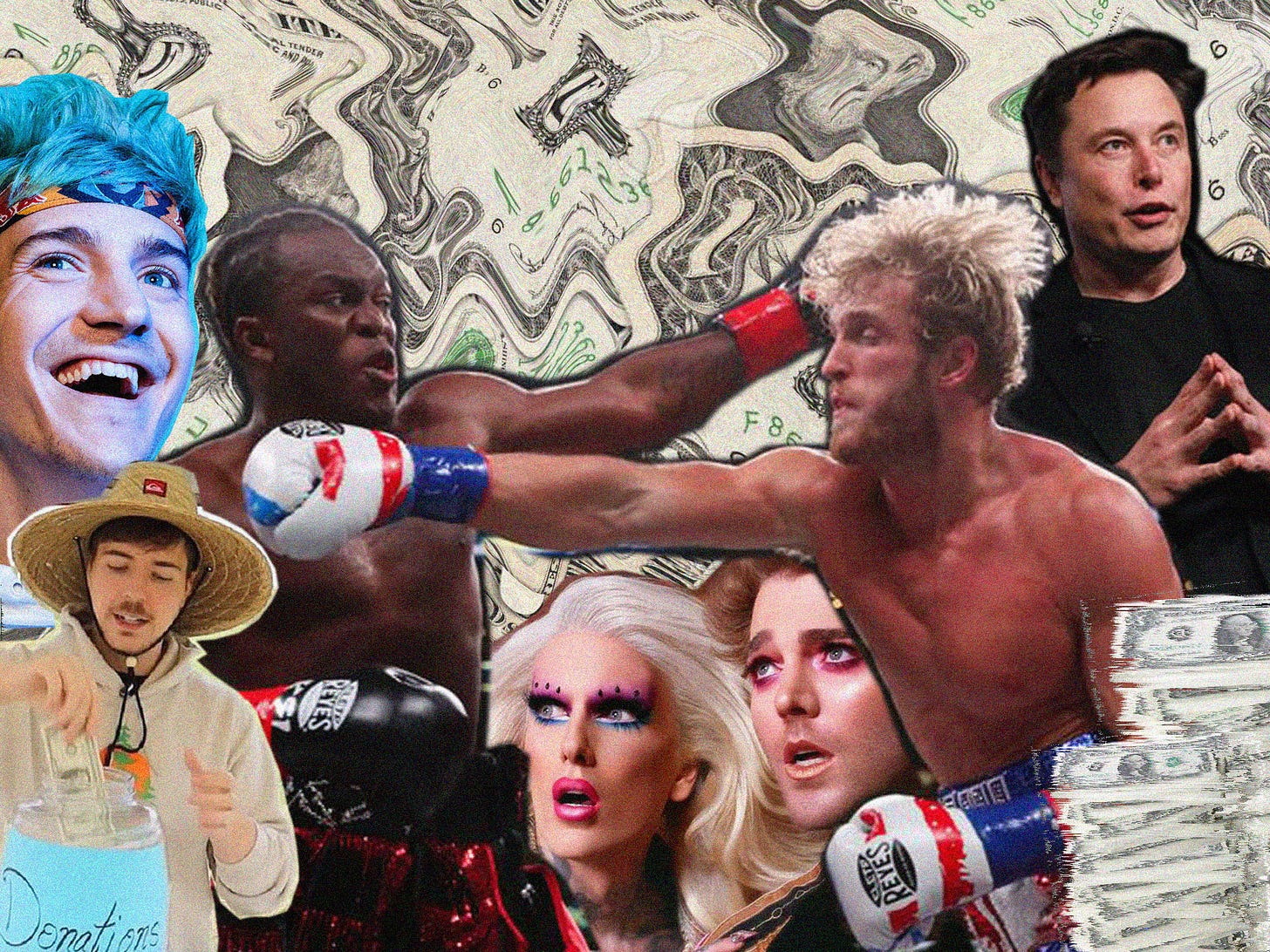 what we've been sipping on
It's May 2019 and 2 million followers can't sell 36 shirts.
It's November 2019 and Shane Dawson sells 1 million makeup palettes in 30 minutes.
So, how did he do it? Ain't that the (20) million dollar question. Look no further than the influence of Jeffree Star.
Jeffree Star is no stranger to breaking the internet. In 2006 he was the most followed person on myspace. By 2009, he was the "next Lady Gaga" according to Akon (yes, you read that right) and there was even a collab with Nicki Minaj (50k for a verse, no album out for real). Fast forward a decade and with 16.5 million subscribers, 1.9bn views and a makeup empire under his belt, the eponymous mogul is raking in combined earnings of $210 million a year. Not bad for a "YouTuber".
But you already knew all that, right?

In case you missed it, we've been following the build up to the launch of The Conspiracy Collection (his joint venture with Shane Dawson) with baited breath for weeks. Its release was palpable, magnified by Shane's brilliant storytelling in his immersive 9 part docu-series - the six episodes released so far have garnered 114+ million views.
We're still waiting on exact $ figures, but shifting more than 33,000 units of product-per-minute on the first drop speaks for itself. Not to mention the mini re-stock 4 days later, which beat its predecessor by slicing another four minutes off the sell-out time. Are industry bigwigs shaking? They should be.
But where's the celebrity endorsement? Oh sorry, weren't you paying attention? Jeffree and Shane are the celebrities fronting the brand...and they're behind it, too. Add in the fact that this launch was supported by a microscopic media spend and promoted by names no bigger than the self-made YouTube duo themselves, it should be loud enough to start making some serious noise.
In the absence of cold, hard data (not as boring as it sounds, we promise) while we wait for the tell-all episode 7 (if it ever drops, sis 🐸☕️), we have a tiny inkling as to why this power couple broke the internet at the start of Scorpio szn.
Google Trends tells its own, revelatory tale.

Web searches for Jeffree Star (Red) and Shane Dawson (Blue) over the past 90 days in the United States.
Searches on YouTube for the same period shows Shane's (Blue) dominance of the platform and peaks in joint searches in reference to episodic drops of their docu-series.
But most interestingly, searches on Google Shopping is the biggest spoiler of all:

We thought we'd add in L'Oréal (Yellow), the biggest cosmetics brand in the world, and Glossier (Green), your millennial fave, for Google Shopping searches over the past 30 days. Are you still sure influencers are a dying breed?
This week proved that billion dollar media spends and empty social captions (we'll pass on the "life changing" #spon detox tea, thanks), can't compete with captivating storytelling from OG creators trusted by audiences they have built up organically for years (certainly longer than any campaign timeline).
Mark our words: 2020 is the year Jeffree Star Cosmetics becomes a billion dollar company.
the money tree$
MrBeast (aka Jimmy Donaldson) is already well-known for his viral charity-in-the-digital-age stunts (he's given a homeless man $10,000 and donated $100,000 to streamers with 0 viewers, to name a few), but he's currently embarking on his most ambitious philanthropic deed yet: to celebrate hitting 20 million subscribers he's planting 20 million trees (that's a $ per tree) to help save the planet.
To put it in perspective, he wants to raise almost a million dollars for every year he's been alive (!) and amazingly, he's not far off. At the time of writing sitting pretty at $14,545,868 the equivalent of 14.5 million trees planted. Calling all billionaires: wya?
MrBeast introduced his "20 million" campaign by taking his followers on a journey back to where the idea started. In the vlog he implies, as per usual, that the campaign is another MrBeast spending special- making viewers believe they are witnessing just another one of his grandiose acts of generosity - yet at the end it takes a turn. He admits he needs "help" from followers - undeniably in the script all along - to help complete his mission. In the final two minutes he urges the community to take action, galvanising his viewers to come forward and donate to help out the cause:
"People just keep making fun of our generation for retweet activism and not actually doing something...This is your chance to make a difference. For every $ you donate on YouTube or teamtrees.org a tree will be planted."
where do I sign up?
Have we ever seen MrBeast fail in his philanthropy? Hell no, and we're not about to let him start now. 20 million trees is just the tip of the iceberg (we won't pardon the pun) but it's an admirable move in the right direction, plus it feels like a natural progression for MrBeast.
Jimmy "MrBeast" Donaldson is another example of how young YouTubers are disrupting the internet with their acute understanding of internet virality and sentiments that resonate with followers. Although the #teamtrees campaign has seen large donations from big names: 'Treelon' Musk, Jack Dorsey and Ninja, the campaign has also been inundated with smaller contributions from his massive audience base, many of them Zs.
The power of YouTube is palpable, this is more than just a stunt. Brands take note: viral influencer partnerships now demand high-stakes and intelligent storytelling. Link in bio, who dis? 🐸☕️
kettle's on: ones to watch
Okay, you made it. Now you can go back to being hungover.
ttyl, High Tea.